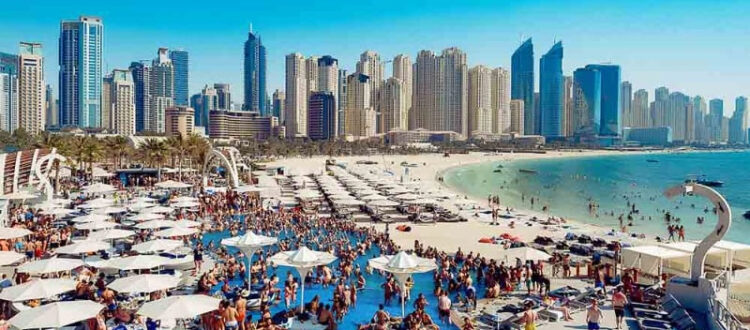 ZERO GRAVITY, the best Beach Club in JBR
Jumeirah Beach runs along the entire coast of Dubai. Many iconic hotels such as the Burj al Arab or the Jumeirah Beach Hotel have settled on this beach. Jumeirah Beach is accessible to everyone and it is free. There are the beaches of Jumeirah, Kite Beach or Mercatos Beach. Some hotels have private access reserved for them.
To be able to take advantage of these spaces, you very often have to book and pay to enjoy the comfort that the hotel's Beach club offers. In Dubai, Beach Clubs are very popular. It is the favorite activity of expatriates and the golden youth of Dubai. After work or during the weekend, many meet up with friends in the Beach Clubs to spend time together and enjoy the surroundings. Often by the sea and equipped with swimming pools, jacuzzis, terraces and bars, it is the ideal place to unwind and party. These places combine both comfort to relax and also entertainment through music led by a DJ.
The Beach Clubs also have restaurants and, for some, bars and discotheques. Located in the Jumeirah Beach Residence area, JBR for regulars, Zero Gravity is one of the most desirable spots in Dubai.
1. Beach Club: private cabanas, lounge chairs and beach barbecues
Known for its festive Beach Club and also for its evenings hosted by renowned international DJs. On weekends, resident DJs mix with international artists on the large poolside stage. There are several spaces: the lounge for having a drink or smoking a shisha while watching a match or to meet more quietly with friends. Then there is the pool area with the possibility of renting deckchairs and private cabanas.
Zero Gravity hosts until 3am each day. With the pool, beach, garden, restaurant and first floor all open, here's what you can expect to find at Zero Gravity.
A large infinity pool and a beach, Zéro Gravity offers a heavenly setting to spend a day of relaxation and decompression. Whether you are vacationing in Dubai or living there, a little respite is always good. Take advantage of this relaxed atmosphere to spend a pleasant day. Zero Gravity's green space is a breath of fresh air. Palm trees and buildings make this little corner an urban oasis with a breathtaking view of the city and the Persian Gulf. A calm and relaxing space, ideal for spending an afternoon or evening with friends.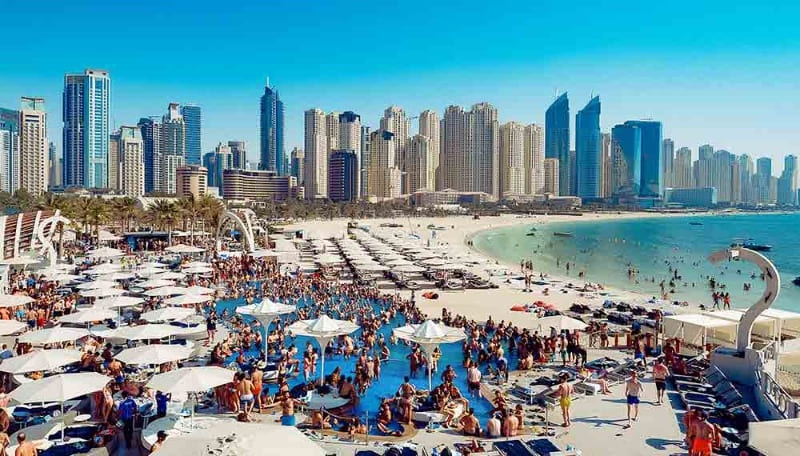 2. Zéro Gravity restaurant, lounge & bar
The strong point of Zero Gravity, in addition to its atmosphere, is the operational service they offer. The comfort of each client is Zero Gravity's priority. A catering service is provided in all areas of the Beach Club. So whether you're by the pool, at the beach, you can order and be served at your lounger. The menu is rich and varied. You can find healthy starters and main courses as well as street food, which will please everyone. They also thought of people who have a vegetarian diet. There are several options to discover in the map
The menu has been designed to meet everyone's cravings. Mediterranean, Caribbean and Asian cuisine are on the menu. As a starter, there is an assortment of Lebanese mezes: hummus, eggplant caviar, falafel and many others. And also platters of sushi, salads, tacos, wraps, etc. Pizzas, pasta, burgers and fries are also on the Beach Club menu. On hot days, what could be better than an ice cream for the desert? With coconut, vanilla, chocolate or mango passion, there is something for everyone.
In terms of drinks, here too, a wine and cocktail list is offered: white, red, rosé or even cocktails concocted by the baristas of the Beach Club bar will not leave you indifferent. There are also other non-alcoholic alternatives.
During the week, a breakfast service is provided at the Beach Club. If you arrive in the morning, take advantage of the calm to have your breakfast by the pool. On the weekends, they offer brunches. The advantage is that if you have brunch at Zero Gravity, it gives you the right to a beach day and private pool at the beach club. Thus, you will fully enjoy your day of rest and disconnection.
Menu :
Cocktails :
https://www.0-gravity.ae/cocktails
As for the lounge, it has a chic and contemporary decoration. A space with luxurious furniture with large sofas: there are spaces dedicated to groups who want to watch a match, for example, and other tables that are a little more intimate and the bar for a drink facing the baristas. The mezzanine and the lounge terrace on the first floor offer incredible views, not to be missed if you are looking to relax in a relaxed and classy space.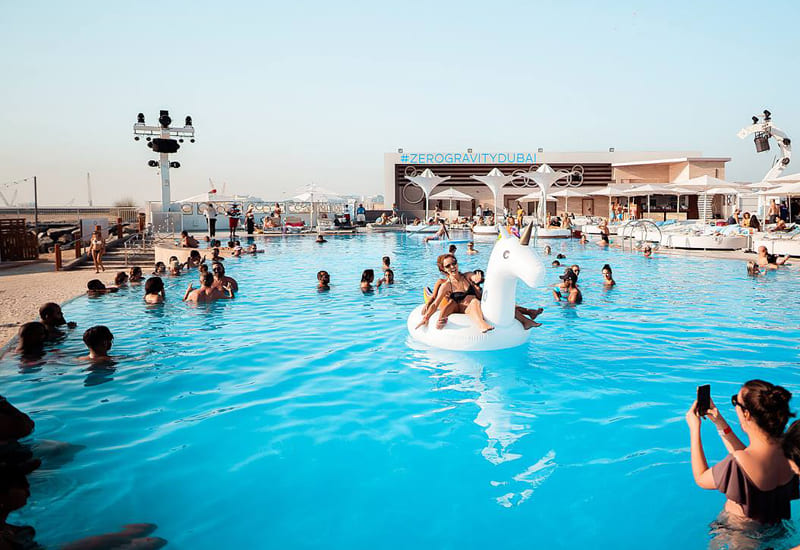 3. Beach Club entrance fees
| Days of the week | For women | For men | Hours of operation |
| --- | --- | --- | --- |
| Monday | Free | 150 AED (about 40 €) | From 10:00 a.m. |
| Tuesday and Thursday (ladies day) | Free | 150 AED (about 40 €) | From 9:00 a.m. |
| Friday (day) | 199 AED (about 50 €) | 249 AED (about 65 €) | From 10:00 a.m. |
| Friday (evening) | 199 AED (about 50 €) | 299 AED (about 80 €) | From 8:00 p.m. |
| Saturday | 299 AED (about 80 €) | 349 AED (about 90 €) | From 10:00 a.m. |
| Sunday | 249 AED (about 65 €) | 299 AED (about 80 €) | From 10:00 a.m. |
Please note that standard hours of operation are 10:00 AM to 9:00 PM Saturday through Tuesday and Thursday, and 10:00 AM to 2:00 AM on Friday. The beach club is closed on Wednesdays.
Note that opening hours and admission prices may vary depending on the season. We invite you to contact them or consult their website.
More details :
https://www.0-gravity.ae/information
Ladies Days are days when women have free access to the Beach Club and free drinks. At Zero Gravity, every Monday and Thursday, women get free pool and beach access, plus a welcome drink. There are also small gifts from partner brands that will be offered on these days.
To know the events : https://www.0-gravity.ae/events
4. Join Zero Gravity by Public Transport and Taxi
Zero Gravity has a good localization. It is close to several tourist attractions. You can either reach the Beach Club on foot if you are in JBR or by public transport. Sobha Realty Metro Station is the closest metro station, and Jumeirah Beach Residence 1 Tram Station is a four-minute walk from the club.
Adress : Dubai Marina, Skydive Dubai Drop Zone – King Salman Bin Abdulaziz Al Saud St – Dubai – United Arab Emirates
Hours : 10 a.m. to 9 p.m. (closed on Wednesdays)
Phone : +971 4 399 0009
E-mail : https://www.0-gravity.ae/contact-us
Website : https://www.0-gravity.ae/
Events : https://www.0-gravity.ae/events
Reservation: It is not possible to reserve (the first to arrive will have priority).
Zero Gravity is close to:
– Marina
– The Beach JBR
– Skydive
– Jumeirah Beach Residence (JBR)