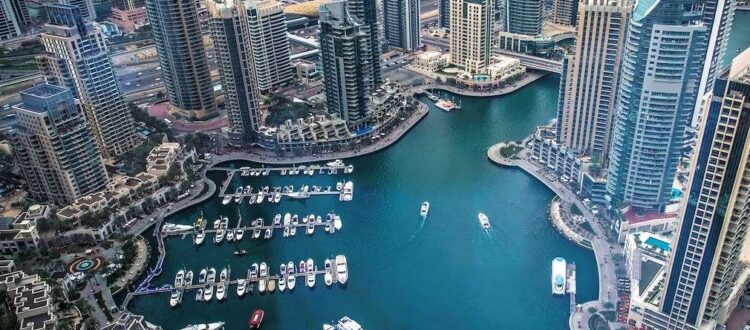 The best things to do in the Marina Dubai area
Among the most popular neighborhoods, Dubai Marina tops the list, on par with other Dubai neighborhoods such as Downtown, Jumeirah, etc. Tourists and expats alike love this area for its vibrancy, proximity to the sea, and lively restaurants and bars that are open at all times of the week. Although the Downtown area is also lively, it is not close to the sea and water activities.
Dubai Marina is built of skyscrapers, luxury hotels, gourmet restaurants, dance bars and beach clubs. Many rooftops are accessible on the roofs of the hotels to have a drink and enjoy the panoramic view of the city. Among the activities to do in the Marina district, here are the five must-do's if you are in Dubai.
1. Take a cruise or a sea trip on a yacht
1.1 Trip on a private luxury yacht
It is easily possible to rent a private yacht in Dubai. At the Marina Port, many companies offer to rent private yachts with or without skipper. You can book it for a few hours, half a day or an evening. Any occasion can be celebrated in the yacht: birthday, wedding, graduation or reunion. An activity that requires no prior organization. You only have to mention what you want to have during this day.
It is possible to order services such as a DJ to animate an evening, a caterer for a banquet or a breakfast, a brunch to enjoy the sun. You will enjoy the sun, the sea and the landscape: the marina lagoon, the Burj Al Arab, Atlantis, Palm Islands and the Atlantis hotel. If you go at the end of the day, you will witness a memorable moment, the sunset over the city.
The yachts are all equipped with a lounge area, a comfortable interior lounge, cabins, a kitchen and a toilet. Depending on the size of the yacht, other amenities can be added such as a kitchenette, barbecue and additional seating. You can bring your own food, music and decoration for this adventure on the open sea. Once you've chosen the private yacht, all you have to do is sit back, relax and enjoy the view.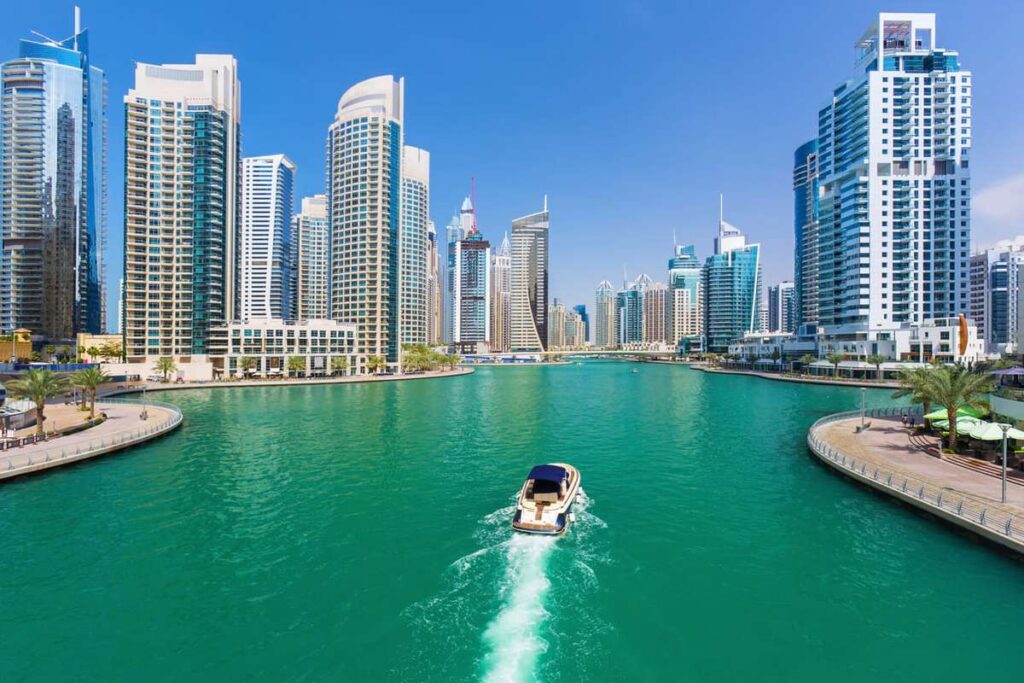 1.2 Dinner cruise on board a boat
In a less intimate register and with a more accessible budget, why not book a day or evening cruise on a boat?
On the lagoon of the Marina, day and night, boats sail with tourists on board. An activity that does not fail to attract also the residents of Dubai. According to the organizers, the formulas and the meal vary. Indeed, depending on your budget and the standard expected, you can book the performance that you like.
You have the opportunity to spend a special evening for a romantic dinner or to spend a good time with your loved ones. On board the boat, you will enjoy a dinner with a stroll on the lagoon of the Marina.
In buffet style, you will have the choice between several international dishes, traditional dishes and sweets to satisfy all palates. Soft drinks are also available on board.
Several tourist agencies offer this service. Your choice will depend on the desired atmosphere: romantic, festive or family and the expected standard. If you want to mark the occasion, opt for a VIP experience with a gourmet dinner cooked by a chef. If you book a time slot before sunset by one hour, you will be able to attend a breathtaking show.
2. Shopping in Dubai Marina
2.1 DUBAI MARINA MALL
Known for its gigantic malls, Dubai is a great place to shop. In fact, it is one of the favorite activities of the city's residents. Malls are places of life. They are set up so that visitors can find everything they need: stores, restaurants, food courts, cafes, spas, cinemas, dry cleaners and activities for children.
In the Marina area, you will find Marina Mall to shop for clothes, shoes, cosmetics in international brand stores (h&m, Zara, Mango, Nike, Sephora, etc). There are more than 130 branded stores (including luxury brands). After shopping, take a break in one of the cafes or restaurants in the Marina Mall.
Adress : Dubai Marina Mall
Accessible by public transportation via Dubai Metro Alight at DMCC Metro Station and the RTA Line 8 bus.
Parking space available
Hours : Stores are open Monday through Thursday from 10:00 a.m. to 11:00 p.m., Fridays and Saturdays from 10:00 a.m. to 11:00 p.m. Restaurants are open until midnight. Supermarkets are open from 8:00 am to 11:00 pm and until midnight on Fridays and Saturdays.
Map of the shopping center : https://www.dubaimarinamall.com/mall-map/
Website : https://www.dubaimarinamall.com
2.2 Souvenir stores I LOVE DUBAI
Souvenirs of a trip are often what we bring in our suitcases. For products such as mugs, Burj al Khalifa figurines, magnets or totes bags, you will find everything you need at I LOVE DUBAI. Located on The Beach, you won't miss this store with various products.
You will be able to buy classic or original products, for young and old. It is the occasion to visit this store to have ideas of gifts to make to your family, your friends or your colleagues. There are also other artisanal stores on the promenade.
Ideas for gifts or souvenirs: keychains, mugs, t-shirts, tote bags, magnets, postcards, stuffed animals or candies.
Opening hours : open every day from 10 am to 11 pm
Phone number : +971 44301387
Localisation : The beach, Dubai Marina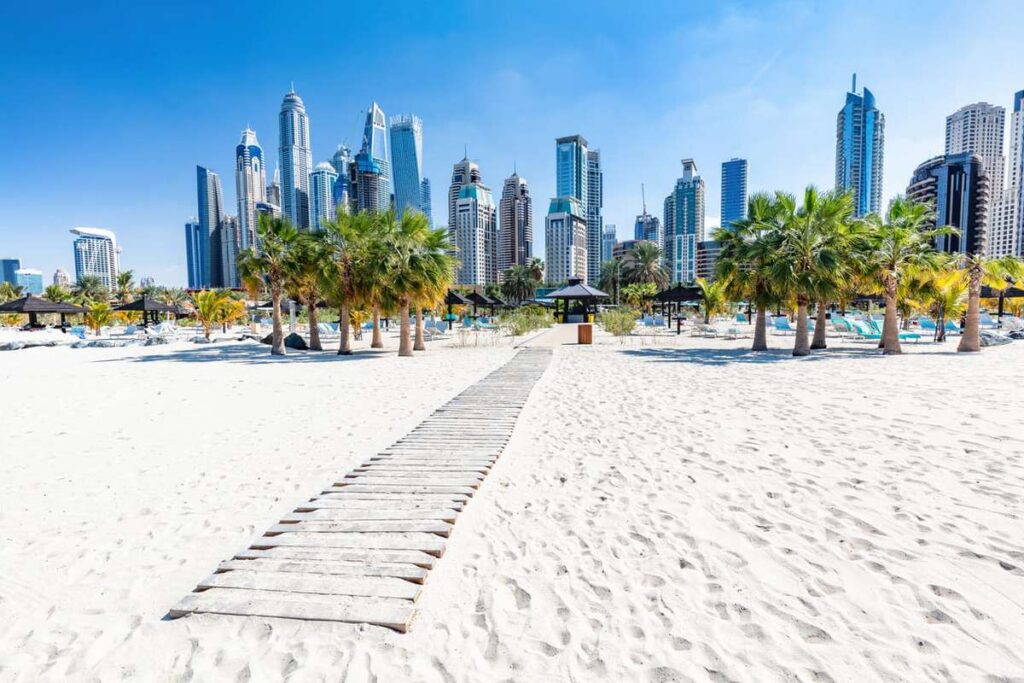 3. Relax and party in a Beach Club
A large number of beach clubs are in the Marina area. Beach clubs to enjoy a day by the pool chilling, listening to music mixed by a DJ or swimming in the sea. They are often in luxury hotels. The entrance fee gives you access to the hotel's private pool and beach.
You can sit wherever you want: at the bar sipping a cocktail, in a deckchair by the pool to get a tan or smoking a chicha in the hotel lounge. Admission sometimes entitles you to redeem a portion of the admission fee for a voucher that you can use to order food and drinks.
In Dubai's bustling Marina district, the most popular beach clubs are located. Whether you live in Dubai or are just on vacation, booking a day at a beach club is a must. Some of the must-do's at the Marina include Drift Dubai, Bla Bla Dubai, Azure Beach Dubai, Zero Gravity Dubai and Wane by Somiya. Ladies, take advantage of Ladies Day, a day at some of the beach clubs offers you entry, drinks and other surprises.
4. Restaurants, bars & rooftops in Dubai Marina
There are many rooftops, bars and nightclubs in the Dubai Marina area. There are places to have a drink on a rooftop with a breathtaking view of the city's skyscrapers, lounges for a more intimate atmosphere with soft music, chicha bars and others ideal for partying with friends.
In a chic and luxurious setting, the Buddha Bar is one of the most fashionable and popular among Dubai residents and tourists. Located in the heart of the Marina, it is one of the best places to enjoy gourmet cuisine in an incredible setting, for its parties and its unique cocktails. Very trendy, the Buddha Bar is worth a night out when you are in Dubai.
Now it's time for the gourmet restaurants in the Marina district. Many chefs have opened their restaurants in this area. Many of them are French. This is an opportunity to enjoy an unforgettable culinary experience in one of the city's gourmet restaurants. In Dubai Marina, most restaurants offer food and service that live up to their image and reputation.
But many stand out for the quality and originality of the menu, the ambience and the setting that make the experience a memorable one. Be sure to reserve a table at Celebrities at One & Only Royal Mirage for a gourmet French dinner to experience with your family or friends. The trendy Asil restaurant offers Lebanese, Turkish and Moroccan cuisine. This one too should be on your list of restaurants to try in the Marina district.
During your walk on Dubai Marina Walk, take a short coffee break. There are several places to choose from for a hot or cold drink, a pastry or a meal.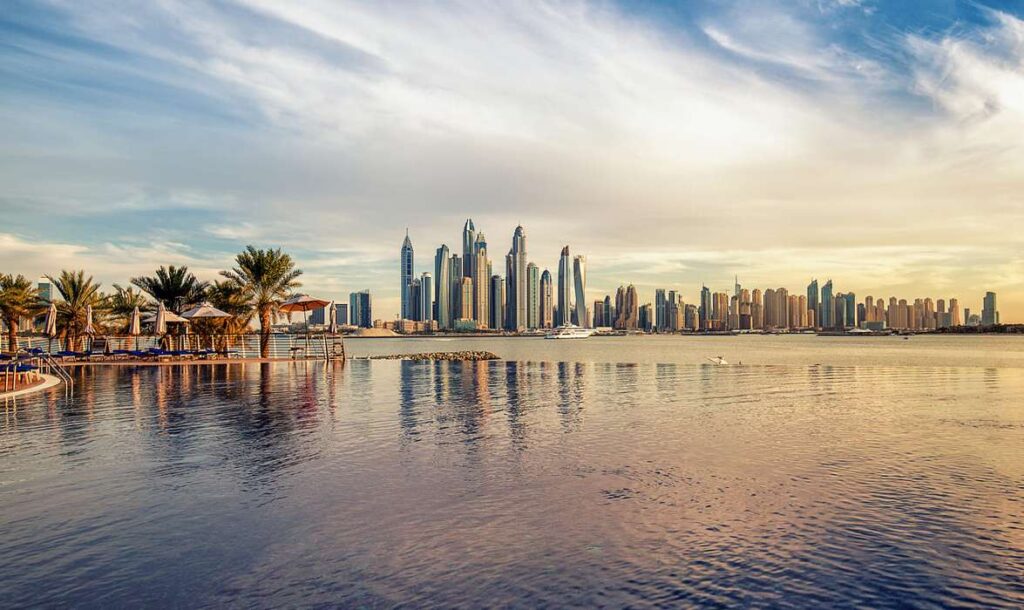 5. Chill at the beach alone, with family or friends at the Marina
Dubai Marina is close to the beach. In fact, it is one of the most frequented by residents and tourists. Marina Beach and The Beach JBR are a clean and well-equipped stretch of beach with all the necessary facilities: umbrellas, sunbeds, etc. There are also restaurants, cafes and small stores to buy food during your beach day. The strong point of the sea at the Marina is that it is suitable for water activities: wakeboarding, banana boat or parasailing. The beaches are child-friendly with facilities that appeal to children such as the large inflatable Aqua Fun water park.
With family, friends or alone, enjoy the long sandy beaches and clear waters of Marina Beach. The setting is relaxing with its palm trees, its breathtaking view of the city and its atmosphere.
For those who prefer more comfort, opt for a day at a private beach. Many hotels open their doors to non-residents of the hotel for the day. This way, you'll enjoy a luxury service that you won't find at a public beach. Most have a service that is accessible from the sunbeds. Just lie back on your lounge chair and order a dish, a cocktail or a chicha.
6. Sensational activities not to be missed
There are many activities to do at Dubai Marina and some of them are unusual. Let yourself be tempted by a thrilling activity like the X Line Dubai. A unique experience that will mark your trip to Dubai. It is the longest urban zip line in the world. For 1 km and up to 60 km/h, you will cross the Marina in a zip line. You will see the buildings, the luxury hotels, the blue water, the beach, this ride in the air will mark your stay in Dubai. Who has never dreamed of doing a parachute jump? In Dubai Marina, you can do it. The Skydive organizes daily skydiving trips. You can admire from the sky the emblematic island of Palm Jumeirah, Ain Dubai or the Burj al Arab.
How to reach the Dubai Marina area?
The Marina area is very well served by public transportation (subway and streetcar) via the DAMAC Properties station. The Marina also has easy access to Sheikh Zayed Road, the city's highway. You can easily get around by car or public transport. Sometimes it is faster and more comfortable to travel by cab in Dubai. Be aware that on weekends the traffic is very heavy in this area.
What to do near Dubai Marina?
Atlantis (Five Palms Jumeirah)
Secret Beach
Burj al Arab
Jumeirah Lakes Towers