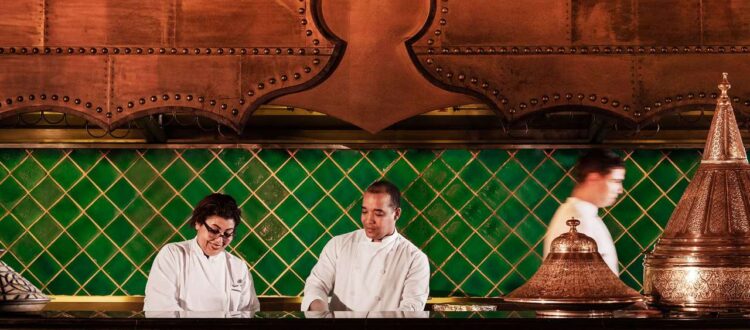 Tagine Moroccan restaurant in Dubai
In all four corners of Dubai, you will find restaurants of the world's gastronomy. Whether it is in the Downtown area where the Dubai Mall is located, at the Marina where it is nice to party and have a drink or in the Jumeirah Beach Road (JBR) area with its beautiful beaches and beach clubs, you will have the choice between several restaurants with Lebanese, Japanese, Mexican, Italian, French and many other specialties that you can discover during your stay in Dubai. There is something for everyone, from family restaurants, to chic and casual, to festive. There are some that stand out and are a must try at least once, like the Moroccan restaurant Tagine.
1. A restaurant with an oriental and chic decoration and atmosphere
In the prestigious One & Only Royal Mirage located on the street of Al Sufoul, is Tagine, one of the best Moroccan restaurants in the city. By its decoration and its architecture, worthy of a Moroccan riad, you will be immediately plunged in the Moroccan atmosphere. The decoration is particularly composed of objects coming straight from Morocco like lanterns, carpets, armchairs, paintings with warm colors and many other elements of craft decoration.
On majlis, in a traditional way, or on tables, sit comfortably and let yourself be carried away in this trip to Morocco for lunch or dinner. In a decoration of a thousand and one nights, the outside space is arranged to drink a glass of mint tea and/or to smoke a hookah after having tasted a good meal. Although the space is very casual, the service and atmosphere remain in keeping with the spirit of One & Only Royal Mirage, upscale and calm.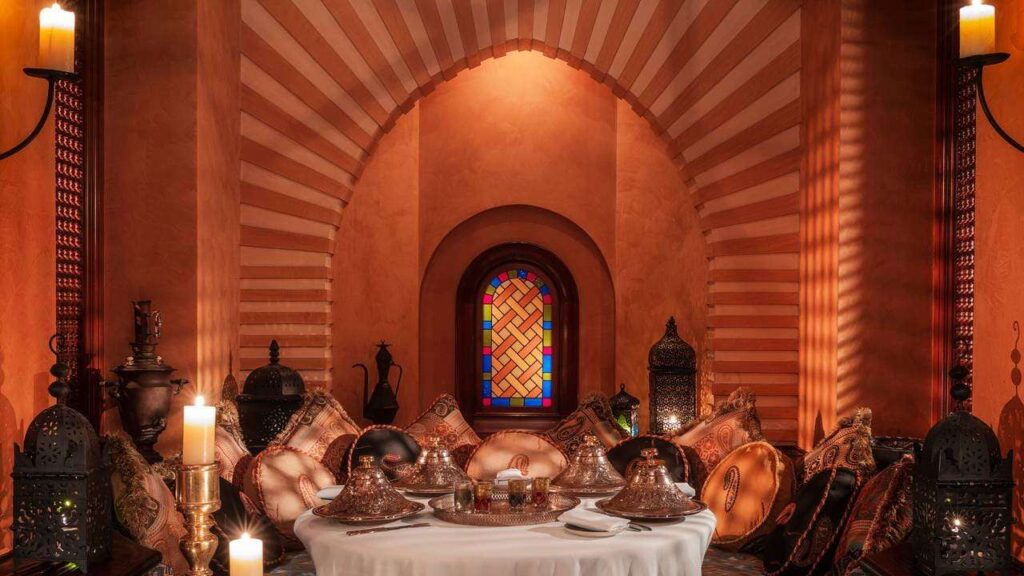 2. An authentic and tasty Moroccan cuisine cooked by a chef
On the menu, let yourself be tempted by the classics and must-haves of Moroccan cuisine. For starters, you have the choice between cold or hot mezzes such as briouates with seafood, kefta or prunes and also salads, taktouka and many other choices of starters. As for the dishes, don't miss the succulent chicken and olive tagines or the lamb and prunes tagine, couscous with or without meat, signature dishes to share, meat cooked in mechoui with saffron rice as a side dish and many other specialties. There is a wide choice of vegetarian and vegan starters and dishes: vegetable couscous, salads, soups, etc.
They are cooked according to Moroccan recipes. The dishes in sauce are cooked in Moroccan Tajines in terra cotta and the spices come straight from Morocco. This makes each dish an imminent trip to Morocco.
On the dessert side, we find the iconic baklawas, baghrirs, they are the pancakes with a thousand holes, accompanied by a Moroccan mint tea or orange cinnamon, a real delight.
It is a good address for those who wish to taste the best of Moroccan cuisine in a traditional and renowned place like One & Only Mirage. It is the fusion between traditional and Moroccan hospitality with the luxury and quality of service that we find in Dubai. It is a restaurant that invites to disconnect, respite and discovery.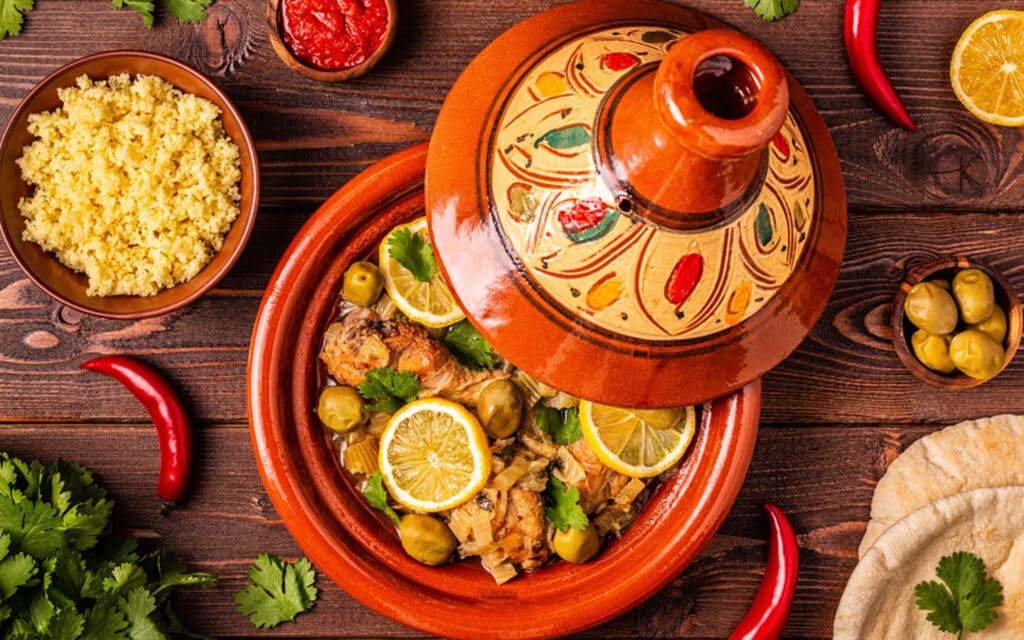 3. The One & Only Royal Mirage, a must-see place in Dubai
The Tagine restaurant is located in a luxurious setting. The service and menu are also on par with the prestigious venue, One & Only Mirage.
After or before the restaurant, why not take advantage of the other areas of One & Only Mirage? The One & Only Royal Mirage is known to be one of the most luxurious and prestigious places in Dubai. In addition to being a renowned hotel, it is also a recommended place to have a Spa in Dubai Marina by taking advantage of the many massages offered, a traditional hammam, having a drink by the pool and enjoying the soothing and beautifully Finished. To do this, all you have to do is make a reservation either by phone or online. Thus, you can enjoy a full day in this magnificent palace.
The Tagine restaurant is located in the Downtown district. A few minutes walk from the Marina, one of the most popular areas of Dubai, you can shop at the Dubai Marina mall, have a drink and party at Zero Gravity and do water activities like jet skiing or well a dinner cruise on the edge of a boat.
4. Frequently asked questions (F.A.Q): find out more about the Tagine Dubai restaurant
Is a dress code required for this restaurant?
Only proper attire is required. You can opt for a casual and chic (casual) outfit. It is strongly recommended that men wear trousers and avoid wearing open shoes.
Can we come as a family (with children)?
Tajine is a restaurant that suits both couples and families with children. You will also appreciate this restaurant for a dinner with friends.
Does the Tagine restaurant organize parties?
The atmosphere of the restaurant is calm. This is not an address where you come to party. We come to enjoy lunch or dinner in a Moroccan atmosphere.
What are the specialties of this restaurant?
The chef's recommendation are the cheese briouate puff pastry, chicken pastilla, seafood pastilla, chicken tagine and candied lemon and lamb couscous. But, there are other specialties that you will surely enjoy. You can view the menu online:
https://www.oneandonlyresorts.com/-/media/oneandonly/global/
Does it offer vegetarian options?
Since meat is also present in several dishes, it is true that most are composed of chicken, lamb or fish. But, there are vegetarian starters and dishes at Tagine such as the vegetable tagine dish, DCHICHA soup, cheese briouates, taktouka and many others. There are also some vegan options.
Does the restaurant serve alcohol?
In Dubai, only licensed restaurants can serve alcohol. In addition, most family restaurants do not serve alcohol to respect the culture and religion of the United Arab Emirates. The Tagine restaurant does not serve alcohol. You can consult the drinks menu, you will surely find a house drink that you will like. There are other places where you can have a drink in the One & Only Royal Mirage.
Is it compulsory to book?
Yes it is strongly recommended to book in advance, especially on weekends, as the restaurant is often full. You can book by phone at +971 4 399 9999 or online at the following address:
https://www.opentable.ae/reservations
Is it possible to come to the restaurant by public transport?
It depends, where you come from. There is the MEDIA CITY tram 1 station which is a five minute walk from the restaurant. If you are coming from the Downtown area (Dubai Mall), you can take the red line metro to Sobha Realty and then take the tram to Media City. On the other hand, if you come from Dubai Marina, it is only four tram stops.
Location : The Palace at One&Only Royal Mirage 
Adress : One & Only Royal Mirage Palace – King Salman Bin Abdulaziz Al Saud St – Dubai
Phone : +971 4 399 9999 
Hours: open Thursday to Sunday from 7:00 p.m. to 12:00 a.m. Reservations are only possible until 10:30 p.m.
Website : https://www.oneandonlyresorts.com/royal-mirage