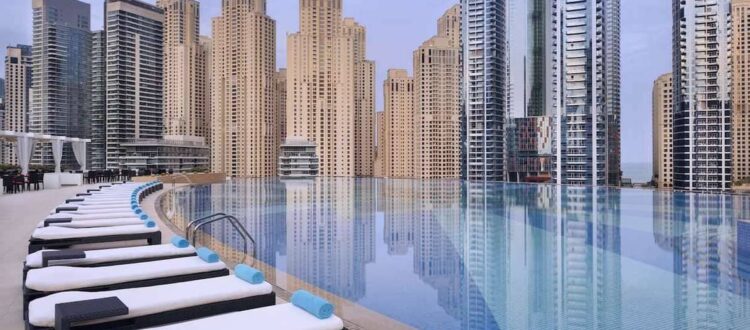 WANE BY SOMIYA, the luxurious pool at the Address Marina hotel
There is no shortage of experiences in Dubai. In the city of the future, where luxury is at the center of Dubai's daily life. It is not uncommon to find restaurants, hotels, luxury boutiques in practically all areas of the city. A luxury and comfort that can be beneficial to tourists passing through the city. Beach, sun and music rhyme with Dubai. There is always something to do and events you can join. During a day off during the week, at the weekend or during a scheduled vacation, why not devote it to chilling by the pool?
But, not anywhere. In a place that combines relaxation and fun, in a super glamorous setting, at Wane by Somiya. Located within the luxurious 5* Address Marina hotel, Wane By Somiya has a 45 meter infinity pool. It is very special compared to other pools. It is located in the heights of Dubai Marina, it offers a breathtaking view of the skyscrapers of JBR and the Marina. An experience not to be missed if you are in Dubai.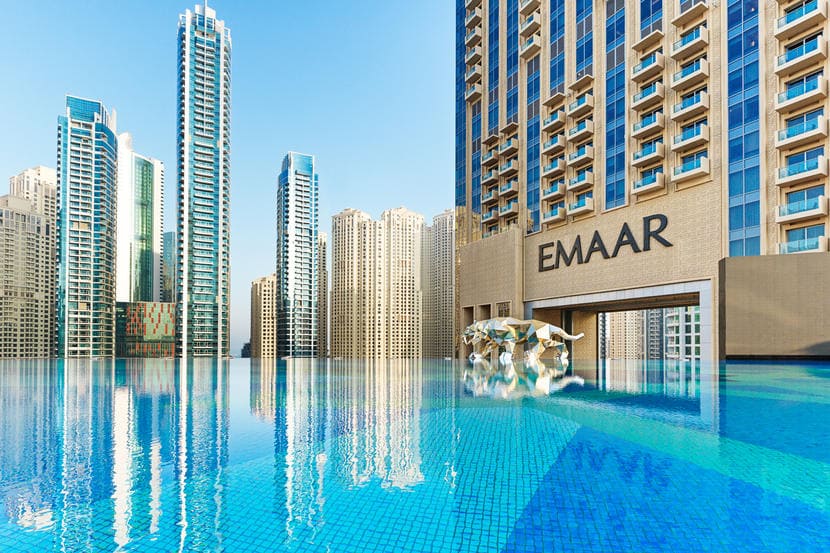 1. Wane By Somiya, glamorous and festive atmosphere
The spaces are arranged so as to be close to the swimming pool. You have the choice to sit in a living room, on a deck chair or in a shed. They all have a table nearby to put your belongings, a bath towel and a parasol. Western-style Wane has a glamorous yet laid-back vibe. Whether on weekdays or weekends, this luxurious Marina swimming pool opens its doors to hotel residents and also to visitors who wish to spend the day at the Wane. The entrance being restricted and paying, the reservation is made in advance. You can call or email them to reserve your seats. Which makes the experience almost exclusive.
During the day, the atmosphere is calm and relaxing. This is the right spot to enjoy the sun, the freshness of the swimming pool and the soft music. From sunset, it is in a different atmosphere that the Wane continues the day. The place is transformed into a shisha lounge. Ideal for sipping a cocktail under the starry sky of Dubai. The service and comfort are up to the 5 stars of the Address Marina hotel.
On weekends, they organize pool parties, accessible to all, to meet up, have fun and relax while listening to the music mixed by the resident and guest DJs. So, plan at least one day during your stay or your weekend if you live in Dubai to live the Wane by Somiya experience. You only have to take your bathing suit with you.
Shows are often organised. Wane thinks big, so it's great international artists who come to give concerts. There are also artistic performances like acrobats, fire shows and dancers. Wane's mission is to offer entertainment, relaxation and an unforgettable experience in one place. And it is not for nothing that they are in the favorite addresses of the Dubai jet set.
Access to the swimming pool for visitors:
For women, it's free all week.
For men, the entrance fee is AED 350, or around €90, of which AED 250 (€65) is redeemable for F&B (food and drink) throughout the week. For children under 12, admission is free.
2. Restaurant and bar at Wane by Somiya
In the kitchen, we find Mediterranean and Asian flavors. The hotel's chefs offer a menu ranging from breakfast to dinner, including small snacks and very sophisticated drinks.
Classic dishes include arrabiata pasta, seafood spaghetti, burgers, fries, and more. You can also enjoy Asian specialties such as fried noodles, sushi or even edamame. A special mention for the seafood dishes. There are also starters and vegetarian dishes. You have the possibility to have your breakfast at the Wane. The map is also interesting. There are eggs benedict, sandwiches, french toast, pancakes and acai bowls.
A drinks list is as rich as the menu with a wide choice of red and white wines, champagne and signature cocktails. You also have the possibility of consuming non-alcoholic drinks.
On weekends, they organize Pools Brunch, a brunch by the pool, enough to spend a sunny day and enjoy your day off.
As you will have understood, the comfort of its facilities and its superb swimming pool do not leave you indifferent. Sip a cocktail poolside and enjoy live music. Remember to book well in advance so as not to miss your day at the Wane.
Menu : https://www.wanebysomiya.ae/menu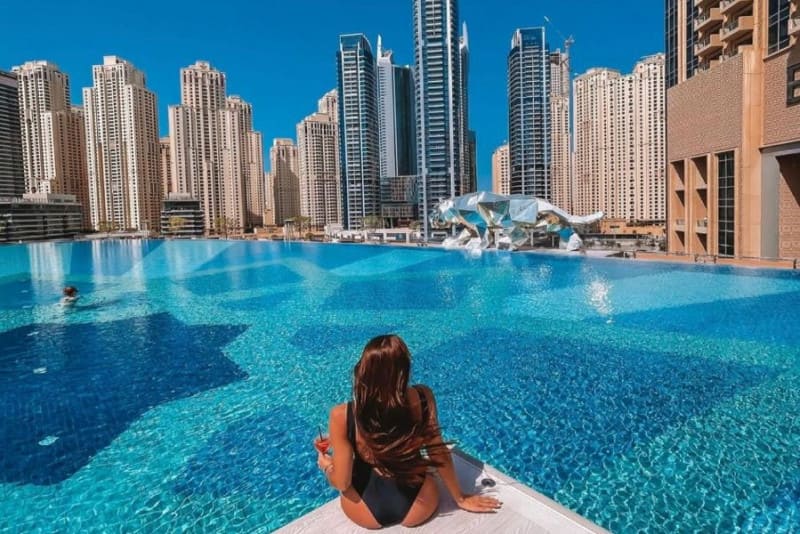 3. The Address hotel: spa and restaurant
The Wane by Somyia is located in The Address hotel. Even if you have not booked a night in this hotel, it is possible to take advantage of its services. After a morning chilling by the pool enjoying the setting lulled by the music, you can book a Spa session by choosing from a wide choice of massages and treatments. You can then have lunch in one of the renowned restaurants of the hotel, which are also among the essentials of Dubai.
The SPA is managed by professional and experienced therapists. You have the choice between classic massages and other more personalized ones, body wraps, facial treatments with very precise methods adapted to your skin, as well as packages for two.
Regarding the restaurants, you have a wide choice of international culinary specialties. There is in particular the Kong restaurant which offers French and Japanese fusion cuisine. Find the list of restaurants on the hotel's website: https://www.addresshotels.com/en/dine/
How to get there ?
The fastest way is to get there by car. If you do not have a vehicle, you can get there by taxi. The closest station is DMCC Metro Station, a station on the red line of the metro. From DMCC it is a 20 minute walk to reach the hotel. We advise you to get there by car or taxi. Be aware that taxi rides are cheaper than in France. Alone or with others, it is much more pleasant and sometimes faster to get to certain neighborhoods by taxi.
Adress : Wane By Somiya – Address Dubai Marina Level 4, Address Dubai Marina 
Pool Hours: Daily (8:00 a.m. to 8:00 p.m.)
Rooftop Lounge (8:00 a.m. to 3:00 p.m.)
E-mail : info@wanegroup.ae
Instagram : https://www.instagram.com/wanebysomiya_dubai/
Wane by Somiya is nearby : Dubai Marina Walk, Dubai Marina Mall, Jumeirah Beach.