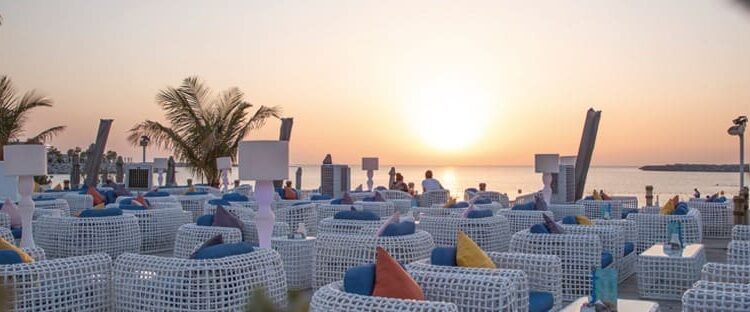 Smoky beach, shisha bar at Jumeirah Beach Residence
Dubai is a dynamic city where it is good to go out, party and rest. With its pleasant and sunny weather, practically all year round, it is possible to swim and enjoy the sun. There are plenty of places, public and private, to relax and chill by the pool and the sea. These are generally good spots for a drink or lunch with your feet in the sand as well. There are also restaurants, bars and cafes that have taken place along the JBR corniche. Among the must-sees, we present Smoky Beach which is located in the Jumeirah Beach Residence (JBR) district.
1. Jumeirah Seaside Shisha Restaurant & Bar
Smoky beach, which is both a shisha bar and an open-air restaurant, is a popular place for expats, locals and international tourists. It offers a setting that leads to relaxation and rest. You can settle into a sofa or on an ottoman by the sea. The Smoky Beach JBR offers breathtaking views of the sea, the Ain Tower, the Blue Water and other iconic structures of Dubai. When the sun sets, the colors of the sun that mingle with the landscape offer a breathtaking spectacle. A breathtaking postcard not to be missed if you are there.
The restaurant part of Smoky Beach offers a varied menu with choices of world cuisine that suits both those who want meat and fish dishes and vegetarians. We'll start with the appetizers, they offer gyozas, edamame, nachos with guacamole or melted cheese, sweet potato fries, fried calamari and other choices available à la carte.
As for the dishes, there are Asian specialties with noodles, chicken rice, Mexican, Italian specialties with a wide choice of pizzas and pastas, burgers, salads, etc. You will have no trouble finding vegetarian options as well. The sushi and maki platters are the most ordered. They are prepared to order and served at the table, whether you are in the restaurant area or on the beach.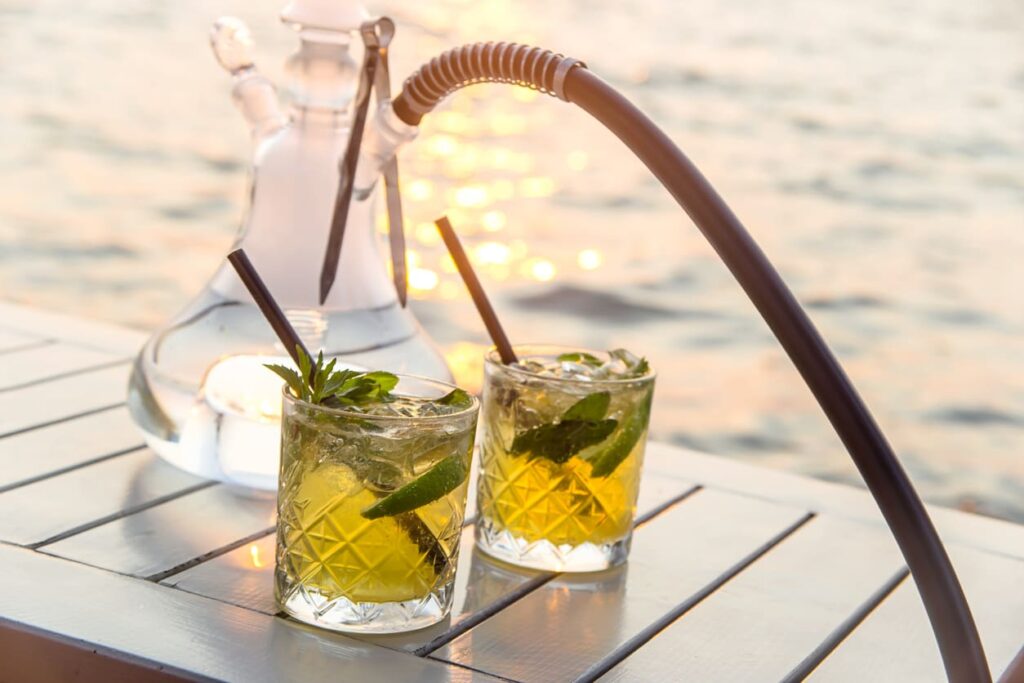 Enjoy a delicious cold drink prepared by the baristas at the bar. You will surely opt for one of the fruit cocktails, a special mention for the passion fruit one, the classic alcohol-free or strawberry mojitos and the delicious smoothies. For those who prefer hot drinks, they offer caffeinated drinks, milkshakes and other drinks like tea, karak, etc.
It is pleasant to go there during the day and in the evening. The atmosphere is pleasant and calm, animated by a background of music. In the evening, the Smoky Beach attracts hookah enthusiasts. Often with friends, but also with family, they come to enjoy the quality of its kaloud chichas and the relaxing setting offered by Smoky Beach. A wide choice of shisha flavors is offered. We find the classic perfumes to the most elaborate such as those with passion fruit, watermelon, mint, apple and also certain mixtures such as the famous love 66, the Blue Mint or the Big Blue.
This is one of the places that is very popular at Jumeirah Beach Residence (JBR). What customers appreciate are the quality of the service which is friendly and warm, its ideal location towards the Marina district and its incredible panoramic view of the sea. It is also a good spot to admire the sunset. If you are looking for a place to chill while listening to music, have your feet in the sand while sipping a cocktail and smoking a shisha, the Smoky Beach is exactly what you are looking for.
2. Frequently asked questions (F.A.Q): find out more about the Smoky Beach JBR restaurant
Are children allowed to enter Smoky Beach?
Smoky Beach opens its doors to all customers, children and adults alike. It is a restaurant with a family spirit where everyone finds comfort. However, the customers who frequent the restaurant are adults. They mainly come to have dinner or smoke a hookah during the evening. During the day, the clientele is quite diverse. Choose the day for your family outings.
Do you have to book in advance for the restaurant and shisha part?
We strongly advise you to book. It is a place where shisha lovers meet. In Dubai, restaurants are often very popular. Given the location of the Smoky Beach, in a lively area, we recommend that you call and reserve. Be aware that on weekdays and especially during the day, there are far fewer people. You can book by calling +971 50 109 1231.
Is the restaurant suitable for vegetarians?
Smoky Beach offers a very varied menu, both in the diversity of starters and dishes and in terms of culinary speciality. You will have the choice between several starters and vegetarian dishes from Japanese and Italian cuisine and also salads.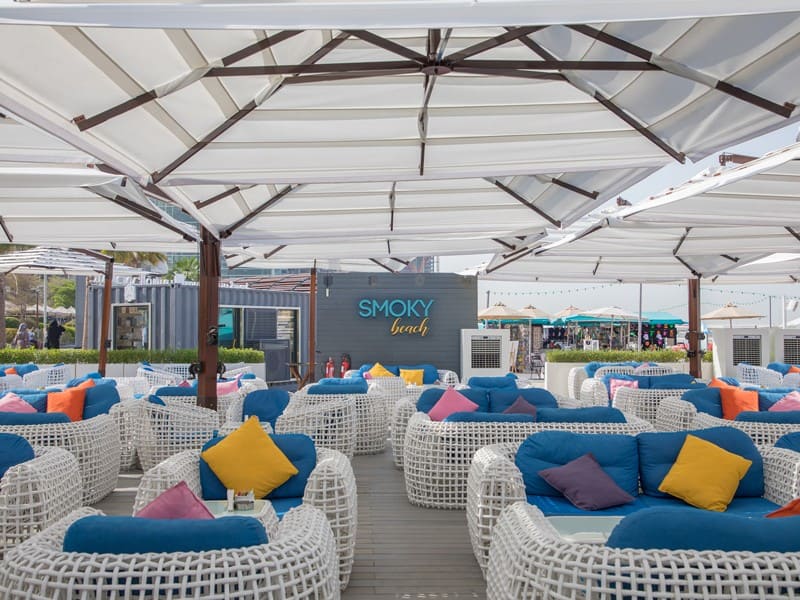 Is it possible to drink alcohol?
Although it is a very busy and lively place, it is impossible to consume alcohol at Smoky Beach. You will not find any alcoholic drinks on the drinks menu. But, you have other options like delicious homemade cocktails, fresh juices and classic drinks.
What are the average meal prices?
For a meal at Smoky Beach, it is necessary to count between 150 and 200 AED, or approximately between 40 and 50 € for a meal. As for shisha, it will take 100 and 300 AED, or approximately between 25 and 75 € for a shisha (depending on taste).
Are there non-smoking areas?
Smoky Beach is primarily a shisha bar. All spaces are outdoors. There is no non-smoking area knowing that it is mainly a shisha bar. But, be aware that the tables and sofas are quite spaced out and that the place is not closed. This allows you not to be suffocated by the smoke.
Do Smoky Beach require an outfit to enter the restaurant?
The Smoky Beach does not require an outfit. Come as you wish: casual, chic, relaxed or sporty. You can dress as you wish as long as you respect the manners and customs of Dubai.
Are there parties that are organized at Smoky Beach?
There are no parties organized in the Smoky Beach. This is not a place to party. It is more of a place to chill, listen to music and smoke your hookah. The setting, by the sea, is soothing and leads to a pleasant time with family, friends or as a couple.
Adress : Al Wasl and Al Safa Road Junction, Al Mustaqbal StreetCity Walk II – Dubai 
Hours: Open 6:00 a.m. to 3:00 a.m. (every day)
Note that they are closed during the very hot months of the year. The spaces are outdoors. There is no closed space. Contact Smoky Beach for closing months.
Phone : +971 50 109 1231 
Reservation : smokybeach@awj.ae 
Menu : https://smoky.ae/smokyJBR/ 
Smoky Beach News : https://www.facebook.com/smokybeachdxb/ 
Nearby : Bla Bla Dubaï, Marina Beach, Dubai Marina, JBR Beach.