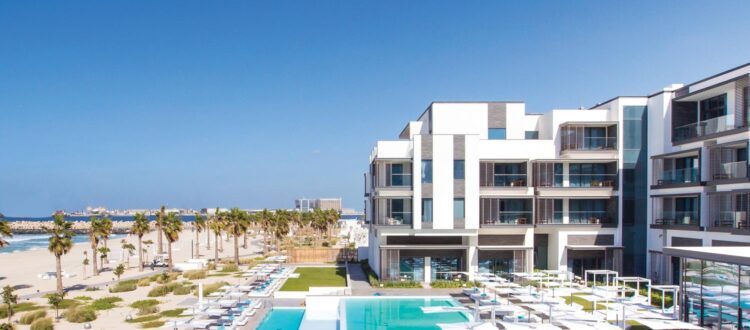 Nikki Beach Resort & Spa, the 5 star hotel of Pearl Jumeirah
Music, sun and beach are words that describe Dubai. After work or on weekends, the activity of almost all expatriates and locals is to relax by a pool or swim in the sea. Many hotels offer the opportunity to enjoy the luxury and comfort of the hotel for a day: lounge chairs, cocktails, infinity pools, sandy beach and music.
Located on the beach of Palm Jumeirah, the Nikki Beach Resort & Spa is one of the places not to be missed and very appreciated by the expatriates of Dubai for its Beach Club. But, it is above all a hotel where many tourists come to stay during their vacations in Dubai. The Nikki Beach Resort & Spa Dubai is located on the Pearl Jumeirah waterfront. It offers access to the sea and a beautiful panoramic view from the pool and beach. This luxury hotel has 117 rooms and suites, 15 pool villas and 63 apartment-style residences. The hotel has all the comforts and facilities needed for a pleasant stay: a SPA, a gym, a restaurant, a bar and other relaxation areas such as the pool and the private beach.
1. Luxury Beach Club, Nikki Beach from Miami to Dubai
Nikki Beach is an international network of luxury hotels with a worldwide presence. The concepts are similar in all countries. Nikki beach is not just a beach club. It is a place of entertainment, where you can enjoy the sun, the pool and the music with a DJ. There is also a private beach with fine white sand, which is also equipped with deck chairs and cabanas. You can choose the spot that suits you and enjoy the festive atmosphere of the club. With its white and blue colors, the décor is reminiscent of the island of Mykonos. The infinity pool with loungers all around, the view of the beach and the turquoise water of the sea, make this place a unique and exotic place.
There are often events organized around a specific theme, theme parties, shows and many other surprises that Nikki Beach has in store. For your private events, it is possible to reserve and privatize the space. Under certain conditions, but be aware that it is possible to celebrate your wedding at Nikki Beach for example.
Admission to Nikki Beach Dubai is free. However, it is not free if there is an event organized. In this case, you can buy your ticket on the official website or on site (before or on the day). If you come during a classic day, you will only have to pay for the deckchair and your drinks and food.
Moreover, if you wish to enjoy the setting with a little more privacy, it is possible to rent cabanas and also VIP villas for the day with a private pool.
The Beach Club area is for adults only. It is mandatory to make a reservation by phone before going there.
Price of the deckchairs: between 150 and 200 AED, that is to say between 40 and 50 €* Price of the cabins: about 4000 AED, that is to say about 1020 €*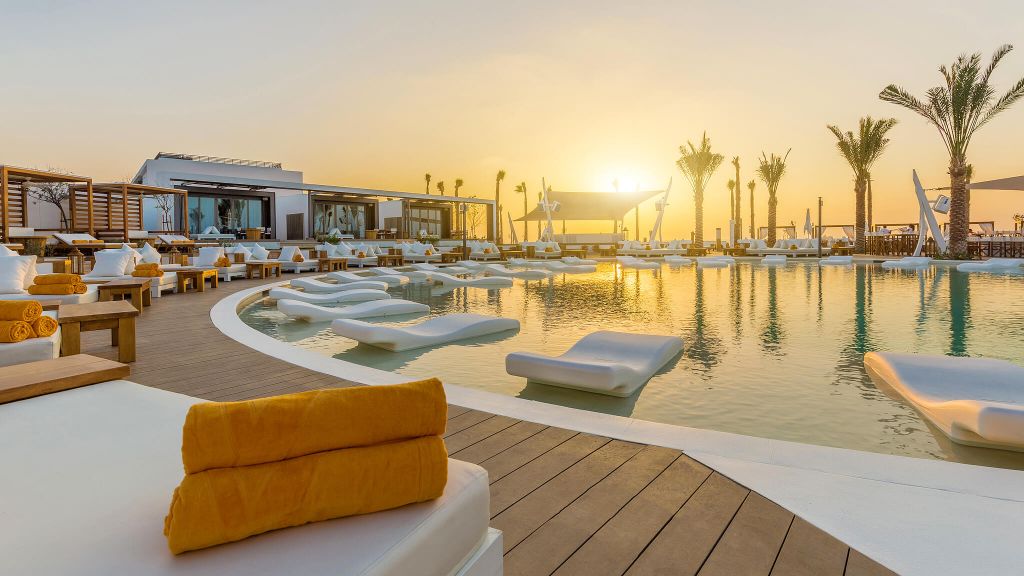 2. The bar and the restaurant
If you're looking for a drink or a bite to eat, there are three places to choose from at Nikki Beach: the Soul Lounge, Nikki Cafe and the Beach Club Service.
The Soul Lounge is located on the lobby level of the hotel. The space is very bright and furnished with comfortable armchairs and sofas. The atmosphere is both chic and cozy. On the menu, they offer a selection of healthy and fresh dishes of Mediterranean inspiration such as Greek salad, ceviche, prawns or skewers. You can also have a drink. They offer red and white wine, alcohol-based cocktails, craft beer and a wide selection of non-alcoholic drinks.
Menu : https://dubai.nikkibeach.com/menu 
Opening hours : open every day from 8 am to 12 pm
Phone : +971 4 376 6290 
Email : restaurantreservation.dubai@nikkibeachhotels.com
Café Nikki offers a more sophisticated cuisine with a menu prepared by a chef. This bistro is known for its delicious dishes. They are inspired by Nikki Beach establishments around the world. The particularity is that they use only fresh products for the basic ingredients like vegetables, meat and also for the foreign imported products like feta cheese for example. The menu is a reflection of Nikki Beach's identity. You can feel the journey, the fusion of cultures and cuisines through each dish.
Sit down in this bistro with its contemporary decoration and enjoy your dishes in a warm atmosphere. You will have the choice between hot or cold starters like the famous Caesar salad, Mediterranean and Asian inspired dishes like the biryani for example. When the weather is hot, opt for a POKE ME. It's delicious and very balanced.
Every Saturday, Café Nikki offers a brunch. Take advantage of a relaxing day at the beach club to have brunch with friends or family. You will live an incredible culinary experience.
Menu : https://dubai.nikkibeach.com/dine/cafe-nikki/ 
Opening hours : open every day from 07 h 00 to 23 h 00
Phone : +971 4 376 6290 
Nikki Beach Club offers cuisine similar to Café Nikki and Soul Lounge. The dishes are internationally inspired with a reminder of the flavors and spices of the countries in which Nikki Beach is located. On the menu, there is a wide selection of salads, classic and creative sushi platters, seafood, pasta and many other dishes to discover on the spot according to the seasons. A special mention for the Luscious Salad. It is composed of shrimp, lobster, crab meat, avocado, mango, pickled cucumber, lettuce and chili pepper.
The service is done at the table or directly at your place (deckchair or cabana). So you can continue to enjoy sunbathing, listening to the music mixed by the DJ while enjoying your dish.
Menu : https://dubai.nikkibeach.com/dine/beach-club/ 
Hours: open Tuesday to Sunday from 11:00 am to 8:00 pm (excluding events)
Phone: +971 54 791 0049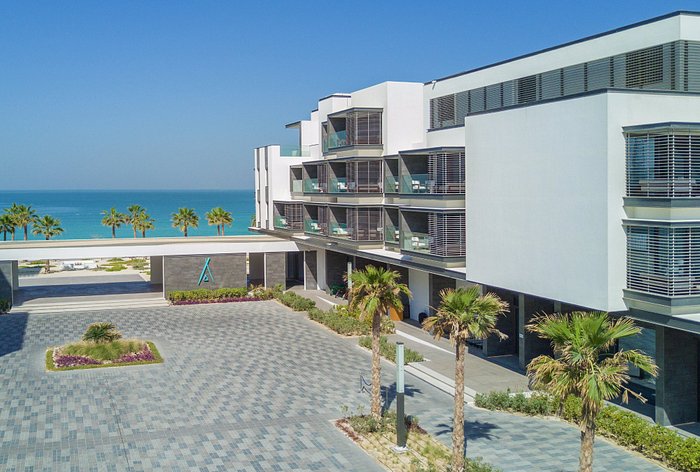 3. Nikki Spa to relax and unwind
The hotel's spa includes a steam room, sauna, mixed vitality pool and indoor and outdoor relaxation lounges. The spa is open to both men and women and offers treatments and massages suitable for everyone.
They offer classic massages (Thai, Balinese or Swedish) or specific to your needs. Treatments based on natural and luxury products such as Clarins SIGNATURE RITUALS or facials. You can combine as many treatments and massages as you wish. We recommend that you ask the Spa's professional therapists for advice.
Opening hours : open every day from 11 am to 9 pm (only on reservation)
Reservation : https://dubai.nikkibeach.com/spa-leisure/ 
4. Frequently Asked Questions (F.A.Q.): Learn more about Nikki Beach
What is the minimum age to enter Nikki Beach?
The minimum age for access to the Beach Club is 21. The age of majority in the United Arab Emirates is 21, not 18. However, minors accompanied by an adult can stay in the hotel.
Price: from 500 € per night for a classic room.
Can we consume alcohol?
The Beach Club, Soul Lounge and Nikki Café offer a menu of alcoholic drinks. You can choose between different wines: rosé, white or red. There are also cocktails and beers. However, it is forbidden to bring drinks from outside.
What is the dress code to enter Nikki Beach?
Nikki Beach is a chic place that is frequented by the golden youth of Dubai. A dress code is to be respected (casual chic). For the restaurant part or during events, it is mandatory to wear a chic outfit (no open shoes for men for example, no swimsuit, etc.).
How to get to Nikki Beach Dubai?
The only way to get to Nikki Beach is by car or cab. There is no public transportation that takes you directly back. The nearest metro is 3 km away. Dubai is a city where travel is mostly by car (personal or cab). There are parking lots or valet parking in all places. So there is no problem to park.
Do I have to make a reservation?
We recommend that you make reservations, especially on weekends. On the other hand, during events, reservations are mandatory. If you wish to dine or have a SPA at the Nikki Resort, it is necessary to make a reservation by phone or by e-mail.
Adress : Pearl Jumeira, Dubai, United Arab Emirates, 08286 
Phone : +97143766000 
Website : https://dubai.nikkibeach.com/ 
Reservation : reservations.dubai@nikkibeachhotels.com 
Nearby : 
– The Etihad Museum
– Pearl Jumeirah