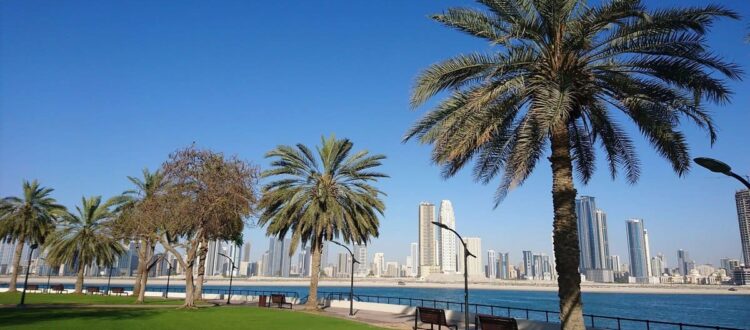 Mamzar Beach Park, leisure and relaxation destination in Dubai
Among the must-do activities in Dubai, in the top 5, we find the "beach" activity. Dubai is a coastal city, so the sea is easily accessible no matter where you live, be it Downtown, Jumeirah, the Marina or other residential areas. There is something for everyone: beach clubs with a festive atmosphere, beaches with a chic and luxurious atmosphere and others that are more family oriented and accessible. Among the spots not to be missed if you are in Dubai, there is the Mamzar Beach Park.
Located in the Mamzar district of Deira, a few kilometers from Sharjah, Mamzar Beach Park is one of the most popular spots for residents and tourists in Dubai. It is more than just a beach, it is a whole complex that covers 106 hectares. The beach itself includes five beaches, a swimming pool, restaurants, gardens and VIP areas where it is possible to rent for the day. As you can see, Mamzar Beach Park is a reconstruction of a small village where everything is centered in one place to spend a pleasant day and have access to everything you need.
1. Beaches and swimming pools for bathing and resting
After paying your entrance fee, you will walk through a garden of lawns and large trees to reach the beach. Mamzar Beach Park has five beaches. Spread out over several meters, you can sit wherever you want by renting a deckchair and umbrella or using your own. There is enough space to have your privacy and sunbathe quietly on the fine, soft sand of the beach.
For those who prefer to swim and chill by the pool, you can enjoy the three large pools at Al Mamzar. Here too, there are loungers and all the necessary equipment to enjoy your relaxing day. There are toilets and showers in several places in the park. This will allow you to take a shower after enjoying the sea and the pool. These areas are also equipped for babies (changing table available).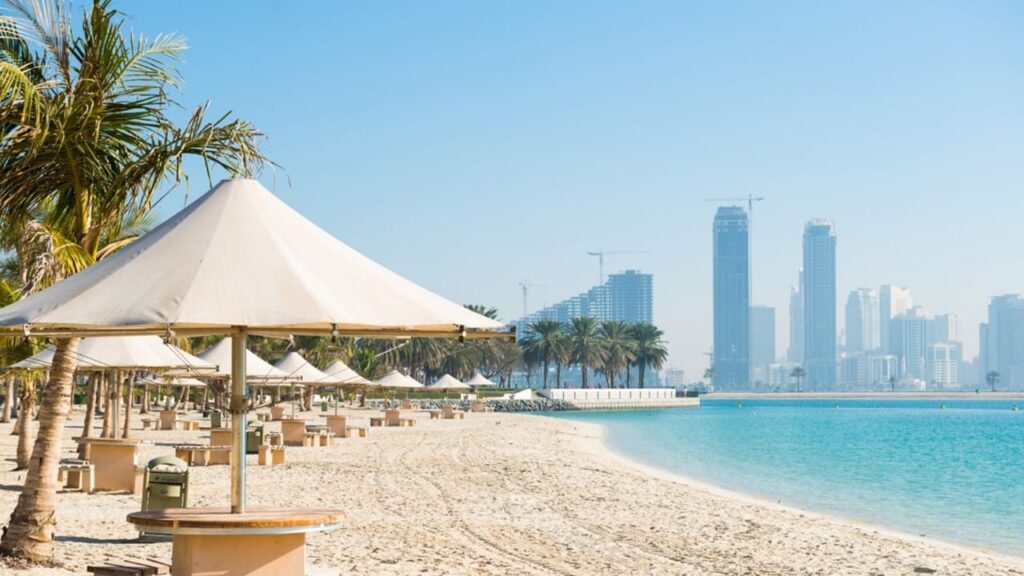 2. Activities to do with friends or family
Whether it is the beach, the pool or other areas, everything has been thought to adapt to families. There are many activities to do to enjoy a relaxing day during the week or during the weekend at Mamzar Beach Park.
Bring your ball and play a game of volleyball or soccer with your family on the beach. It is also possible to rent a bike and take a ride on the park's bike path while enjoying the setting and the view of the beach. An activity for the young and old.
Rate to rent a bike: about 30 AED, or 7.50 € per hour
When you think of the sea, you think of seaside activities. Why not rent a jet ski and venture out onto the waters of the Persian Gulf? You can do it at Mamzar Beach.
Price: 69 AED, about 17 € for 30 minutes of Jet Ski.
For a more relaxing moment, there is also a green area that covers 55,000 square meters with palm trees, a green lawn, trees and other plants. In these places, it is possible to have a picnic and also a barbecue. This is the favorite activity of Dubai people in the cool days of the year. You can rent the barbecue equipment on site and all you have to do is prepare and cook your barbecue. There are 28 barbecue pits and you can buy meat near the park. The green area is well maintained. This will allow children to play safely on the grass.
For food, there are many restaurants and cafeterias to eat on the go or to have lunch at the table. For those who prefer to eat fast food, you will also find what you need. You can also take out and have a picnic on the beach or on the lawn. As for prices, they are reasonable and affordable.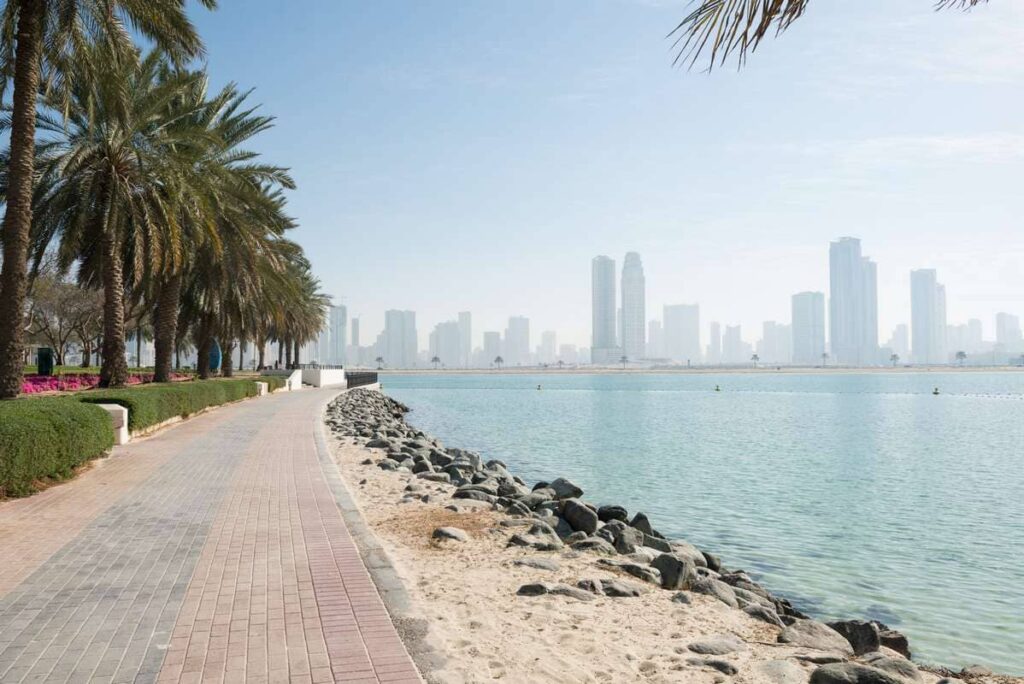 3. VIP experience : rent a chalet at Mamzar
For a more intimate moment and to take advantage of another comfort, you can rent a chalet in group at the Mamzar. You can rent a chalet for 8 or 12 people. They are equipped with sofas, a television, a kitchenette, toilets and showers. There is also a barbecue area in front of the chalet (equipment and tables).
Rental rate :
1. Large chalet for 12 people: AED 200/day (add 5% VAT), about € 50 excl.
2. Small cottage for 8 people: AED 150/day (Add 5% VAT), which is about € 38 excl.
3. Deposit for the insurance of the chalet: 500 AED (add 5% VAT), about 125 € without VAT.
Information to know about the rental of the chalets:
-The rent of the chalet does not include the entrance fees to the park.
-You can rent a cottage for a whole day during the week: Every day from 9:00 am to 9:00 pm
-Mondays and Wednesdays are reserved for women and children (except during the month of Ramadan and public holidays)
-Boys six years old and under are allowed to enter on the day reserved for women.
-Each tenant is entitled to only one parking space in the cottage parking area.
-The small cottages can accommodate up to 8 people and the large cottages up to 12 people.
Remember to make reservations in advance. Since weekends are days when many families come to Mamzar Beach, it is strongly recommended to make a reservation.
For inquiries and reservations of the Al Mamzar Beach chalet, please contact them via the following phone numbers :+971-4-296-6201 |+971-50-858-9897 |+971-50-856-5086. 
4. Information you should know before coming to mamzar beach park
● If you wish to snorkel, plan to bring your own snorkel gear. It is not possible to rent any at the park.
● This is a family beach. Please behave respectfully and do not offend the locals. It is important to respect morals and customs in public spaces.
● This is a family area, consider bringing a casual with you to visit the park. Go for lightweight materials so you don't get hot.
● Mondays and Wednesdays are for women and children only. Boys up to six years old and under are allowed on the day dedicated to women.
● For the well-being and safety of children, avoid smoking in the children's dedicated play area.
● Animals are not allowed in the park. There is no way to negotiate to get them in. They are adamant about that.
● For safety reasons, swimming on the beach is not allowed after sunset. But, you can stay and enjoy the beach or pool.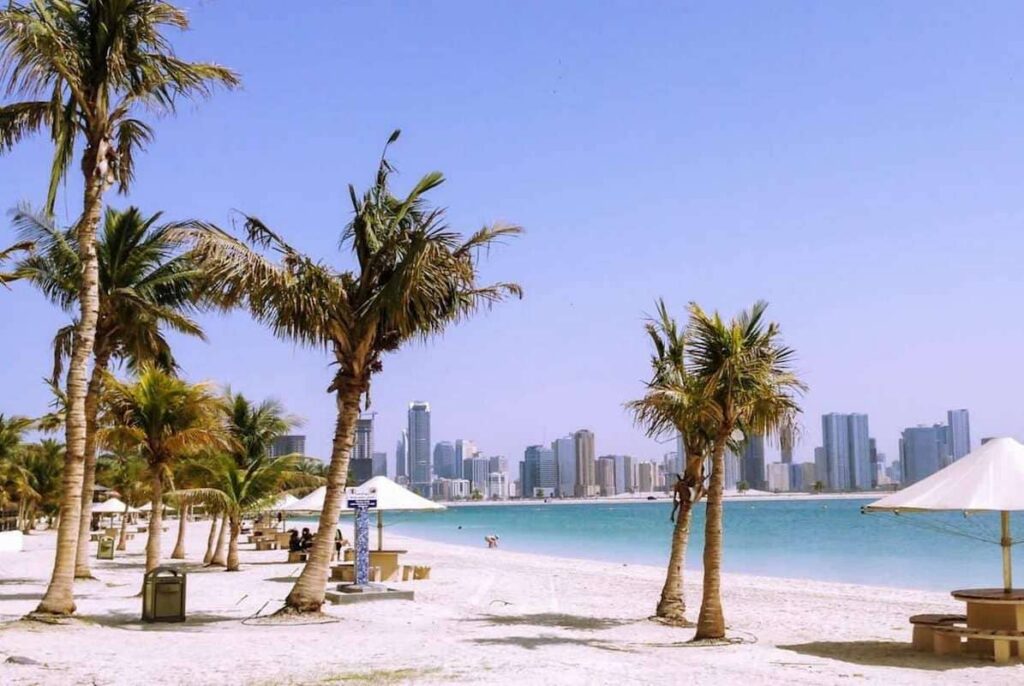 How to get to al mamzar beach park by public transport?
It is possible to get to the park by public transportation. There are two options. Either via the green line of the metro to Al Qiyadah station. You will then have to take a cab to reach the park and the beach. Or by taking the C28, C10 and C12 buses. We advise you to go to Mamzar Beach by car or cab. It is faster and more comfortable.
Entrance fees: 5 AED, or about 1.25 € for pedestrians, 30 AED or 7.50 € for those with vehicles.
Adresse: 88CX+3G3 – Al Mamzar Beach St – Al Mamzar – Dubai – United Arab Emirates 
Hours: Mondays and Wednesdays are reserved for women (children up to six years old). Open Monday to Wednesday from 6:00 pm to 10:00 pm and Thursday to Sunday from 8:00 am to 11:00 pm
Phone : +971 4 296 6201
Website : https://www.dm.gov.ae/