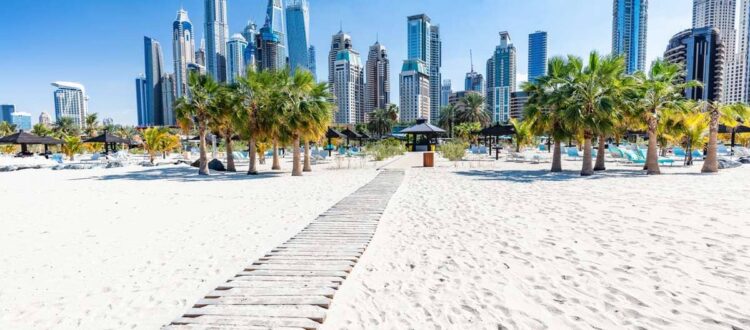 The 5 best free public beaches in Dubai
You can't be in Dubai without going to the beach. The city has many beaches, each one as beautiful as the next. This is an activity that Dubai's residents are used to doing during the week or on weekends. Each beach has its own particularity and charm. From one beach to another, the water activities, water sports or facilities vary.
The city is full of paid beaches with private access and also public beaches that are completely free. You can enjoy the sun and sea without paying 1 dirham AED! If you live in Dubai or are on vacation there, be sure to check out these five best free public beaches.
1. Black Palace Beach (Al Sufouh Beach) aka Secret Beach
Secret Beach or Black Palace Beach is a unique beach in Dubai. Although it is located near the most popular neighborhoods, this free beach has been a secret for a long time, hence its name Secret Beach. The simplicity of this beach, which is reminiscent of a deserted island, charms locals who want to get away from the hustle and bustle of the city. A hidden beach with palm trees, white sand and turquoise water. A breathtaking view from the beach overlooks the Burj Al Arab, the Palm Jumeirah and the expanse of turquoise sea water.
No equipment or facilities are present on this beach. You must bring with you everything you need: umbrellas, water, food, snorkeling equipment, etc. Plan to pack a picnic lunch, so you can enjoy the paradise setting longer. Whether you want to swim, sunbathe or spend time with family, friends or alone, this beach is suitable for everyone. It is also a good spot to watch the sunset or to stroll along the beach. This makes it an unusual experience in a city where people are used to the accessibility of all the comforts.
Address to put in the GPS : Sufouh beach – Secret Beach, King Salman Bin Abdulaziz Al Saud St – Al Sufouh – Al Sufouh 1 – Dubai – United Arab Emirates
Parking available – Free admission – Open to all
Sulfouh Beach (Secret Beach) is close to : Burj al Arab, Palm Jumeirah, Mall of Emirates, Madinat Jumeirah, Dubai Marina.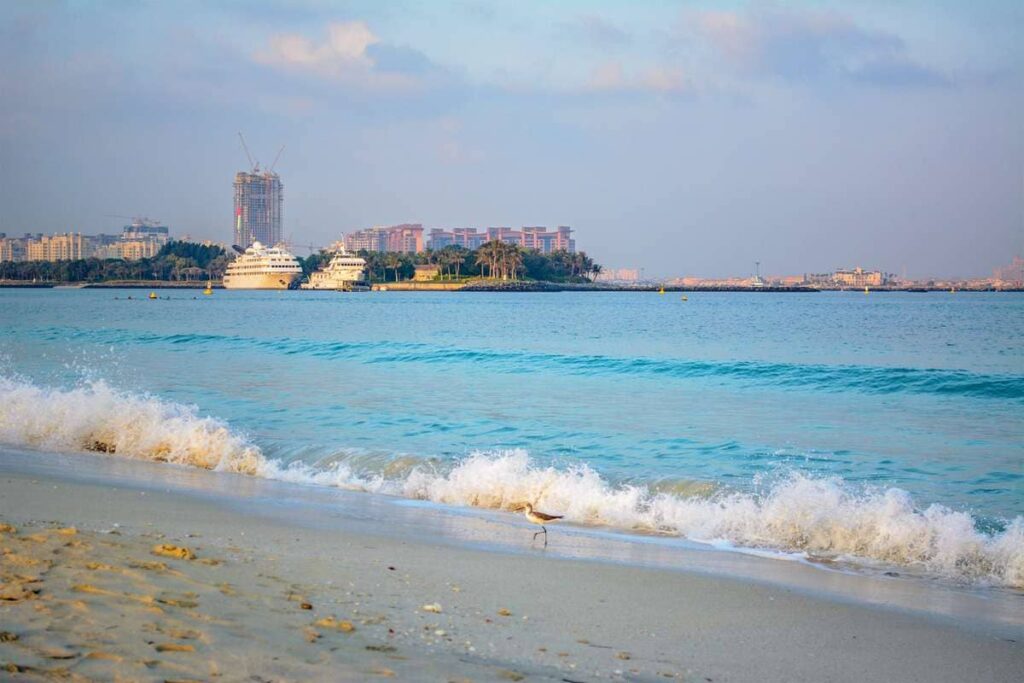 2. Kite Beach, the water sports beach
With a board on your feet and a kite in your hand, you will see many people surfing on the water in Kite Beach. This is Kite Surfing. A sport invented by two Frenchmen in the years. If you are interested, you can learn this water sport in one of the training schools of Kite Beach. After a few lessons, you will enjoy gliding on the water with your board and sail. It's a sport that is accessible and open to everyone, regardless of age. However, you must know how to swim. The best time to do it is at the end of the day until sunset. This way, you can enjoy the sunset in a different way.
As for the beach, it is more animated earlier and offers a breathtaking setting. From the beach, you can admire the Burj al Arab. The beach is set up to have a good time with family and friends. You can play volleyball for example, have a picnic or go cycling on the bike path. Bike rental stations are available with Careem Bike Dubai at the beach entrance. This is also a good spot for yoga. You can join a class by signing up. They are held every Sunday morning and are organized by Solemio.
The entrance to the beach is free. It is possible to rent a deckchair or a Beach Day pass which gives you the right to a parasol, a deckchair and a towel for the whole day. Contact Solemio.ae to book your pass: https://www.solemio.ae/beach-day-pass.
Feeling hungry? You can choose between several types of restaurants: street-food, burger or local cuisine. For those who want to eat a burger, let yourself be tempted by Salt, a must in Dubai. After a good swim, sit on the terrace and enjoy a burger, a salad or a sandwich while admiring the sunset.
Location: Umm Suqeim, behind Sunset Mall in front of Sheikh Hamdan Villas, 33 A St Jumeira 3. 
Website : https://www.kitebeach.ae 
Beach Pass : https://www.solemio.ae/beach-day-pass 
Do not miss the news of Kite Beach : https://www.instagram.com/kitebeachdubai/
Kite Beach is close to: Jumeirah Beach, Sunset Mall, Aqua Park Leisure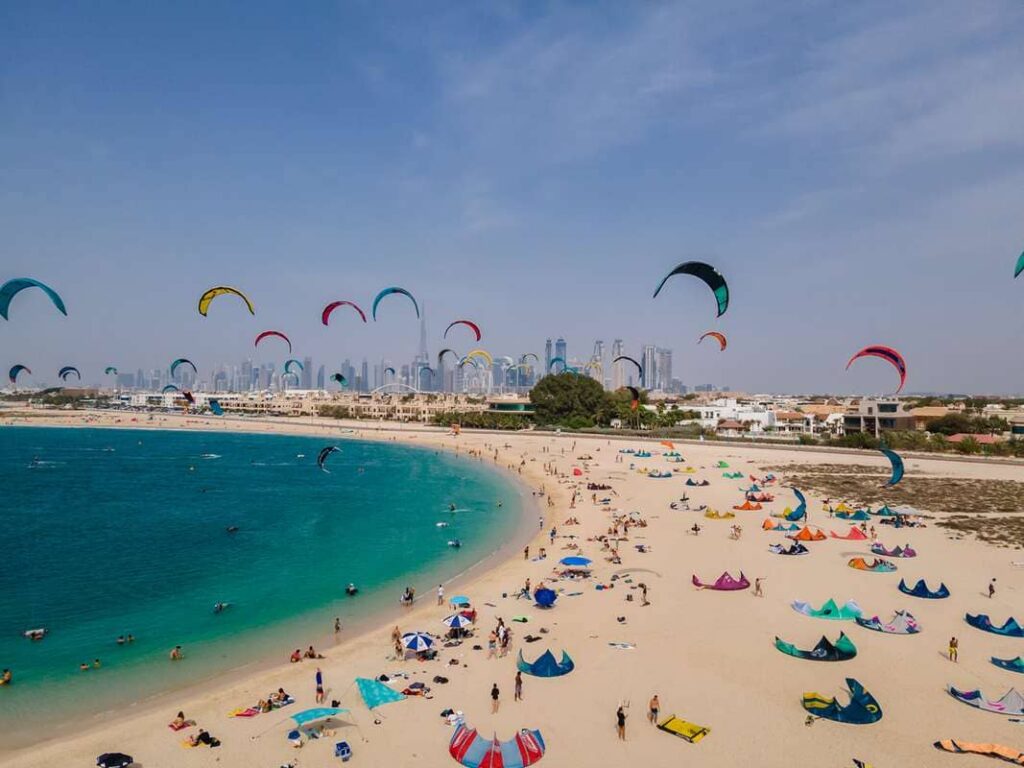 3. La Mer, Jumeirah's contemporary concept
Beach, restaurants, stores, the Dubai Sea has everything to entertain and make you have a good time. Located by the sea in Jumeirah, this concept was born a few years ago. The beach is a stretch of white sand and clear turquoise water. The sea is pleasant for swimming. It is a public and free beach that is equipped with everything necessary to spend a pleasant day. The red, yellow, green and blue cabins on the beach are beach cabins.
You can shower and change without any problem. You do not need to bring your own equipment. It is possible to rent umbrellas, deckchairs and all the necessary equipment on the beach. You can rent a cabana with a view of the Persian Gulf. As for activities, it is possible to go paddle boarding, surfing or other water sports such as kayaking.
After a swim, you can have lunch or dinner in one of the restaurants/cafes of La Mer Dubai. For shopping lovers, there are hundreds of stores to choose from. La Mer Dubai has also thought of families. You can have fun at the Laguna water park (slides, pools and water games) or at Hawa Hawa, an inflatable playground for children.
Adress : 45 2 A St – Jumeirah 1 – Dubai – United Arab Emirates
Email : customerservice@lamerdubai.ae
Phone : +971 45905090
Website : https://www.lamerdubai.ae/en 
Instagram to follow events and news : https://www.instagram.com/lamerdubai/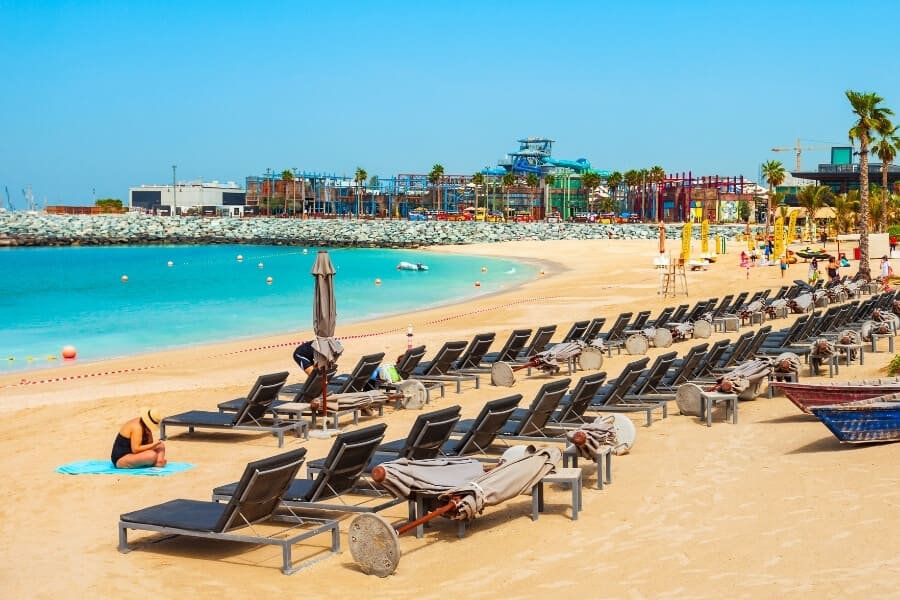 4. Sunset Beach, best surfing beach in Dubai
Although it is close to the famous Kite Beach, it is not as crowded as it is. This is an advantage if you want to enjoy an almost deserted beach most of the day (on weekdays). The big waves of Sunset Beach will delight surf lovers. There are surf clubs to rent equipment, as well as a surf school, if you want to learn to surf. It is also a good spot for fishing or for a quiet morning walk. There is a bike path for cycling, scootering or rollerblading. For the little ones, there are many playgrounds such as slides, inflatable games and trampolines. Those that will please the children.
In terms of facilities, you will find cabins and showers to change your clothes. There are also cafes and restaurants to eat without having to go elsewhere.
It is easily accessible by transport or car. It is located across from Sunset Mall on Jumeirah Beach Road. You can park in the Sunset Beach parking lot.
Don't miss the sunset. This beach offers a panoramic view of the city and Burj Al Arab.
Adress : 22, Al Sagi Street, Sunset Beach, Umm Suqeim – Dubai 
Sunset Beach is close to Sunset Mall, Kite Beach, Aqua Park Leisure.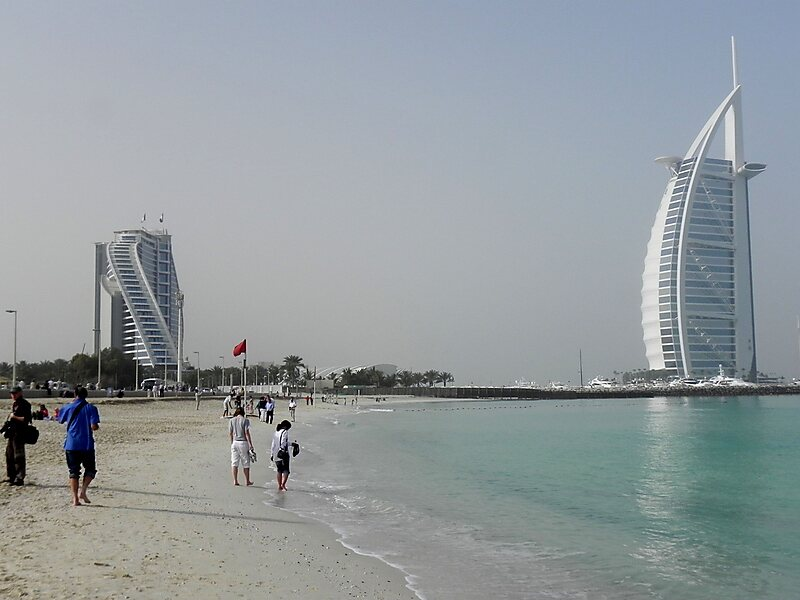 5. The Beach JBR, the most popular beach in Dubai
It is the best known and most frequented public beach. The Beach JBR extends over several kilometers. It attracts both residents and tourists. Its location is the most advantageous point. Close to the marina, it is accessible by public transport by metro and streetcar. It is the most equipped public beach. In fact, you will find everything you need near the beach: fields to play beach volleyball, swimming pools, an inflatable water park for children. There are many water activities available such as jet skiing, paddle boarding, windsurfing and kayaking.
It is a beautiful beach for chilling, sunbathing and swimming in the turquoise waters of The Beach. Sun loungers and umbrellas are available for rent. Showers and cabanas are also available on the beach.
To eat, you will find near the beach the alley, The Walk. You will find there a great number of restaurants, fast-food and coffee shops. There are also stores if you need to buy a swimsuit or sunscreen for example. The walk is nice and super chill.
Adress : The Walk – Jumeirah Beach Residence – Dubai – United Arab Emirates
Nearest metro station : Jumeirah Lakes Tower (JLT)
Website : https://www.thebeach.ae/en 
Rental of deck chairs and parasols : Sea Breeze 
Phone : 800 7699 
Opening hours : open from Sunday to Thursday from 10:00 a.m. to 11:00 p.m. and on Fridays and Saturdays from 10:00 a.m. to 2:00 a.m.
The Beach JBR is close to Marina Dubai, Blabla Dubaï, Marina Mall, Marina Beach, Zero Gravity.