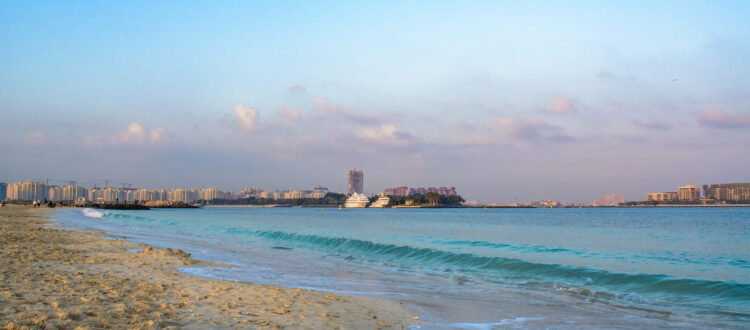 Secret beach, Dubai's hidden beach
Miles of white sand, clear turquoise water at room temperature, breathtaking views of skyscrapers and incredible monuments from each other, welcome to Dubai! The city where you always feel on vacation with its sunny weather and water activities. It is a seaside destination that does not leave indifferent the tourists who visit this emirate. Dubai has no shortage of places to swim, chill by the water or party.
Depending on the comfort and atmosphere you are looking for, you can spend a relaxing day by a swimming pool or a private beach in hotels or in others that are public. Regardless of the desired atmosphere, festive, calm or a haven of peace, you will inevitably find a place that will please you. In Dubai, there are known beaches that are very popular with locals and tourists, such as Jumeirah Beach, for example, and others that are more hidden and intimate, such as Secret Beach.
1. The Black Palace Beach, Secret Beach Dubai
Secret Beach also known as The Black Palace Beach is a little piece of paradise in Dubai. With a simplicity you don't see anywhere else in the city, once little known, including its "secret" name, it is now quite frequented by locals, expatriates and tourists who come to spend their holidays in Dubai. . A hidden beach with fine white sands, turquoise blue water and no construction on the beach. What makes this place particularly different from the other beaches that we are used to seeing in Dubai.
Al Sufouh beach is surrounded by palm trees. The atmosphere reminds us of the corners of paradise in the islands. Stunning views from the beach overlook the Burj Al Arab, the Palm Jumeirah and the expanse of turquoise sea water. You can go there for swimming, sunbathing or spending time with family, friends or alone. It is also a good spot to admire the sunset or to stroll on the beach.
The beach is large and widely spaced. Even on weekends, you will easily find a place where you will be quiet and in complete privacy without being glued to others. The water is shallow, which is perfect for children. They can swim safely. For those who don't like big waves, you will enjoy swimming in this beach even more. There are no tourist attractions or restaurants, yet it attracts more and more people. It is for its beauty, its cleanliness and its calm that people succumb to the charm of Secret Beach.
Although it is no longer a completely "secret" beach, it remains uncrowded by tourists until today. The absence of facilities and restaurants hinder tourists who wish to have a minimum of comfort for their holidays. If you are looking to spend a pleasant moment in all simplicity, this beach will be suitable for your reunions or outings with family or friends.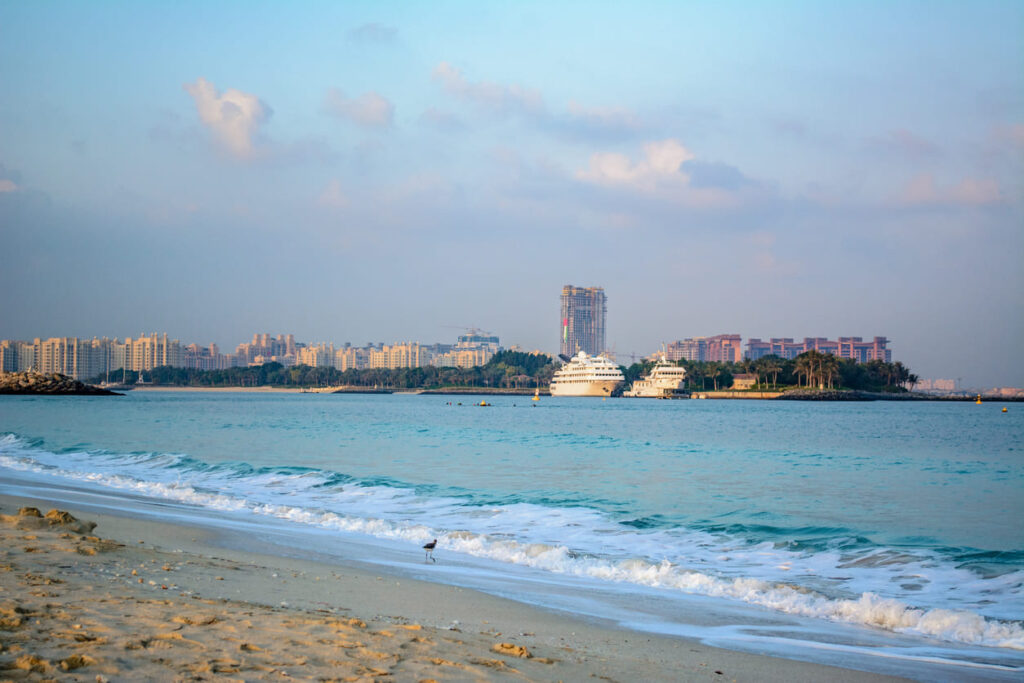 2. Information to know before going to Secret Beach (Sufouh Beach)
Who says deserted beach, says few facilities. There is no access to toilets, showers and the like that you will need during your day at this beach. Indeed, there is no restaurant, shower rooms or toilets on the beach. So remember to bring the necessary with you (water, food, sunscreen) and also an umbrella. We advise you to bring a cooler and put your drinks in it to cool as well as your snacks for the day. Remember to take a parasol and also a beach tent for your children. This will avoid any risk of sunstroke, as there is no shaded area on the beach.
The water is clear, blue and shallow. It is possible to do a mini snorkelling. There are no rental or excursion shops near this beach. Remember to bring your snorkel and flippers to explore the seabed. You may see fish and seaweed. There is also another activity that will allow you to explore the beauty of this corner. It is to board a boat. It is possible to rent a Yacht with its crew and reach the beach. This will allow you to enjoy the turquoise waters of Secret Beach in a different way. You can go fishing or take a cruise aboard the yacht while admiring the sunset in the open sea. For partygoers, it is possible to opt for the yacht option with DJ for your outings at sea with friends or to celebrate an occasion.
3. How to get to Al Sufouh beach by car and public transport?
It is possible to get to Al Sufouh beach by public transport. But, this is not the most appropriate route. It will be necessary, from the station, to walk one kilometer under the sun. It is best to go by car or take a taxi. You will have no problem parking. There is plenty of parking space.
You must drive south through Al Sufouh road. There is no sign or sign indicating the direction of this beach. You will have to be very careful. You must drive south through Al Sufouh road. You will find the entrance to the beach on your right. The beach is near Palm Jumeirah, Mall of Emirates and the Burj Al Arab.
Adress : Sufouh beach – Secret Beach, King Salman Bin Abdulaziz Al Saud St – Al Sufouh – Al Sufouh 1 – Dubai – United Arab Emirates 
For safety reasons, after sunset, it is forbidden to swim.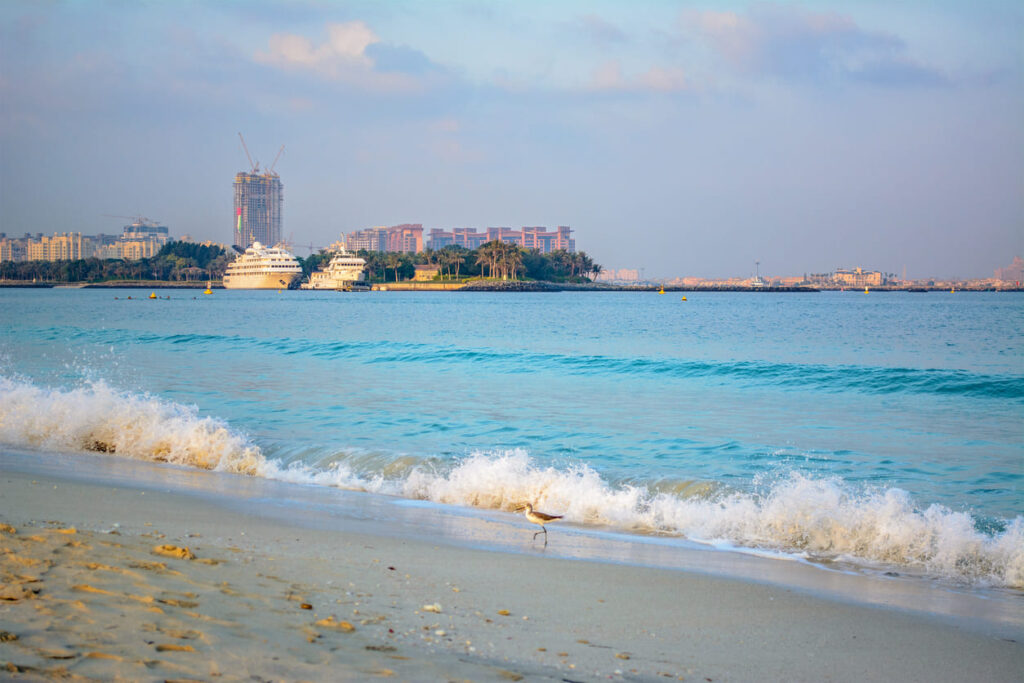 4. Things not to do on a beach in the United Arab Emirates
Despite the open-mindedness and tolerance of many things by the local community of the Emirates, it is still very important to respect manners and customs so as not to shock or offend the population. There are certain rules to respect and which can be reprehensible if they are not applied:
-Do not wear swimming clothes outside the beach. Also, don't walk the streets in your bathing suit (one piece, bikini or shirtless for men).
-Signs of affection in public are not allowed anywhere. Even if you are married, modesty is important to Emiratis.
-Consumption of alcohol in public is illegal and can result in you being fined and imprisoned. You can only consume alcohol in places that have a license for it (hotels, bars and some restaurants).
-It is forbidden to take photos or videos of other people on the beach.
-It is forbidden to throw your cigarette butts, rubbish or other items on the ground. You may have a fine.
-Fishing is only allowed in certain places which requires having a fishing license and authorization to fish in Dubai.
Close to Sulfouh Beach (Secret Beach) : Burj al Arab, Palm Jumeirah, Mall of Emirates, Madinat Jumeirah, Dubai Marina