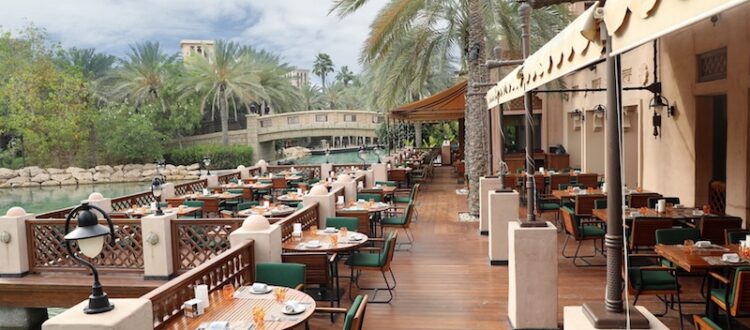 Pai thai, chic Thai restaurant in Madinah Jumeirah in Dubai
Due to its geographical location and its expatriates from all over the world, Dubai is a city open to international cuisine. Like its inhabitants, the restaurants are diverse and the cuisine of the world is very accessible and consumed by both expatriates and locals. One of the cuisines that is unanimous is that which comes from Asia. Whether in shopping centers like the Dubai Mall, in street-food at the Global Village or in slightly more chic restaurants in the Downtown or Marina districts, Asian cuisine is very present. During your stay in Dubai, you will have a wide choice to eat Japanese, Chinese, Korean or Thai. Among the must-see restaurants, you cannot leave Dubai without having tasted the dishes of the Pai Thai restaurant.
1. Pai Thai, a haven of peace like in Thailand
In the garden of the Al Qasr hotel is the elegant Pai Thai restaurant. Located on the edge of the Madinat Jumeirah lagoon, it is a place to disconnect from the dynamic Dubai for a slightly calmer and more relaxing atmosphere. Once the doors are pushed open, you enter a totally different and bewitching universe. With a typical Thai decoration, a particularly warm service and atmosphere, the Pai Thai restaurant takes up all the codes of the importance of Thai hospitality and welcome.
The restaurant is laid out in several spaces: a bar area with the possibility of sitting on high chairs facing the bar and admiring the baristas preparing your drinks, an indoor restaurant area with large wooden tables and decoration with Thai inspirations with a warm atmosphere, and also a furnished terrace, ideal for mild days and evenings. It is also a great place to have brunch on the terrace and enjoy the sun and the setting.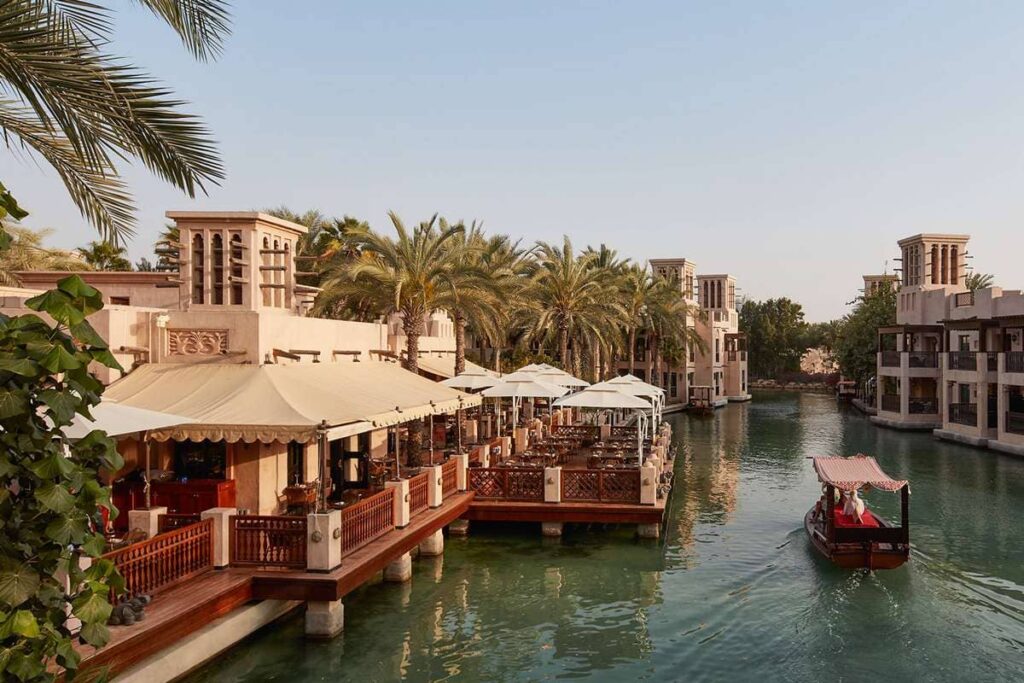 The atmosphere is calm and family-like, animated by relaxing Thai music. During your lunch or dinner, you will be cradled in this atmosphere. On some evenings, dancers perform a traditional dance musical performance in the restaurant. A way to welcome customers and let them lovingly immerse themselves in this culinary journey.
The restaurant is open to everyone: families, couples, friends or even people who wish to come alone. Pai Thai's clientele is most often frequented by families or groups of friends.
Thai cuisine is known to be different from other Asian cuisines. But, depending on the regions of the country, there are inspirations from its neighboring countries: China, India and Burma. It is differentiated by flavors and spices such as curry, mint, lemongrass, coriander, red basil or peanuts. Most dishes are based on rice or noodles and a variety of vegetables. The Pai Thai restaurant wishes through its dishes, to make its customers travel and to transmit the values, the culture and the Thai traditions.
2. Impending culinary trip to Thailand
On the menu, there are all the essential starters and dishes of Thai cuisine. As a starter, you can taste POH PIA THOD, these are vegetable spring rolls served with a sweet chilli sauce, GOONG YANG, grilled prawns with lemongrass or SATE GAI, these are skewers of Marinated Grilled Chicken Satay, with coconut milk and lemongrass served with a peanut and Thai sauce.
As for the dishes, you have the choice between several specialties such as the essential Pad Thai. It is a dish that is often served in street-food and that you will find on every street corner in Bangkok. This dish is cooked in a wok and is based on rice noodles, vegetables, scrambled eggs, with shrimp or chicken. You also have the opportunity to taste
There is also Khao Phad Phak, this specialty which is based on rice with vegetables, pieces of pineapple, vegetables, cashew nuts served in a pineapple. They offer on the menu all starters and meat dishes, in vegetarian version such as Som Tam Je, Poh Pia Thod or HOK TAK PHAK soup, a kind of soup made from coconut milk, vegetables and sauces.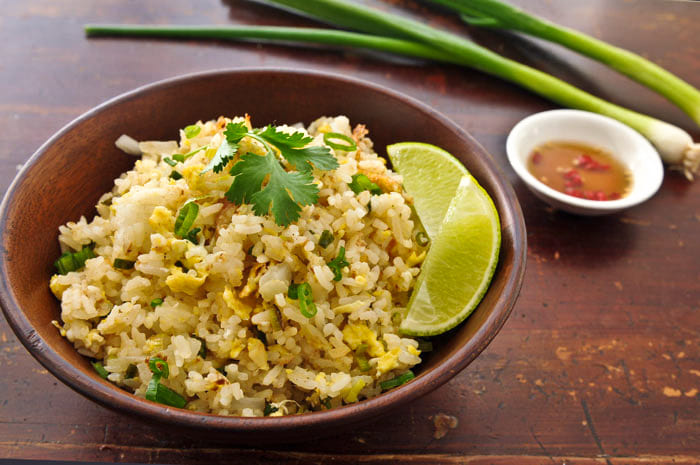 End your meal on a sweet note with the legendary dessert, KHAO NIEW MA MUANG, made with sweet sticky rice, ripe mango, coconut syrup and sesame seeds. If you are not a fan of mango and rice, you will find another dessert on the menu such as sorbets and more classic desserts.
Dishes can be very spicy. We advise you to mention to the waiter the dosage of chilli you wish to have. Be sure to tell the waiter if you are allergic to peanuts, as Thai dishes often come with peanut sauce.
You will have understood that this restaurant is suitable for all lovers of Thai cuisine. Whether you like spicy or not, meat or rather 100% vegetables, you have a wide choice on the menu.
Chef's suggestions: papaya and prawn salad, grilled prawns, spring rolls with vegetables, crispy chicken with cashew nuts and chicken with green curry.
We advise you to book, as the restaurant is often full. If you want to book, here is the link:
https://www.jumeirah.com/en/booking/restaurant-booking
3. Brunch on Saturday with Thai style
This corner of a haven of peace in the heart of Madinat Jumeirah is also a place for brunch. In mild, sunny weather, take a seat on the terrace. It gives a view of the turquoise lagoon and the entire Madinat. It's nice and so you can enjoy the setting while enjoying a tasty brunch.
Brunches are served every Saturday from 12:30 p.m. to 3:30 p.m. You can choose between two brunch formulas, one of which is completely vegetarian. The brunches consist of a selection of small plates of several Thai specialties to share for two, a dish and a dessert of your choice, and a drink.
Price :
245 AED, around 62 € (soft drinks are included)
395 AED, or about 100 € (house drinks included in the price) The menu online: https://cd-hospitality.jumeirah.com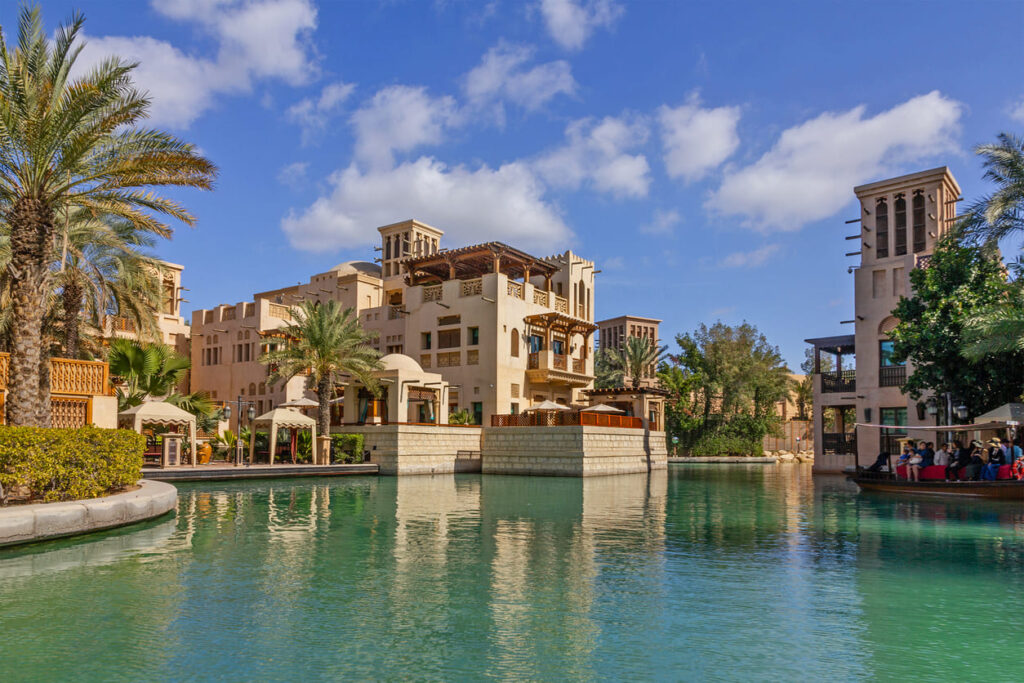 4. Frequently Asked Questions (F.A.Q) : learn more about the Pai Thai restaurant
– How much should be counted per person for a meal?
For a meal, it takes about 350 AED, or about 90 € per person. If you wish to consume alcoholic beverages (cocktail, wine or champagne), it will take a little more.
– Do I have to book in advance?
It is a restaurant very popular with tourists, expatriates and also locals. Remember to make your reservation well in advance. It is highly recommended to do so, especially for dinners and weekends.
– How to get to the restaurant?
Be aware that in Dubai, traveling by car remains the best option. If you do not have a vehicle, you can take a taxi. For those who wish to travel by public transport, there are buses that take you to the Madinat Jumeirah.
– Is the restaurant open to children?
Pai Thai welcomes everyone. It is open to families with children. On the menu, there are dishes made for them.
– Is a specific outfit required?
The Pad Thai being a chic restaurant located in the Qasr hotel, favor an elegant outfit for your lunch or dinner.
– Is the menu suitable for vegetarians?
Thai cuisine is rich in vegetables. They offer a wide choice of starters, soups, dishes that are meatless. There is also a brunch formula, a 100% vegetarian brunch.
– Is it possible to consume alcohol in the restaurant?
The restaurant has a very varied wine list. It is therefore possible to consume alcohol-based drinks. The chef recommends the house cocktails.
– What activity could we do near Pai Thai?
Contact
Situation : Madinat Jumeirah
Adress : Jumeirah Al Qasr, Madinat Jumeirah, King Salman bin Abdulaziz Al Saud Street, Umm Suqeim 3
Opening hours: open Monday to Friday from 6:00 p.m. to 11:30 p.m. and weekends (Saturday and Sunday) from 12:30 p.m. to 11:30 p.m.
Phone : +971 4 432 3232
Reservation strongly recommended
Website : https://www.jumeirah.com/en/dine/dubai/al-qasr-pai-thai Réservation : sevenrooms.com
Menu : cd-hospitality.jumeirah.com
Near Pai Thai Restaurant:
– Madinat Jumeirah Souk
– Burj Al Arab
– Talise Spa
– Secret Beach
– Dubaï Marina
– Marina Mall