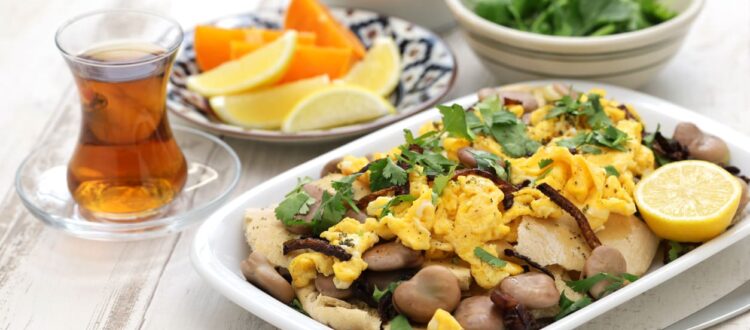 The traditional dishes of Dubai
Although most restaurants in Dubai offer international cuisine, it is also possible to eat locally. The Emirati culture is rich and unknown by foreigners. Visiting Dubai is not only an opportunity to visit the city, but also to learn about the culture and traditions of the people. Why not start by discovering the Emirati gastronomy ? Recipes passed down from mother to daughter, dishes that are cooked to gather family, friends or to celebrate an event. If you are in the United Arab Emirates, don't miss these traditional dishes
Traditional dishes
Biryani with meat
The Biryaniknown to be a typical Indian dish, is also one of the dishes in many countries the Middle East, including the United Arab Emirates.The recipe is the same with Indian spices that are essential for this dish, mutton, beef or chicken accompanied by basmati rice.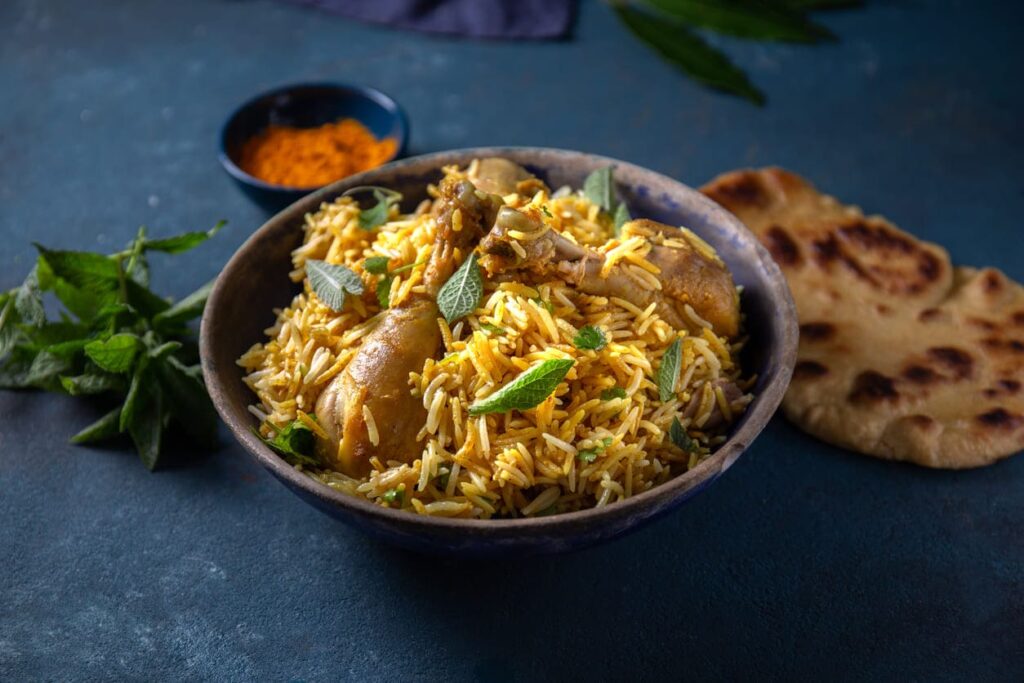 Uzie sarar
During weddings, circumcision parties or during certain other religious holidays, the Ouzie is often the dish prepared for guests. It is one of the most common dishes in the Gulf countries. It is a very old recipe that has kept all its authenticity. 
The Ouzie is rice flavored with vegetables cooked with meat. The whole wrapped in a filo pastry. In the past, the Bedouins used this dough as a container. Instead of filo dough, dates and palm leaves were used to cook them in an immersed oven. Today, this dish is cooked and presented in different forms depending on the region and the type of restaurant. You can also find it under the name of Shuwaa in the UAE. It can be served with salad, white yogurt and topped with roasted nuts.
Harees
The Harees is often on the tables of the Emiratis. It is a traditional dish prepared by cooking wheat in salted water for several hours. To this is added meat, often lamb or chicken, onions and ground cumin. As the tradition, it is cooked in a pan mash pan and a wooden spoon Masad Masr. It is a know-how that is passed on from generation to generation, because It is one of the most important dishes in the cultural heritage of the emirates. 
Madrouba
This dish can be prepared with chicken, fish, lamb or crushed grains. Then they add tomatoes, rice, onions, yogurt, butter and local spices.
The dish looks like a smooth purée. By the way, this is why this dish is called madrouba in local dialect, it means "beaten". The last step in the preparation of madrouba is to beat all the ingredients. Some call it a nutritious, hearty and delicious porridge. In Bahrain, Oman and Qatar, you will also find this dish, but it will be cooked in a different way. 
Salouna with chicken
This traditional dish appears on many local tables. It is an Emirati stewknown to be delicious. The recipe is simple. The ingredients of Salouna are chicken pieces, turmeric, olive oil, grated ginger, garlic, onion, chili and spices, all accompanied by white rice. 
Like many traditional dishes, they are prepared especially for special occasions or when there are guests. In addition to being delicious, this dish is rich in vitamins and proteins. 
Tharid
This is a typical recipe of the United Arab Emirates. The recipe is based on chopped vegetables soaked in a meat broth and bread. The Tharid is rich in proteins and vitamins. This is why it is considered by the Emiratis as a very healthy dish. 
Machbous
It is one of the most widespread and preserved traditional dishes. Machbous consists of basmati rice and meats. The most famous version is the one with chicken meat, with vegetables and spices. This dish is cooked for family meals, events as well as for theiftarthe breaking of the fast, during the month of Ramadan. If there is one dish that you should try, it is this one. You will discover the richness of the local gastronomic culture.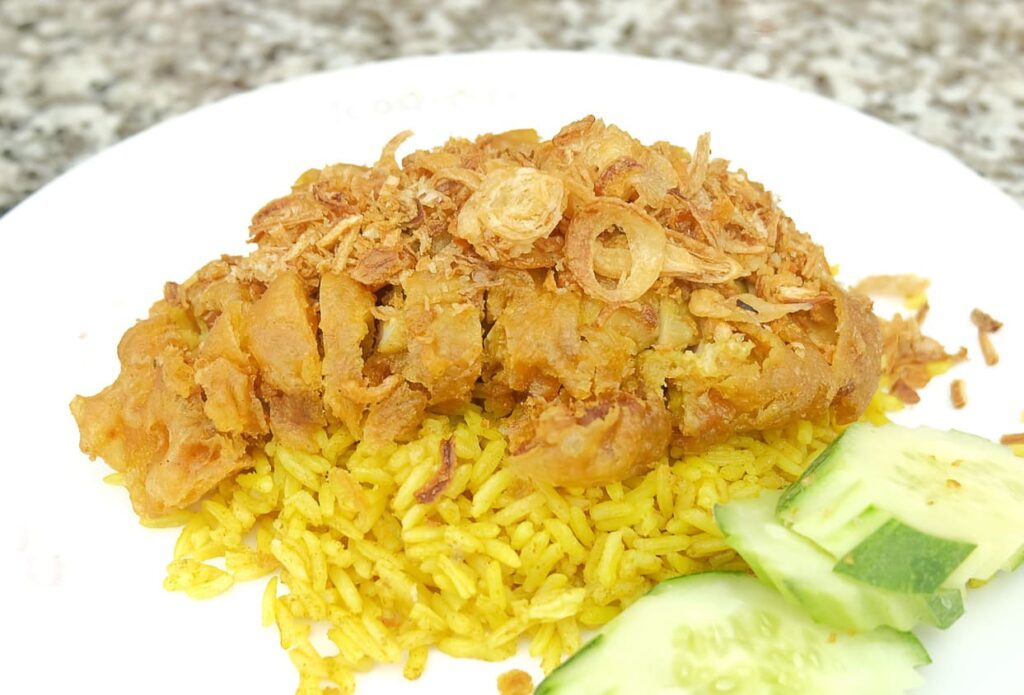 Local desserts
After quoting the list of the must-try Emirati dishes, it is now time to talk about local desserts and drinks.
Luqaimat
It is a dessert in the form of balls that have been fried and then dipped in honey or date syrup. It is a very popular dessert among Emirati people and also visitors to Dubai. You will also find this dessert in other Middle Eastern countries and also in Turkey, called lokma.
Le-ge-matt
These are soft doughnuts. The recipe consists of milk, yogurt, salt and honey for the filling. Accompanied by a traditional Arabian coffee, the Le-ge-matt dessert is often served after the meal in traditional families. 
Umm Ali
Here is another dessert, which also has a great success with the local population and also those who visit Dubai. Umm Ali, is served earlier in winter than in summer, because it is eaten very hot. It is made from several layers of puff pastry and almonds. 
Fruit salad
Because of its geographical area and because Dubai imports so much from abroad, there is a large choice of exotic fruits. You won't be disappointed with the quality and deliciousness of the fruit. In restaurants, fruit is often served as a salad. After a good meal in the hot weather, eating a fruit salad is a good choice. 
Local drinks
Arabic coffee
The Arabic coffee, Qahwa 'arabi, is also very traditional in Dubai. In fact, its preparation is a daily ritual very attractive to the eye: in many restaurants, you can watch it being made. This drink is often accompanied by sweet pastries.
Zanjabeel Chai
This Ginger tea is the second most consumed beverage by the people of Dubai. It is often ordered after a meal with a dessert. If you like to drink tea, don't miss to taste the Zanjabeel Chai. 
The restaurants of Emirati cuisine
There are other appetizers, dishes and desserts that you can discover during your stay in Dubai. Depending on the emirate, the recipes may vary. This is an opportunity for you to discover this country through its gastronomic culture. If you are in Dubai, here are the restaurants where you can enjoy an unforgettable culinary experience. 
You will fall under the charm of this place. A haven of peace where you can have a local breakfast or lunch. It is also a nice place to have an Arabic coffee or tea. You will appreciate this place for its hospitality and quality of service.
Address: Bastakiya Opposite Musalla Post Office – Al Fahidi St – Bur Dubai – Al Fahidi – Dubai
Schedules: open every day from 07h to 23h.
Phone: +971 4 353 5071
Reservations: arabianteahouse.com
Website : https://arabianteahouse.com/
A restaurant with the atmosphere of Dubai in the 60s. You will find many traditional dishes and also a guaranteed local atmosphere. It is a very popular restaurant for locals and expats who want to eat local in a peaceful place.
Address: Al Seef St – Al Hamriya – Dubai
Schedules: open every day from 12 am to 10 pm.
Phone: +971 4 396 6669
Website : https://www.alfanarrestaurant.com/uae/
Decorated in an oriental style, Asil Restaurant is renowned for its service, atmosphere and the quality of its dishes. You can choose between several international cuisines. But, if you wish to discover the cuisine of the emirates, it is also possible. Let yourself be tempted by the various starters, main courses and desserts on the menu.
To make a reservation:
Telephone: +971 4 520 0055
WhatsApp +971 52 160 0333
Mail : dine@asilrestaurant.com
Address: Rixos premium – The Walk – Jumeirah Beach Residence – Dubai – United Arab Emirates
Schedules: open every day from 1pm to 2:30am.
The kitchen closes at midnight.
Website : https://www.asilrestaurant.com
After eating a traditional Dubai meal, why not do a little local shopping? In the Deira district, visit the spice souk and the gold souk. If you are in Dubai during the period of October to April, go to the Global Village, a must-see event. In addition to the UAE culture, you'll learn about other world cultures. A place where you can eat, shop and watch performances from different cultures.