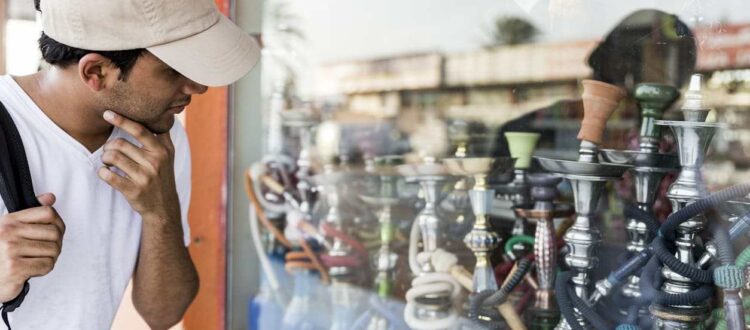 Originating from the Arabo-Oriental culture, chicha has now been democratized and integrated in many other cultures and countries. A breath of fragrant smoke that relaxes and makes you travel. In the United Arab Emirates, shisha bars are numerous, from traditional and classic places to more trendy and luxurious ones. If you are in Dubai, you will find your happiness among our selection of the 10 best chichas in Dubai. 
1. Smoky Beach
An open-air shisha bar and restaurant located at Jumeirah Beach Residence in Dubai. Smoky Beach is the ideal place to chill out while smoking a chicha and sipping one of their famous cocktails. Here, you sit on one of the pouf sofas and enjoy the view with music in the background, facing the sea. You can also see the Blue Water. 
In addition to offering a wide selection of kaloud shisha flavors, they are also known for their excellent food, snacks and drinks. This is one of the places that is very appreciated for its impeccable service, its ideal location towards the Marina and its incredible panoramic view that it offers. The clientele is diverse. We find locals, expatriates and tourists. 
It is pleasant to go there during the day as well as in the evening. They are two different atmospheres, both of which are pleasant. The advantage of Smoky Beach is that they close late (3am). For the early birds, they have also thought of you. After a good swim or a night out, it's a good option to relax.
Address: Al Wasl and Al Safa Road Junction,
Al Mustaqbal StreetCity Walk II – Dubai
Schedules open from 06h to 03h in the morning (every day)
Contact : +971-4-270-3222
2. Kana Cafe
Located along the English Channel in Business Bay, Kana Cafe is a place not to be missed if you are in Dubai. 
They propose a wide range of chicha flavorswhich could appeal to beginners as well as to amateurs. 
In a cosy atmosphere, this chicha bar also offers a very varied menu. You can eat snacks as well as traditional and international dishes. They also propose a wide choice of classic or traditional desserts like the künefe and classic cocktails and hot drinks.
The cafe restaurant is rather classy and pleasant, both by its decoration and by the clientele that frequents Kana Cafe. It is very popular with tourists and residents of Dubai.
For each table, on the wall, there is a television. This is a good option if you want to watch a soccer game for example. The place can be suitable for an outing as a couple, with family or friends. They welcome guests until the early morning. Everything has been thought to spend pleasant moments.
Address: Marasi Dr – Business Bay – Dubai
Schedules: open every day from 08h to 02h.
Contact: +971-4-430-8454
3. In Cappela
If you love music, you can't miss this bar. A Cappela is located in the chic and luxurious area of the Palm Jumeirah at the level of The Pointe. 
What makes this bar special is the unique atmosphere that cannot be found elsewhere. An incredible connection between the mixologists and the chefs: a pleasant playlist, a succulent menu and a wide choice of chicha flavors.  
It is a concept of tapas bar with international flavors. A Cappela takes its guests to an incredible culinary experience and journey. Opt for the passport menu which contains tapas from different countries. 
The terrace overlooks The Atlantis and the fountains. In a groovy atmosphere,
sit on the terrace or on one of the seats around the bar counter.
A Capella is a great place to have dinner, smoke a chicha, spend time with your friends or family.
They are open from 4pm. If you are in the area, consider going there and enjoying the sunset on the Palm Jumeirah.
Address: FB-08, The Pointe, Palm Jumeirah
Schedules: open every day from 4pm to 1am
Contact: +971-4-589-6788
Website : https://acappelladxb.com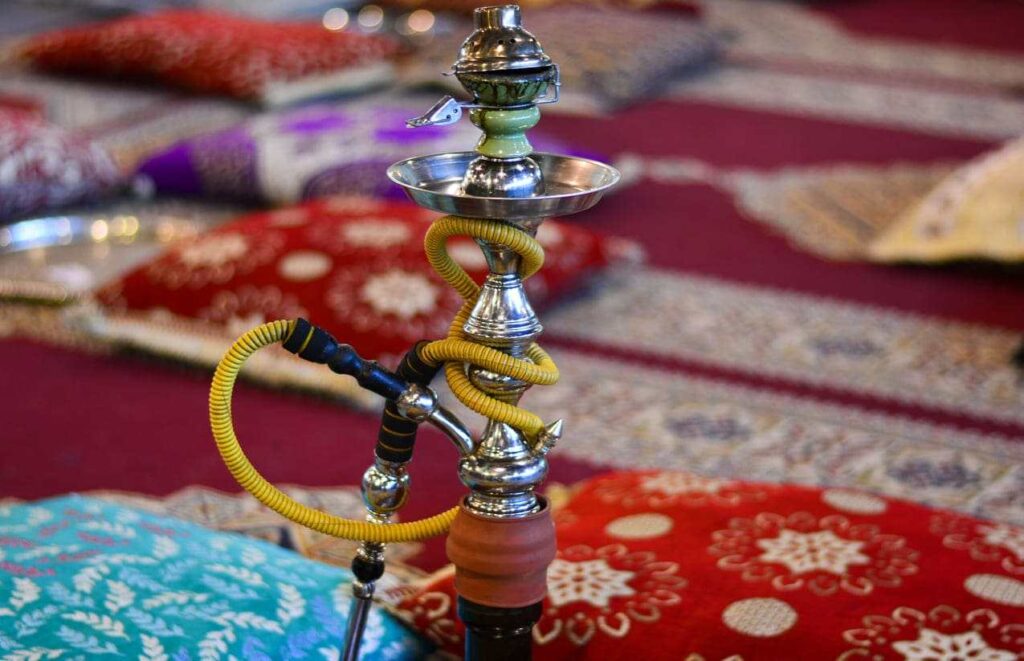 4. VERDURA
If you are looking for a place where you can enjoy good Mediterranean food and smoke a shisha, we recommend Verdura. Located in Jebel Ali village, in the mall of Ibn Battuta, this place is one of the best shisha places in Dubai.  
It is possible to sit inside or on the terrace. The interior is pleasant and comfortable with a pleasant warm light and a very cute decoration.
They offer a varied menu of fresh and well-cooked products: shish tawook, falafel, hummus, fatah and also more classic dishes like pizzas, hamburgers, salads and many others. For your refreshment, a wide range of hot and cold drinks are available, both classic and traditional. You can ask for a pot of mint tea or the karak, a traditional tea made of milk, an equivalent of Chai latte.
The chichas are of very good quality. It is possible to choose among many flavors. We recommend that you test the Verdura Special which is much appreciated by the regulars of the café. 
Address: Garden Cross Rd, Ibn Battuta Mall – Jebel Ali Village – Dubai
Schedules: open every day from 09h to 01h
Contact: +971-4-350-9350
Website : https://www.verdura.ae
5. Nurai
It is a restaurant very frequented by the amateurs of chichas. It is in Nurai you can smoke one of the best chichas in Dubai. Located in the Business Bay area, this restaurant is equally suitable for those who want to eat, drink or smoke a chicha. 
In a relaxed, modern and Mediterranean-inspired atmosphere, sit in one of the armchairs inside or outside. Enjoy the magnificent view of the skyscrapers and the Burj Khalifa tower. 
Nurai Café has thought about the needs of different customers. There are non-smoking, smoking and VIP smoking areas.
If you have a small hunger, we recommend you these appetizers of the Lebanese cuisine: tray of halloumi, mustabal, fatoush and hummus. They also offer food, desserts and non-alcoholic drinks. 
This restaurant is a little gem in the heart of the business district. It is also pleasant to go there alone, with friends, as a couple or with the family. The restaurant is adapted and suitable for everyone.
Address: Business Bay
Schedules: open from Sunday to Wednesday from 09h to 02h. | From Thursday to Sunday from 09h to 05h
Contact: +971-4-367-9980
6. Treehouse
Located in the Downtown area, Treehouse has a garden with a breathtaking view of the highest tower in the world Burj Khalifa. Everything has been thought of to make your stay a pleasant one: live music played by a DJ, delicious Mediterranean dishes and a selection of quality cocktails and liquors.
It is a luxurious place, whether it is the service, the location or the quality of the products. There is an interior space with comfortable armchairs and trees as decoration which brings freshness to this place. It is also possible to sit on the terrace, night and day, the view on the skyscrapers is magnificent. 
Enjoy Mediterranean bites and smoke one of their chichas with the flavor of your choice.
Treehouse is also one of the nicest and most popular places in Dubai for a ladies night out.
It is a very popular place, think of booking if you want to go in the evening or on weekends.
Address: Taj Dubai, Burj Khalifa Street – Dubai
Schedules: open from Sunday to Thursday from 6pm to 2am | From Friday to Saturday from 6pm to 3am
Contact: +971-58-827-2763
Website : https://www.tajhotels.com/
7. Buhayra Lounge
Located in the Palace Downtown Hotel, Buhayra Lounge is a stone's throw from the Dubai Mall and the Burj Khalifa. A peaceful and pleasant place, far from the crowd of the Mall. Palm trees, a swimming pool, air-conditioned cabanas and intimate corners to feel at home with a spectacular view of Burj Khalifa and the fountains.
It is an ultra-chic lounge bar with an oriental decoration which offers a varied menu of quality products and cocktails that are a great success. 
With a musical background, take advantage of this relaxing moment to smoke a chicha with a classic or original flavor, sip a good cocktail and eat one of their dishes and appetizers.
The quality of service is at the heart of their priority and every customer comes out satisfied with the experience. There is a reason why most residents call this bar one of the best in downtown Dubai.
Address: Palace Downtown Sheikh Mohammed Bin Rashed Boulevard, Downtown Dubai, 9770 – Dubai – United Arab Emirates
Schedules : open every day from 08h to 02h.
Contact: +971 4 428 7961
Website : https://www.addresshotels.com/en/palace-hotels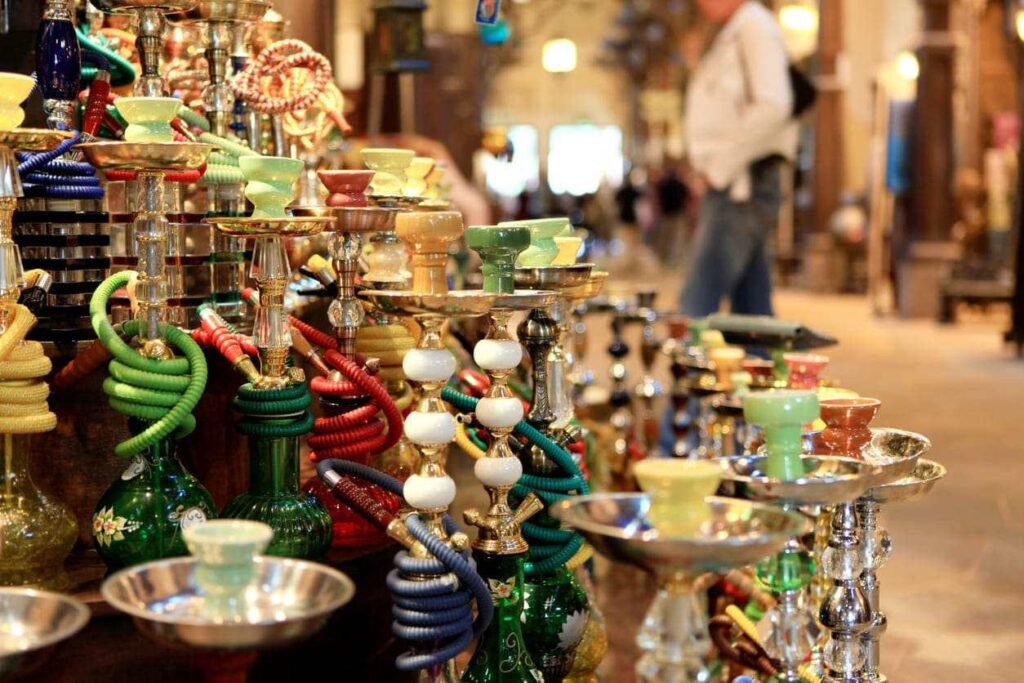 8. Huqqa Dubai
Located near the Dubaimall, Huqqa Dubai is the perfect place to smoke a shisha. After a shopping session, what better way to take a break in front of the fountains and the Burj Khalifa ? 
Its location is ideal for combining a day of shopping and relaxation. It is a trendy place where you go mainly to to smoke a chicha and to enjoy the spectacular view. In a nicely decorated setting, with background music, it is also possible to have a drink or to eat. 
In the evening, the atmosphere is festive with a DJ who animates the evening with western-turkish fusion music. So if you are looking for an authentic place where you can smoke a quality shisha, Huqqa Dubai is the place for you.  
This place is suitable for couples, families and groups of friends.
Address: Unit TF – 005 – Financial Center Rd – Downtown Dubai
Schedules: open every day from 10 am to 1 am
Phone: +971 800 48772
9. Laguna Lounge
This beach bar in Palm Jumeirah is the place where all nationalities meet. Laguna Lounge is within the Sofitel Dubai. A luxurious place where everything has been thought of for the comfort of the client. 
You can go there to eating and drinking, partying and smoking, in a relaxed Mediterranean atmosphere. The advantage is that the lounge is just a few steps from the beach. You can combine swimming and relaxing at the Laguna Lounge.  
Facing the sea or by the pool, on a pouf or on a chair, enjoy the view and the incredible setting to relax. It is also one of the best places to drink a cocktail and smoke a chicha.
The menu is very rich. They offer a varied choice of sushi and maki platters, Lebanese and Greek salads as well as desserts.
Address: Sofitel Dubai The Palm Jumeirah, East – Crescent Rd – Dubai –
Schedules: open Monday to Friday from 5pm to 2am. Saturday to Sunday from 3pm to 2am.
The kitchen service (dinner) from 7pm
Contact: +971 4 455 6677
Website : https://www.sofitel-dubai-thepalm.com/bars-lounges/laguna-lounge/
10. Sama Lounge JBR
It is a trendy South American bar in the JBR neighborhood. Located on the Delta by Marriott Jumeirah Beach hotel roof on the 35th floor, it gives a grandiose view of the Princess Towerthe district of the Marina and part of the Palm Jumeirah. 
A pleasant rooftop where it is good to be with friends or as a couple. 
The place is cosy for smoke a good chicha in a quiet place. 
It is possible to have a drink with or without alcohol. Here they serve wine straight from South America. If you want to eat, it is also possible to order burgers, salads and small snacks.
The Sama Lounge JBR is ideal for those looking for a late night shisha.
Open every day until 2 am.
Address: Delta Hotels by Marriott Jumeirah Beach, Dubai, Bahar 7 – Jumeirah Beach Residence – Dubai
Schedules : open every day from 5pm to 2am.
Contact: +971 4 439 8888
Reservation at : 97150-189-6214
Website : https://www.samaloungedubai.com
Each shisha bar is located in a neighborhood with must-do activities. Take the opportunity to visit the Burj Khalifa tower, shop at the Dubai Mall, stroll around the Marina and swim at Jumeirah.