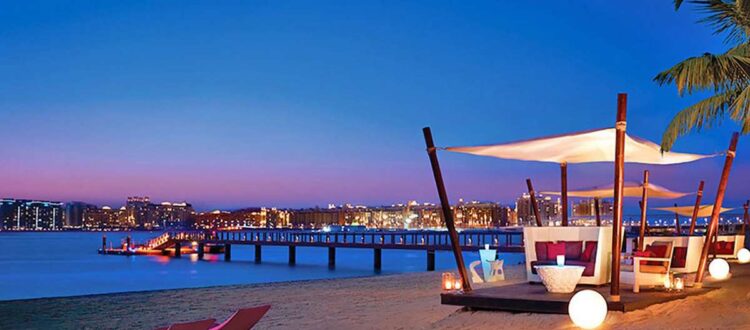 The Jetty Lounge, bar of the hotel One & Only Royal Mirage
The One&Only Royal Mirage, located in the Dubai Marina district, is an extraordinary oasis in the heart of Dubai with an oriental architecture. Known for its hotel, spa, beach club and gourmet restaurants: Celebrities, which offers a menu of French gastronomy, Tagine, which specializes in Moroccan cuisine, and The Courtyards, a Mediterranean restaurant. In addition to being a place where you can be pampered in a Spa, relax by the pool or enjoy a beautiful culinary experience, it is also in this same place that you can have a drink with a breathtaking view of the sea.
1. The Jetty Lounge: a drink with your feet in the sand
In a chic and modern setting, The Jetty Lounge is a great place to have a drink. In the same standing as the palace One & Only Mirage, The Jetty Lounge offers, in addition to an incredible setting. The architecture is of oriental inspiration with contemporary furniture. The music gives the atmosphere a soothing and relaxed feel. Settle into one of the sofas by the sea, sip your cocktail prepared with care by the baristas and admire the sunset.
Here, you don't come to dine, but to take a break after a day of work, a shopping session or to get together. The ideal place to have an aperitif during the Happy Hour. On the menu, they offer red and white wines, champagnes, cocktails. Soft and non-alcoholic drinks are also on the menu: fruit cocktails, iced teas, lemonades and milkshakes.
Drinks are priced from AED 45, or about €11, to AED 100, or about €25, for a drink. Accompany your drink with side dishes such as Lebanese mezzes: hummus, eggplant caviar or salad. You can also order an assortment of cheese, home fries, quiches, etc. The service and atmosphere of Jetty Lounge will make you spend an unforgettable evening with friends, couples or family.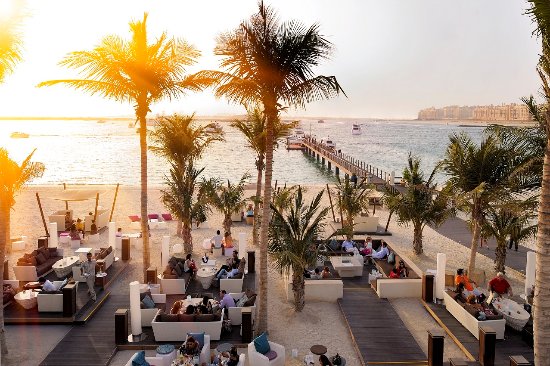 2. Discover the other places of the One & Only Royal Mirage: gourmet restaurants, Spa and swimming pools
After having a drink and enjoying the sunset over the sea, why not take advantage of being at the One & Only Royal Mirage to dine? Indeed, many gourmet restaurants are managed by great chefs in this hotel. Among the must-try restaurants in Dubai are these restaurants. So if you want to spend an even richer evening and have a culinary experience you won't forget, book one of these restaurants.
There is the Celebrities restaurant managed by the chef Mauro Colagreco, Eauzone which proposes a gastronomic Asian cuisine revisited, the Tagine restaurant of Moroccan speciality in a disorienting framework and which brings to travel, The Rotisserie for a Middle-Eastern cuisine or The Samovar Lounge, The Courtyards and many others to discover on their website.
One&Only Royal Mirage is also known for its wellness services like the Spa. They have a team of experienced therapists who master all massage methods. There is also a traditional hammam, a Spa and several Jacuzzis that will make you feel great before your dinner for example.
Information : https://www.oneandonlyresorts.com/royal-mirage/experiences/spa
Opening hours : open every day
Time slot for women only: from 09:00 to 13:00
Men and women: from 1:00 pm to 9:00 pm (possibility of privatizing for a couple). Last reservation possible at 8 pm.
Phone : +971 4 315 2140
E-mail : spa@oneandonlyroyalmirage.ae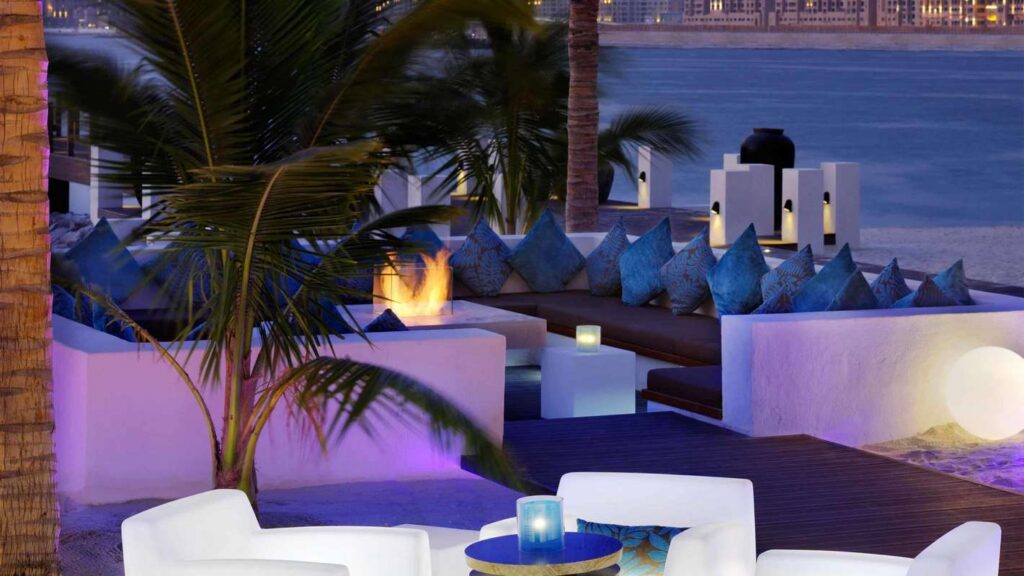 3. Frequently Asked Questions (F.A.Q.): Learn more about The Jetty Lounge
What should I wear to The Jetty Lounge? Is there a dress code?
There is no strict dress code. But, as in every fancy place in Dubai, you need to dress in a way that suits the setting. Opt for a casual chic outfit. Ladies, heels are not mandatory.
Is it possible to consume alcohol?
In Dubai, it is possible to consume alcoholic beverages in bars, hotels, nightclubs and some licensed restaurants. The Jetty Lounge offers a wine, champagne and cocktail list prepared by the hotel's baristas. It is therefore possible to have a drink in peace in the lounge.
Do I have to book in advance?
It is not mandatory to book in advance. However, it is highly recommended. The lounge is well known and attracts a lot of people. We advise you to call them and make a reservation (especially on weekends).
Does The Jetty Lounge host parties?
Although it's in the Marina district, which is known to be very lively, The Jetty Lounge is not a place to party. It's mostly for people who want a quiet drink with a view of the sea. In addition, the place is open to families.
Is it possible to privatize the lounge for an event?
It is not yet possible to reserve the entire lounge for a private event. However, we recommend that you submit your request to The Jetty Lounge team by email at restaurants@oneandonlyroyalmirage.ae
Families with children are allowed to come to The Jetty Lounge. It is a place suitable for everyone. They can enjoy a milkshake or a lemonade for example. Moreover, the lounge is right on the beach. Children can play with the sand.
Is there parking near the lounge?
The Jetty Lounge is part of the One&Only Royal Mirage which has valet parking. If you come with your car, you have access to the hotel's parking lot. There are also parking lots in the Marina area, if you wish to park yourself.
Is it accessible by public transportation?
Yes, it is accessible by public transport. That is, of course, where you are coming from. There is a tramway that passes through the "Media City" station which is a five minute walk from the hotel. If your starting point is the Dubai Mall for example, you can take the red line metro to Dubai Marina and then streetcar 1.
What to do near The Jetty Lounge?
The Jetty Lounge is located near the Marina. You can stroll along the Dubai Marina Walk, go to JBR Beach or store at the Dubai Marina Mall. You can also party in rooftops or nightclubs like Zero Gravity, Bla Bla Dubai or Wane by Somiya.
Location : The Palace at One&Only Royal Mirage
Adress : One&Only Royal Mirage – King Salman Bin Abdulaziz Al Saud St – Dubai Marina – Dubai – United Arab Emirates
Opening hours : open every day from 15:00 to 01:00
Phone : +971 4 399 9999
Reservations are highly recommended.
Website : oneandonlyresorts.com
Menu : https://www.oneandonlyresorts.com/royal-mirage/dining