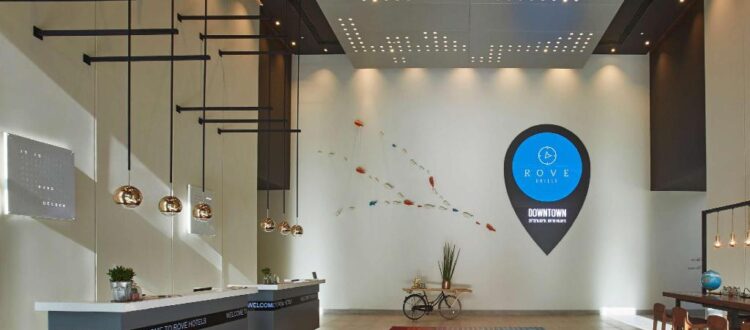 The iconic Rove downtown hotel : the perfect place to explore the heart of Dubai
Dubai, located in the United Arab Emirates, is one of the most popular tourist destinations in the world. This futuristic city is famous for its iconic skyscrapers, huge shopping malls, white sandy beaches and incredible leisure activities. But when visiting Dubai, one of the most important aspects of one's stay is to choose a comfortable and welcoming place to stay.
Dubai hotels offer a variety of styles and amenities to meet the needs of all travelers, whether they are looking for budget accommodations or an unforgettable luxury experience. Recently, the city added a new hotel to its already impressive list of world-class accommodations: the Rove Downtown.
Located in the vibrant Downtown Dubai area, this hotel offers stylish, modern rooms and high-end recreational facilities. In this article, we'll explore the Rove Downtown Hotel in its entirety, as well as the nearby attractions that make this hotel one of the ideal places for an unforgettable stay in Dubai.
1. Rove Downtown: the ideal choice for your next stay in Dubai
If you're looking for a modern, affordable hotel in Dubai, look no further than the Rove Downtown. Located in the vibrant Downtown Dubai area, this 420-room hotel offers a convenient location for exploring the city's most popular attractions. The Rove Downtown's location is one of the unmatched criteria. The hotel is within walking distance of the Burj Khalifa, the world's tallest tower, as well as the Dubai Mall, home to hundreds of luxury stores, restaurants and entertainment venues. Guests also have easy access to public transportation, making them highly mobile to visit different areas of Dubai.
The rooms at the Rove Downtown are designed with style and simplicity in mind. Neutral colors and modern materials create a relaxing and comfortable atmosphere. Rooms have all the amenities you need for a comfortable stay, including flat-screen TVs, free Wi-Fi and private bathrooms with free toiletries.
The hotel offers different types of rooms to meet the needs of single travelers, couples and families. Standard rooms are a comfortable 26 square meters and can accommodate up to two people. Family rooms are larger, up to 48 square meters, and can accommodate up to four people.
The hotel also offers a range of services and facilities to meet all guests' needs. Fitness enthusiasts can take advantage of the well-equipped gym, while business travelers can use the comfortable workspaces and meeting rooms equipped with the latest technology. The hotel also features an outdoor pool for relaxing after a long day of sightseeing in Dubai.
2. Cafes and restaurants at the Rove Downtown Hotel
Rove Downtown also offers a range of restaurants and cafes on site. The Daily Downtown, which is a 24-hour casual restaurant, offers a selection of international dishes as well as local Dubai fare for breakfast, lunch and dinner, with an open kitchen and a la carte options. Vegetarian options are also available. For those looking for a trendy café to work or relax in, The Daily Downtown Café is a great choice.
This café offers a selection of coffees, teas, fresh juices and light snacks, as well as pastries and desserts. There is also The Courtyard, which stands out for its outdoor space that is perfect for relaxing and enjoying a drink while taking in the view of the city. If you're staying at the hotel, you can take advantage of the room service, in-room Dining, for an intimate dinner in your room.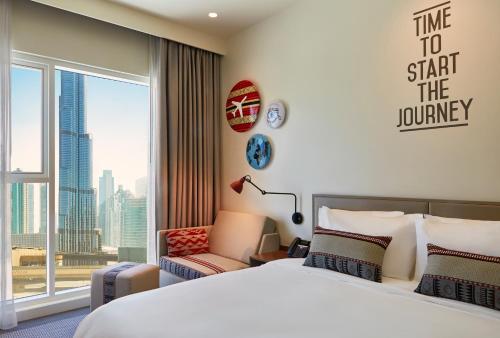 3. Fine sand and fresh cocktails: a day at the Beach Club of the Rove Downtown Hotel
Located on La Mer Beach, the Beach Club offers a variety of services and amenities to suit everyone's needs. including access to the private beach with sunbeds and umbrellas for relaxing and soaking up the sun, an outdoor pool for cooling off and relaxing, beach huts for privacy and comfort, food and beverage service with a selection of refreshing dishes and drinks, and water activities such as paddleboarding, kayaking, and surfing for those who wish to explore Dubai's waters.
The Beach Club at the Rove Downtown Dubai Hotel is a relaxation and leisure area located by the hotel's rooftop pool. The large outdoor pool on the hotel's rooftop offers a breathtaking view of downtown Dubai. Whether you are a guest or a resident of the hotel, you can relax on the sun loungers while enjoying the sunshine and peaceful atmosphere.
It has a restaurant that serves a variety of light dishes, snacks and drinks, as well as a bar that serves cocktails, fresh juices and other refreshing drinks. You can enjoy your meal or drink while taking in the breathtaking view of the city. If you're looking for a private space to relax, the Beach Club offers private cabanas. These cabanas are equipped with comfortable lounge chairs, a TV, free Wi-Fi and private dining.
There are a variety of recreational activities, including yoga classes, live music events, pool parties and other fun activities. For those looking to relax and rejuvenate, the hotel also offers spa services, including massages, facials and body treatments. You can enjoy these services in a peaceful and relaxing setting on the hotel's rooftop.
Overall, the Beach Club at Rove Downtown Hotel Dubai offers a complete relaxation and leisure experience for anyone looking to unwind and enjoy the sunshine and stunning views of the city. The Beach Club is open to Rove Downtown Hotel guests and the general public for an entrance fee. Hours of operation may vary depending on the season and weather conditions (especially in hot months). We invite you to contact them before visiting.
Phone : +971 4 561 9000
E-mail : hello@rovehotels.com
Website : https://www.rovehotels.com/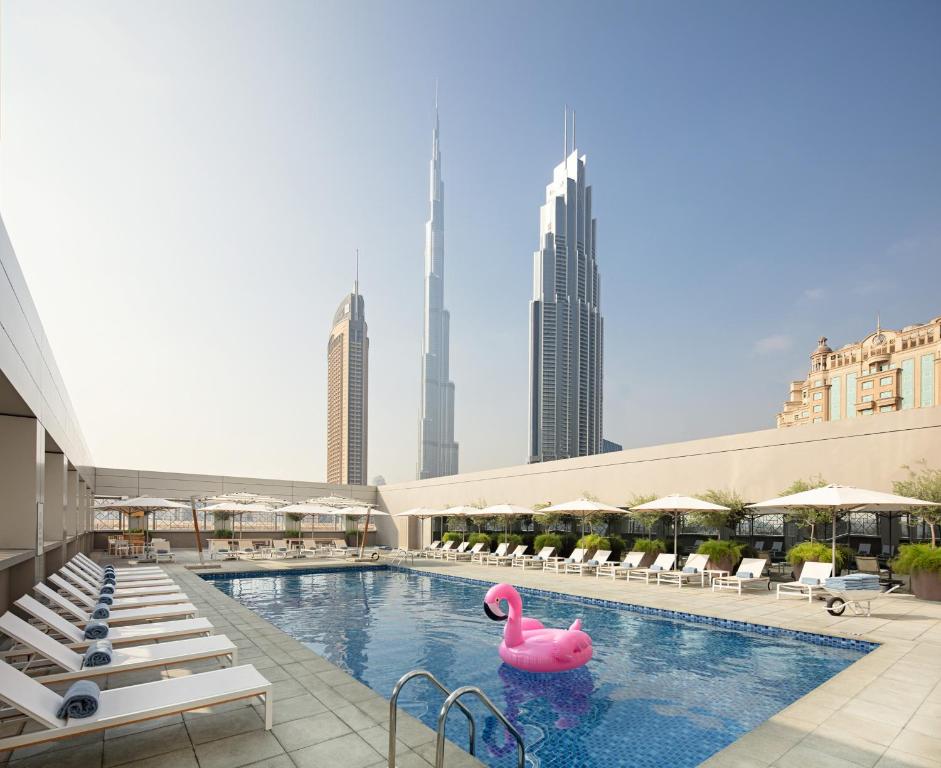 4. Relax at the Rove downtown hotel spa: an urban oasis in the heart of the city
The Rove Downtown is also an ideal choice for those looking to relax and rejuvenate. With its many wellness options, this hotel offers a memorable stay for all its guests and those who wish to enjoy it. The first wellness service offered by the hotel is its fitness room. With a wide selection of weight training and cardio equipment, this gym is the perfect place for health-conscious travelers looking to keep up their fitness routine. In addition, the fitness room is equipped with showers and locker rooms for maximum comfort. For those looking to relax, there is also a rooftop pool. With a breathtaking view of the city, this pool is the perfect place to enjoy the sun while relaxing. You can also relax in one of the many sunbeds available or cool off with a cold drink from the pool bar.
The Rove Downtown Hotel also offers a luxury spa for those seeking a complete wellness experience. The spa offers a variety of massages (therapeutic, relaxing, Swedish, aromatherapy, etc.), facials and body treatments to meet the individual needs of each guest. There is also a manicure and pedicure service, waxing, hair care and also a traditional hammam (Turkish bath). The friendly and knowledgeable staff is always ready to help clients choose the treatment that best suits their body and mind.
Finally, the hotel also offers yoga classes to further relax and help you recharge. Classes are taught by professional teachers and are suitable for all levels, from beginners to advanced. You can enjoy the benefits of this ancient practice to improve your flexibility, strength and mental well-being.
As you can see, Rove Downtown is a great choice for travelers looking for a modern and affordable hotel in Dubai. With its convenient location, comfortable rooms and quality facilities, this hotel is the perfect place to stay on your next visit to Dubai. It offers a full range of wellness services to help guests relax, rejuvenate and care for their bodies and minds. Whether you're looking to relax by the rooftop pool, get pampered in the luxury spa or practice yoga, this hotel is the perfect choice for a wellness stay in Dubai.
Adress : 312 Al Mustaqbal Street, Zabeel 2,Dubai
Phone : +971 4 561 9000
E-mail : hello@rovehotels.com
Website : https://www.rovehotels.com/
Offers : https://www.rovehotels.com/en/hotels/rove-downtown/offers/
Reservation : https://www.rovehotels.com/en/hotels/rove-downtown/contact/
For booking information requests : events@rovehotels.com
The Rove Downtown is close to :
Downtown Dubai
The Dubai Mall
Burj Khalifa
Jumeirah Beach