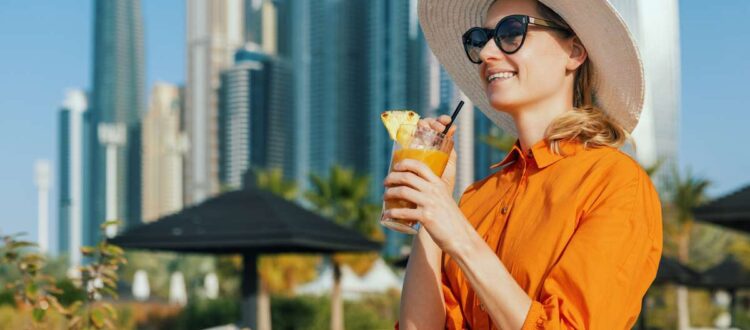 White Beach, the white sand beach of Palm Jumeirah
A city where it's practically warm and sunny all year round, Dubai is a beach destination where it's nice to swim and spend a vacation in the sun. White sand, turquoise blue water, infinity pools and music, you name it, it's always good to spend a vacation in Dubai. Among the must-do activities to do in Dubai, we find in the top 5, the activity "chill out and enjoy the beaches and private pools of Dubai".
The city is home to a large number of places like luxury hotels where they offer comfort, luxury and entertainment in one place. One of the must-try places if you are visiting Dubai is the iconic White Beach located in the Palm Jumeirah district. Formerly called Nasimi Beach, it is part of the Atlantis resort.
1. White Beach aka Nassimi Beach, Atlantis Beach Club
Open from morning to night, the White Beach, which is attached to the Atlantis, offers comfort and luxury worthy of the hotel's 5-star rating. Whether you are a resident or not, you can access the different areas of Atlantis for a fee that varies from place to place: water park, pools, bar, etc.
White Beach opens its doors throughout the day to hotel residents (free of charge) and also to non-residents. Non-residents of the hotel have to pay an entrance fee which starts from AED 200, or about € 50 to be able to spend the day at White Beach. Please note that 50% of the entrance fee is refunded in vouchers for your onsite consumption (drinks and meals) and the rental of a lounge chair for the day is included in the fee. There are other admission tickets that give you access to other options: oceanfront cabana, VIP areas and others available on the Atlantis website.
Please note: Prices vary by season and day. Please inquire directly with White Beach.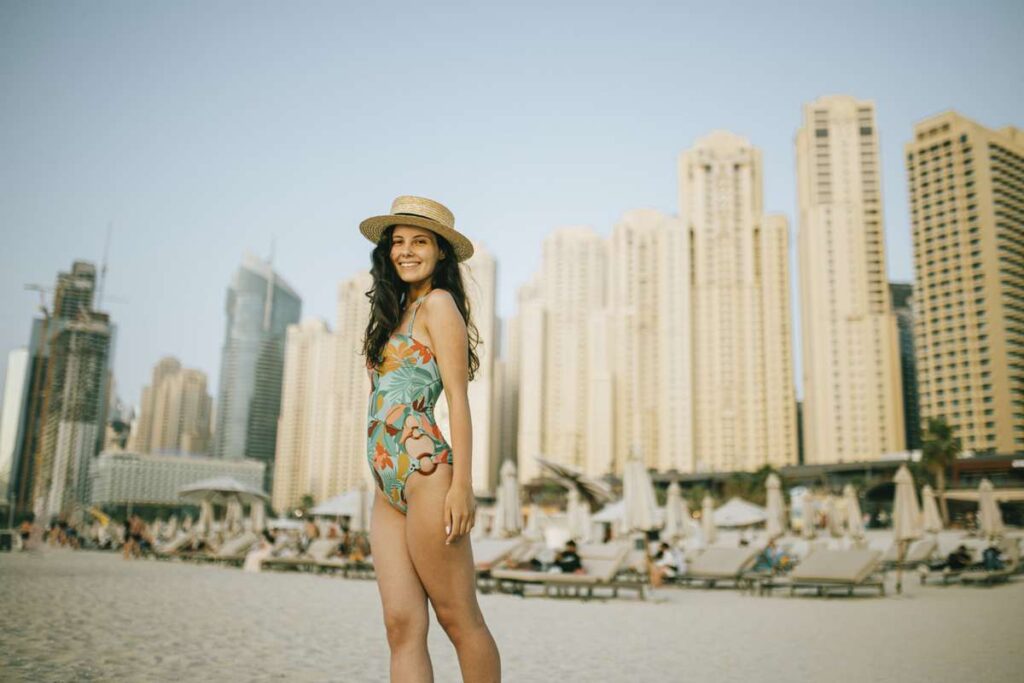 Facilities include infinity pools with loungers in the pool and by the pool, a restaurant with a chic outdoor atmosphere to enjoy a good meal, a fine sandy beach, clean and well laid out for absolute comfort and many others to discover on site.
In a simple and uncluttered atmosphere, the White Beach offers a very soothing setting. In addition to having access to the pool, the beach and the other facilities offered by the Beach Club, you will be immersed, for a day, in a luxury service. You will spend your day in a whole universe. If you want to live this experience until the evening, it is possible to extend your White Beach experience until the evening. Shortly before sunset, White Beach closes the pool to offer a different atmosphere. The place transforms into a space to sip a delicious cocktail prepared by the bartenders while enjoying the setting and the music hosted by a DJ. It is the ideal place to meet with friends, family or to spend a sweet evening in love.
For those who knew this place as Nasimi Beach, you should know that there has been a lot of change. Today, White Beach offers a larger space with more options and comfort. The space has doubled in size since last season, offering more room to relax and enjoy live performances. There is a new dance floor, a DJ booth and two large cabanas suitable for up to 20 guests, the perfect option for groups or if you have an event to celebrate (birthday, EVJF, etc).
For even more relaxation, White Beach now includes a new diamond-shaped pool and six luxury cabanas, each with its own private pools and secluded lounge area. There are additional daybeds that have been added to the beach and flying beds in both pools for swimmers who want to make waves.
Learn more about White Beach's experiences and amenities : https://www.sevenrooms.com/experiences/whitebeach
2. The White Beach restaurant and bar
There are two dining areas attached to the White Beach. First, there is the Terrace which is directly facing the pool area and the Restaurant which is indoors. On the menu, you will find a semi-luxury gastronomy of Mediterranean inspiration. Let yourself be tempted by Chef Ibrahim's delicious Mediterranean-inspired dishes, such as sautéed tava prawns, grilled Spanish octopus with eggplant mille-feuille, as well as White Beach's signature cocktails such as the yellow diamond or the zakuro. They also offer a wide selection of sushi, maki, pasta and tacos cooked with fresh and tasty products.
Not to mention the sweet treats on the menu such as coffee and chocolate mousse, lemon cheesecake or vanilla ice cream. Starters, main courses and desserts that will delight your taste buds. The menu has also been thought for vegetarians.
For a more casual break, you can enjoy the terrace of White Beach to sip a good cocktail. On the drink menu, White Beach offers a wine list, cocktails and beers. There is also a wide selection of non-alcoholic drinks.
Menu of the Beach Club : https://www.atlantis.com/dubai/menu
White Beach is also a place to have Sunday brunch. As tradition dictates, it's important to take your time. On Sundays from 12:00 to 15:00, the White Beach offers a brunch in the form of two formulas to choose from. You can have it either in the restaurant or on the terrace. The menu includes
Brunch hours: every Sunday, from 12:00 to 15:00
Restaurant and Terrace rates:
Non-alcoholic package: 350 AED per person, about 90 €.
Package that includes homemade drinks: 500 AED per person, about 130 €.
Reservation: it is strongly recommended to reserve
Additional information : WhatsApp du White Beach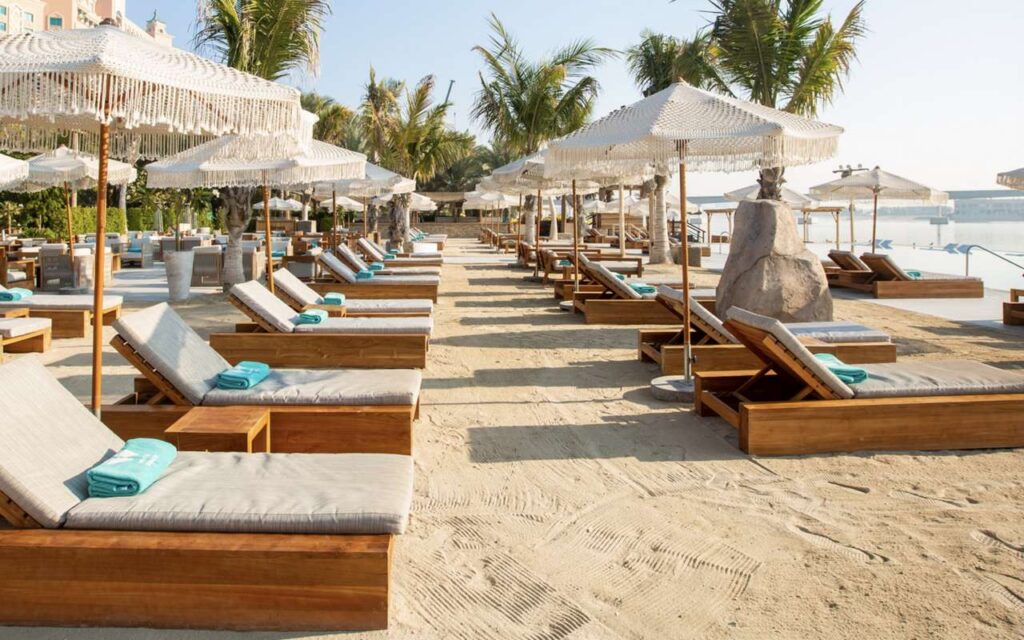 3. Frequently Asked Questions (F.A.Q.) to learn more about White Beach Club
How to dress to go to White Beach? Is there a dress code?
As part of the 5-star Atlantis Hotel, proper attire is required. Choose casual chic for the restaurant and casual for the beach and pool area.
Is it possible to consume alcohol?
There is a bar at White Beach. Alcoholic beverages are available for consumption. You can choose from several wine, champagne and cocktail lists prepared by the hotel's baristas. It is therefore possible to have a drink in peace. Just make sure you behave in a way that suits the place, which is chic and classy.
Do I have to book in advance?
Reservations are not required. However, it is important to take into account the popularity of this place. With its quality service, luxurious yet minimalist setting, and comfort, White Beach is very popular with tourists, locals and expatriates living in the UAE. This makes this private beach club one of the most fashionable and popular places in the city. Remember to book well in advance (especially on weekends).
Does the restaurant offer vegetarian options?
The menu at White Beach offers Mediterranean-inspired cuisine. There are mainly fish, fruit and seafood dishes and also a wide selection of appetizers and vegetarian dishes. Here is the menu: https://www.atlantis.com/dubai/menu
Does White Beach organize parties?
After 8:00 p.m., once the pool is closed, the Beach Club transforms into a whole new atmosphere with a DJ. Music, cocktails and a breathtaking view from the White Beach will make for a pleasant evening.
Families with children are allowed in the restaurant area of White Beach but not in the Beach Club. The place is reserved for adults from 21 years old. The age of majority is 21 and not 18 in the UAE.
Is it accessible by public transportation?
White Beach is easily accessible by car. It takes about 30 minutes to drive from the Dubai Mall for example. The option to reach the beach club by public transportation is possible, but remains the most uncomfortable. You will have at least 1 hour of travel and three different transports (monorail, metro and bus).
Contact
Adress : Atlantis – Dubai – United Arab Emirates
Opening hours of the beach : open every day from 10 am to 8 pm
Restaurant hours: open every day from 12:00 to 23:00
Phone : +971 4 426 0700
WhatsApp : https://wa.me/971552004321
Menu : atlantis.com
Reservations : sevenrooms.com
The White Beach is close to :
Aquaventure Aquapark
Atlantis The Palm
Dive Atlantis
Burj al Arab