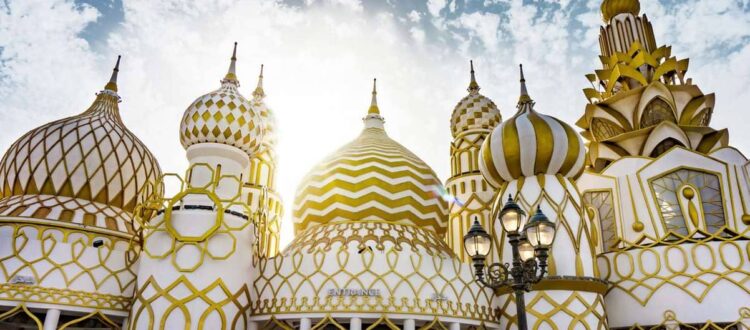 Global village, the meeting point of the whole world in Dubai
Among the activities to do in Dubai, there is one that is a must, shopping. With its gigantic shopping malls such as the Dubai Mall, the Mall of Emirates or the Ibn Battuta mall, it is pleasant to do your shopping. These are places where you will find local brands with country-specific products and also more classic international brands. And there are also activities to do in these malls and events are organized throughout the year.
Dubai is the city where you can find attractions that you can't find anywhere else, like climbing the Burj Khalifa, the tallest tower in the world, skiing in a mall or going on a zip line between skyscrapers. So many unusual activities that you can't get bored in this emirate. But in the United Arab Emirates, and more specifically in Dubai, there is one place that stands out from the rest. It is the Global Village, a large fair that is the meeting point of several countries, a place of entertainment like no other.
1. What is the Global Village ?
Every year, from October to April, the Global Village opens its doors. Located on Sheikh Mohammad Bin Zayed Road in Dubai, it welcomes millions of visitors every year. In 2021, nearly 15 million visitors from around the world came to visit the Global Village.
Organized in different pavilions by country, it is a real immersive journey into different cultures. The Global Village is unique. Indeed, only in Dubai is there a place like this, which brings together cultures from around the world, with shows, attractions, concerts and lots of surprises to discover on site. Light shows, colorful infrastructures, music and the smell of food and desserts, take every visitor on a world tour. You will find street food stands, products, ready to wear, decoration to buy and also dance shows, music and many other events.
As soon as you enter the Global Village, you will be directly welcomed by the gigantic monuments, infrastructures, palaces that represent each country present in this fair. There are also attractions, street-food vendors, henna tattoo booths and many other booths to discover on site. The pavilions organized by country are arranged to the right and left of the main aisle. You will find Turkey, Iran, Morocco or China, Senegal and many other countries. All continents are present every year.
It is the ideal place to discover the cultures of the whole world. It is the place to discover local products from each country such as argan oil from Morocco, organic honey from Yemen, traditional fabrics and outfits from India and Pakistan, Persian carpets from Iran or dates from Saudi Arabia.
Shopping : https://www.globalvillage.ae/en/shopping 
Restaurants and cafes : https://www.globalvillage.ae/en/dining 
The pavilions : https://www.globalvillage.ae/en/pavilions-landmarks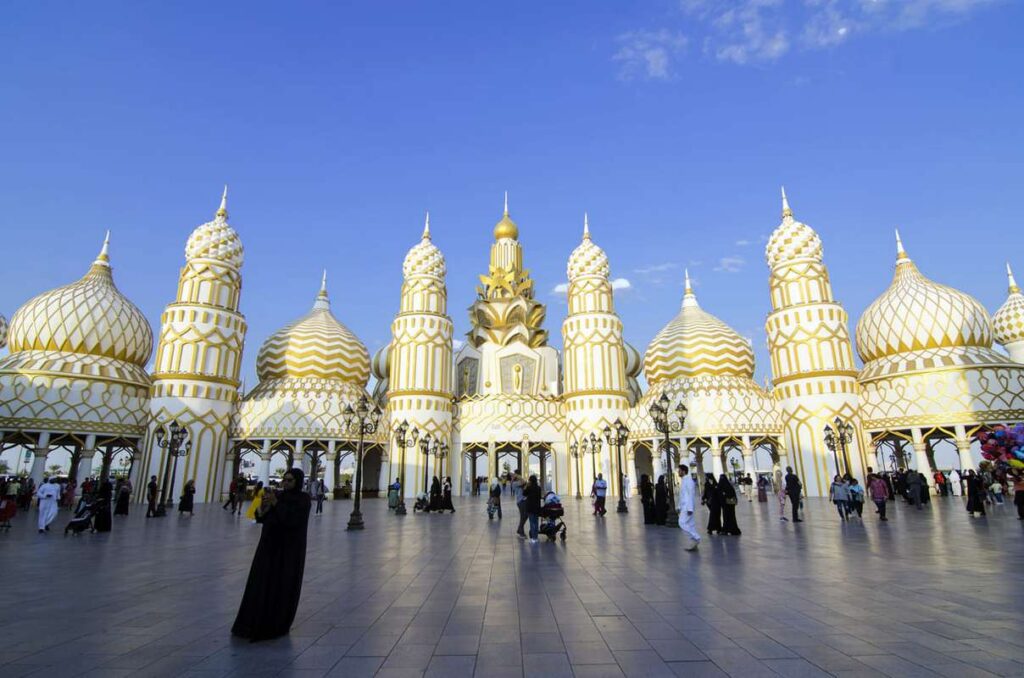 2. Things to know about the Global Village
The park is open every day of the week (Monday to Sunday). Sunday to Wednesday open from 4:00 pm to 12:00 am and Thursday to Saturday from 4:00 pm to 1:00 am (Doors close at 11:30 pm.) Please note that Thursdays are reserved for women and families (except on holidays)
Entrance fees for global village
Admission costs AED 18, or about €4.52 if you buy your ticket online. It is possible to buy your ticket on the spot. However, the price is 20 AED, which is about 5 €.
Admission is free (with proof of identity) for :
● under 3 years of age,
● over 65 years of age
● people with disabilities.
The entrance ticket includes only the entrance to the Global Village with access to the different pavilions, shows and concerts. For the attractions that are open to adults and some to children, such as the carnival, there is a charge.
It is also possible to take combo tickets with different offers, such as the combo ticket: Carnival Global Village + Global Village Dubai for 250 AED (about 58 €). This can be interesting if you want to enjoy the different attractions of the Global Village.
Website : https://www.globalvillage.ae/en/buy  
3. How do I get to the Global Village?
You can reach the Global Village by car, cab or bus.
By car
It is easily accessible from the center of Dubai. Just put on your GPS the following address:
Dubai Global Village, Exit No. 37, Sheikh Mohammed Bin Zayed Road, Dubai, United Arab Emirates
Near the Global Village 20,000 parking spaces are available for visitors. You can choose between free parking or premium parking with valet parking.
Premium parking on weekdays and weekends: AED 100, or about €25 per day.
Esaad and Al Saada cardholders receive a 30% discount.
To reach the entrance of Global Village from the parking lot, you have two options. You can either take the free GV express train from the P3 parking lot or opt for the rickshaw service which costs AED 5, or about €1.50 for a single ride, AED 10, or about €2.50 for a full ride.
Prices are currently 2023. Prices may increase next year. Please check with the staff on site or on the Global Village website.
By public transport
The latter option is more affordable in terms of price. There are four RTA bus lines that take you to Global Village.
-Bus 102 from Rashidiya metro station.
-Bus 103 from Union metro station, via Al Rebat street.
– Bus 104 from Ghubaiba bus station via Al Jafiliya metro station.
-Bus 106 from Mall of Emirates Metro Station via Al Barsha A2, Al Barsha Lulu Supermarket, Dubai American Academy 2, Classic Crystal 2 and Al Quoz, Clinical Pathology Services 2.
The service operates from 3:15 p.m. to 11:15 p.m. daily, with a 30-minute ride. Please remember to purchase your transit card at a metro desk before boarding the bus.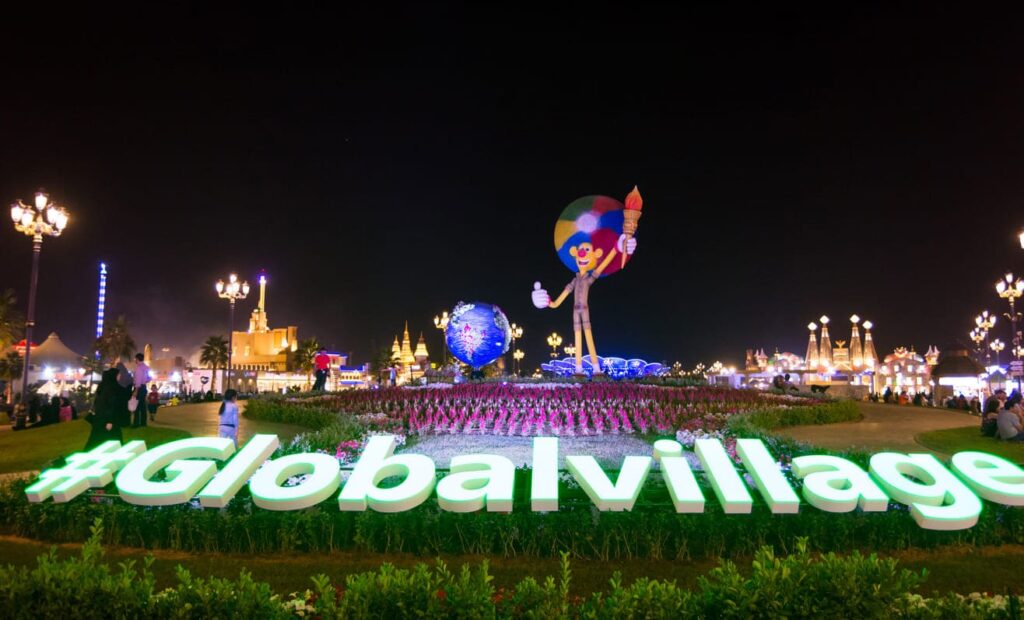 4. How to visit the Global Village ?
Since its creation in 1997, the Global Village has evolved a great deal, with new attractions, increasingly grandiose shows and the implementation of services to facilitate the visit of everyone, especially families.
Dubai being a hot city, we advise you to prefer the end of the day and evening to visit and enjoy the Global Village. As for the visit of the Global Village, there is an application that could facilitate your visit. It is GLOBAL VILLAGE DUBAI, an application available on Apple Store and Google Play for free download.
It will allow you to find your way more easily thanks to the maps. And also to buy tickets online for the attractions. This will save you from waiting in line, especially if you are with your family.
Internal regulations to be respected
There are certain rules that must be followed in order to enter and visit the Global Village. Please make sure you follow these rules to avoid being refused entry:
-Animals are not allowed
-You have to wear a modest outfit. This is a family place. It is important to respect the local dress code (no cleavage, no shorts, etc).
-It is forbidden to bring food from outside
-It is forbidden to film without authorization (except with a smartphone)
-As in the rest of the country, it is frowned upon, if not forbidden, to show any sign of affection towards your partner.
Additional information
Adress : Sheikh Mohamed Bin Zayed Road and Emirates Road – Exit 37 – E311 – Dubai
Website : https://www.globalvillage.ae