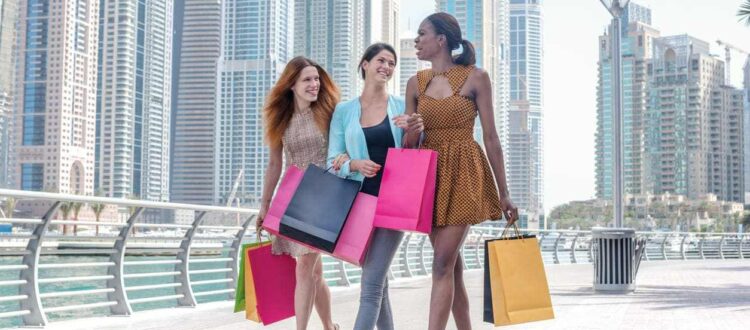 The shopping guide in Dubai
In recent years, Dubai has been one of the most popular destinations for fashionable. It is especially appreciated for its beautiful beaches, resorts and shopping centers. It is also one of the favorite destinations of fashionistas and shopping enthusiasts. Among the following list, you will find a list of places where you will enjoy shopping and buying souvenir gifts to your loved ones: shopping malls, designer boutiques, souks and many other places. 
1. The shopping centers
The city of Dubai is known as a shopping destination. With its many shopping malls, it has become the A must-see destination for shopping. More than a group of stores, it is also a place where many attractions entertain young and old. 
In the Downtown area, you will find the Dubai Mall. It is one of the largest shopping malls in the world. There are many international brand stores as well as local designer stores.
If you wish to purchase items from international haute-couture, you will find your happiness on the Fashion Avenue and Dubai Mall Zabeel. 
The Mall of The Emirates which is located in the Marina district, is known for the DUBAI SKI, a ski slope that is located inside the Mall. 
As for the Ibn Battuta MallIt inspires travel like the legendary Arab traveler Ibn Battuta. The architecture makes this place authentic and peaceful. 
And finally, for low cost shopping, The Outlet Village and the Dubai Outlet Mall are two places where you can find pieces from top designer brands at discounted prices. 
Dubai Mall
Address: Financial Center Street, Along Sheikh Zayed Road, Next to Burj Khalifa – Dubai – United Arab Emirates
Website : https://thedubaimall.com
Mall of the Emirates
Address : Sheikh Zayed Rd – Al Barsha – Al Barsha 1 – Dubai – United Arab Emirates
Website : https://www.malloftheemirates.com
Ibn Battuta Mall
Address: Sheikh Zayed Rd – Jebel Ali Village – Dubai – United Arab Emirates
Website : https://www.ibnbattutamall.com/
The Outlet Village
Address: Near Dubai Parks and Resorts – Mina Jebel Ali – Dubai – United Arab Emirates
Website : https://theoutletvillage.ae
Dubai Outlet Mall
Address: Route 66 – Al Ain – Dubai Rd – Dubai Outlet Mall – Dubai – United Arab Emirates
Website : https://www.dubaioutletmall.com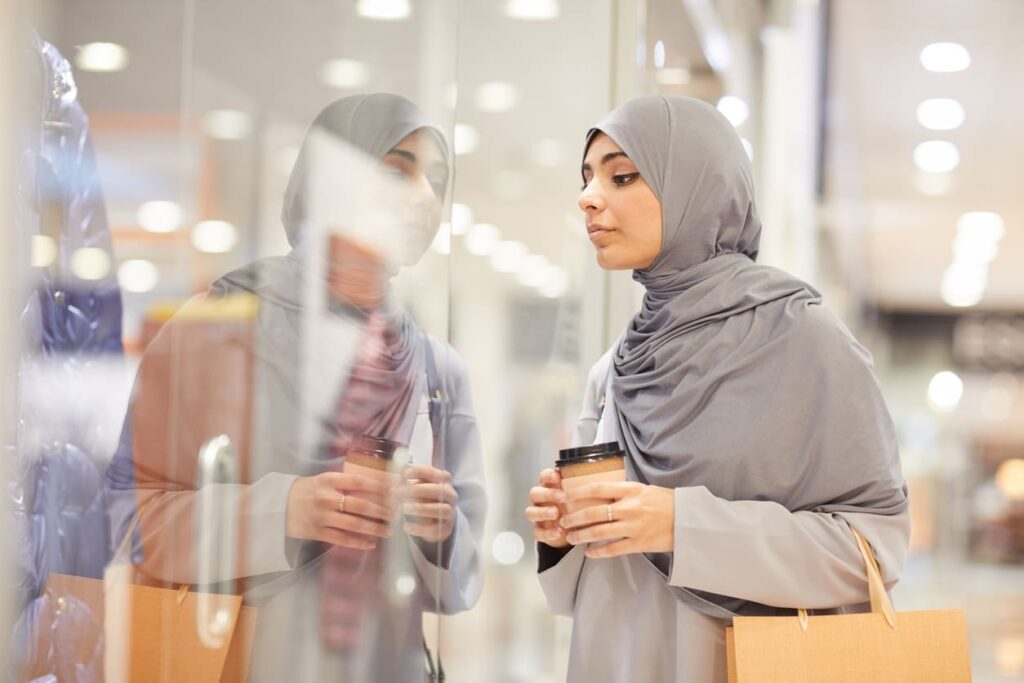 2. The souks
Deira is the traditional district of Dubai. It includes several souks that sell items you won't find elsewhere. 
The Gold Souk, the gold souk, is the ideal place if you want a piece of jewelry. Here you will find several jewelry stores where you can buy watches, diamonds, silver and gold. 
Then, take a little trip to the Perfume Souk. These are small stores that sell fragrances of perfumes and essential oils. This is an opportunity to discover scents that you are not used to smelling elsewhere. A special mention for the 'oud. It is a perfume based on essential oil of wood, widely used and renowned in the Middle East and mainly in the United Arab Emirates. 
And finish with the Spice Souk, the spice souk, a sensory stroll through the different spice stalls, tea, coffee and many other local specialties. 
You will find a wide choice of flavored teas from around the world, spices like saffron and others used in international cuisine. 
Near the Gold Souk, the Spice Souk and the Perfume Souk, you can find the souk of Bur Dubai. Known to be the Ali Baba's cave of textile. You will find many stores of traditional dresses for women, men and children, fabric sold by the meter and many other items. 
It is also the place where you can buy boukhour. These are agarwood chips soaked in jasmine and sandalwood. If you are looking to give a local gift, this is a good option. 
The number one rule in a souk is to bargain. Play the game, you'll see that you'll like it and you'll find it fun.
Deira Perfume souk
Address: Sikkat al Khali – Dubai – United Arab Emirates
Website : https://almubarakaperfumes.com
Spice Souk
Address : 41 34th St – Deira – Al Ras – Dubai – United Arab Emirates
Gold Souk
Address: Gold Corner Building, 3rd Floor – Gold Souq – Deira – Dubai – United Arab Emirates
Bur Dubai
Address : Bur Dubai – Al Fahidi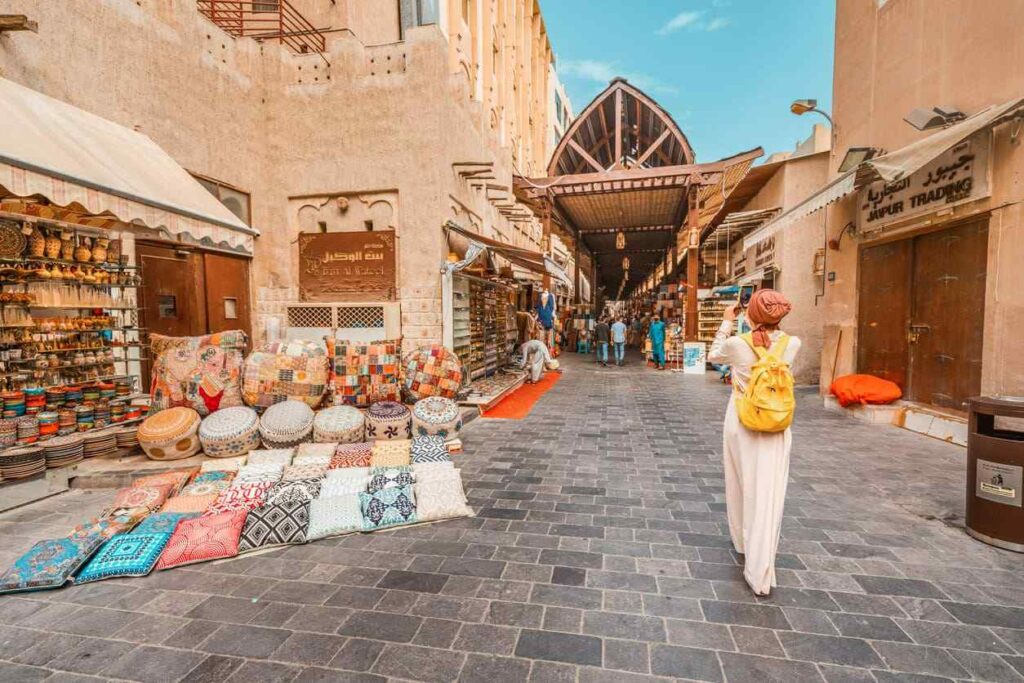 3. Independent stores and markets
In Jumeirah, you will find many independent stores selling accessories, clothing and beauty products. Here is a non-exhaustive list of places to shop in the JBR area: Fashion Vault at Sunset Mall, Kulture House, O Concept, Comptoir 102.  
In the Business Bay area you will find Dubai Design District. There are concept-stores, rather chic designer stores. 
The Dubai Design District is also a center where designers exhibit their collections in chic boutiques and other concept stores.
Fashion Vault
Address: Sunset Mall 56MG+JHR – Jumeirah 3 – Dubai – United Arab Emirates
Kulture House
Address : 106 Jumeirah St – Jumeirah 1 – Dubai – United Arab Emirates
O Concept
Address: Shop No.2, Saltbox Suites – Al Hudaiba Rd – Jumeirah 1 – Dubai – United Arab Emirates
Counter 102
Address : 102 Beach Rd, Jumeirah 1 – Dubai – United Arab Emirates
Dubai Design District
Address : Business Bay
4. Ephemeral shopping places
In Dubai, several events are organized throughout the year. These mix dining, entertainment and shopping. 
Among the most famous, you will find The Market at The Beach in the JBR district which is open 7 days a week in winter and Global Village which is open from October to April, is organized in different pavilions by country. You will find stands of street foodproducts, ready-to-wear and decoration. 
Apart from the usual sale dates, Dubai organizes promotional periods every year. Among the most famous, we find the Dubai Shopping Festival (from December to January), Dubai Home Festival (from April to May) and also Dubai Summer Surprises (from June to August). 
There are also sales during cultural and religious celebrations like Eid, Diwali, Chinese New Year, Ramadan and many other dates that will delight shopping fans.
In these shopping addresses, it is possible to eat and for some to attend events. Take the opportunity to book a restaurant or have a drink on a rooftop after your shopping session. You'll enjoy the shopping areas, whether it's Dubai Marina, Dubai Mall or JBR.