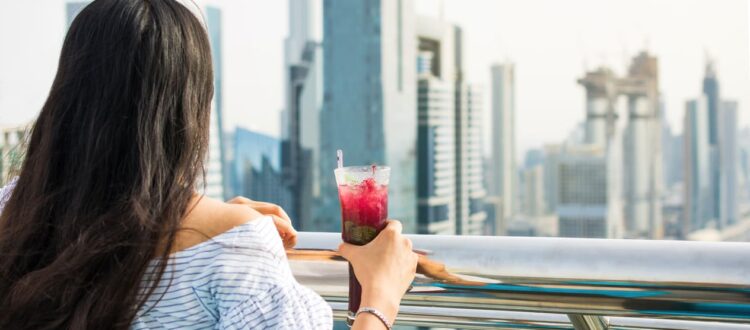 The top 5 most beautiful rooftops in Dubai
Dubai, the city of luxury, is known for its skyscrapers, gigantic malls, restaurants and hotels that offer a quality of service never seen elsewhere.
Whether you are looking for a rooftop for partying or a more peaceful place to spend the evening, you will find what you need among the top 5 most beautiful rooftops in Dubai.
Day and night, These places offer an exceptional setting to have a drink facing a sublime view of the beach, the city, the desert or the Marina.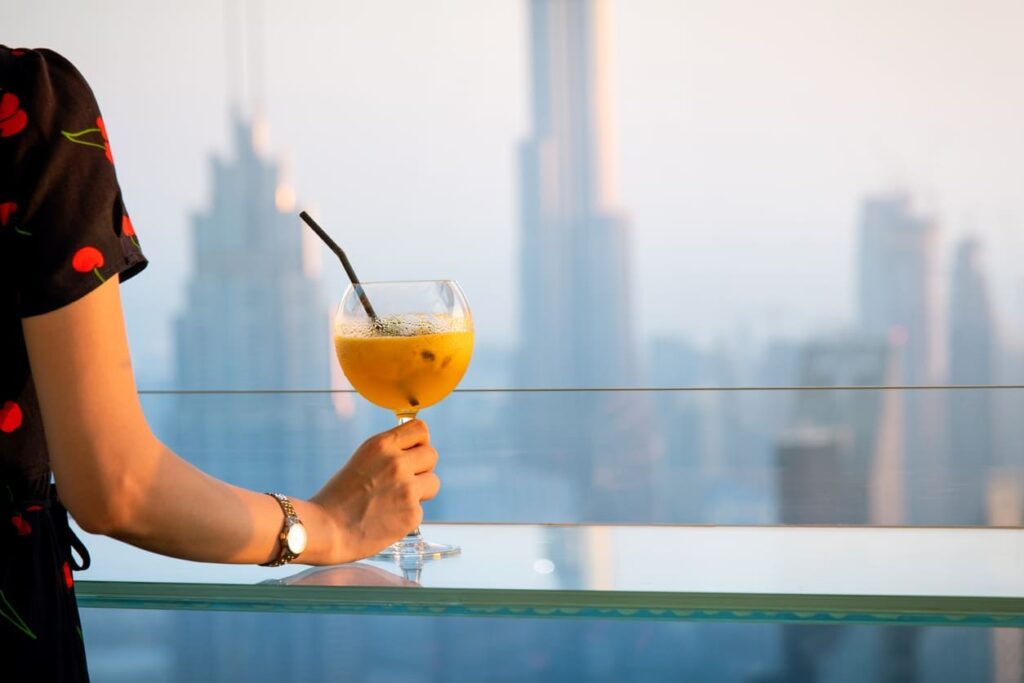 1. AL SARAB ROOFTOP LOUNGE
In the middle of the desert dunes is the rooftop of the spring Bab Al Shams, the Al Sarab. In less than an hour's drive from the center of Dubai, you will find yourself in this unusual rooftop in the middle of the desert. 
Far from the hustle and bustle of downtown, you will appreciate this place that offers privacy, serenity and a change of scenery.
The rooftop is in a traditional and oriental atmosphere The place is decorated with terracotta colors, lanterns and poufs everywhere. The view is breathtaking with a landscape of palm trees and desert dunes. Sit back, listen to the silence and watch the sunset while sipping your homemade cocktail. 
Al Sarab Rooftop Lounge is much more than a classic rooftop, it's an experience you have to live at least once. You can have a drink, eat and spend a perfect evening with your loved ones or friends in this hidden gem. 
If you are looking for a rooftop to have a drink and a unique experience, Al Sarab Rooftop is the place that will satisfy your desires. It is also possible to dine on site.
Address: R68H+GPM – Dubai – United Arab Emirates
Schedules : open every day from 4 pm to 12 am.
Phone: +971 4 809 6213
2. ZETA Seventy Seven
In the district of JBR at 310 meters above the sea, is located one of the most incredible rooftops. Zeta Seventy Seven which is located on the roof of theAdress Beach Resort offers a pleasant view of the Persian Gulf and the Palm Jumeirah. 
Enjoy the setting for drinks and contemporary Asian fusion dishes like Wagyu sirloin, glazed oysters, fried shrimp, miso lobster, poke bowls and more. 
The place is suitable for chilling, chatting and having a good time. Whether in the early afternoon or late afternoon, the rooftop offers a pleasant setting. We advise you to stay until sunset. The show is magical.
It is not possible to access it without a reservation. Remember to make your reservation before you go. Private cabins can be reserved on request.
Address: Level 77 Address Beach Resort – The Walk – Jumeirah Beach Residence – Dubai
Schedules: open every day from 12:30 to 20:30.
Lunch: 12:30 to 4:00 pm (last order at 3:45 pm) I
Dinner : Closed
Phone: +971 4 879 8866
Website : https://www.addresshotels.com
3. WORKSHOP M
In the heart of the Marina on the top level of Pier 7 is one of Dubai's must-see rooftops.  Atelier M offers a panoramic view of the Dubai Marina. 
In a chic atmosphere, come and discover not only a beautiful place, but also a gastronomic cuisine with Mediterranean and Asian inspirations.
The menu is varied: sushi, gyozas, salmon carpaccio, burrata, vegetable fritters, spaghetti and many other dishes. There are also many choices of appetizers and vegetarian dishes. The cocktails are a must try. There is also a wine list. If you don't drink alcohol, there is a wide selection of soft drinks and tasty mocktails.
Open every evening from 5pm on weekdays and from 2pm on Saturdays, it's the perfect place to spend a great evening outdoors with your loved ones.
Every Tuesday and Saturday, from 6pm to 10pm, it's the Ladies Night at Atelier M. Ladies, you will have a special menu to spend a pleasant evening. Remember to make a reservation at +971 52 124 3113.
Address: Marina Mall – Floor 7/7M, Pier 7, next to – Dubai – United Arab Emirates
Rooftop hours:
Monday, Tuesday, Wednesday, Thursday and Sunday from 17:00 to 02:30.
Every Saturday from 14:00 to 02:30
Phone: +971 4 450 7766
Website : https://atelierm.ae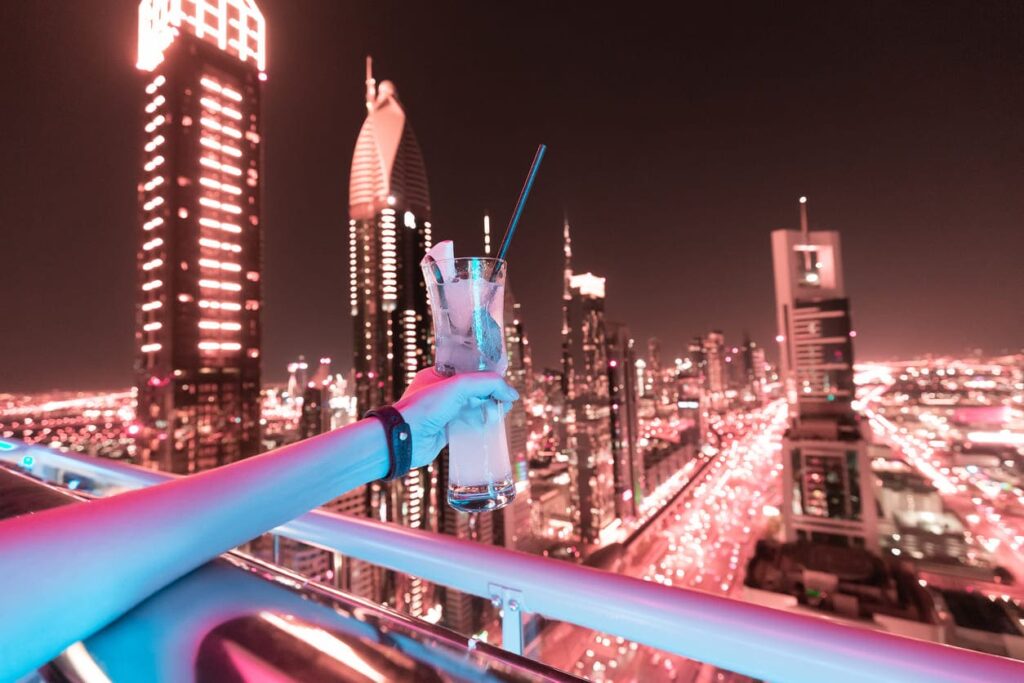 4. THE PENTHOUSE DUBAI
Located at FIVE Palm Jumeirah, The Penthouse is an exceptional rooftop. It offers a magnificent view. 
A pleasant musical atmosphere will accompany your afternoon at the rooftop. In the evening, it's a little more festive. If you prefer a cozy and quiet atmosphere, we recommend going in the early afternoon. 
Enjoy the sunset and taste the chef's dishes. A menu composed mainly of Asian dishes such as gyozas, mini burgers or kebabs. There are also other choices that would suit vegetarians. 
Day or night, the rooftop of The Penthouse offers a magnificent view. It's a nice place to have a drink, eat and have a nice time. It's a very popular rooftop in Dubai, so be sure to make your reservation.
Address: No 1 Palm Jumeirah – Dubai – Dubai – United Arab Emirates
Schedules
Monday: open from 4:00 pm to 3:00 am
Tuesday: open from 16:00 to 03:00
Wednesday: open from 4:00 pm to 3:00 am
Thursday: open from 4:00 pm to 4:00 am
Friday: open from 4:00 pm to 4:00 am
Saturday: open from 4:00 pm to 4:00 am
Sunday: open from 4 pm to 3 am
Phone: +971 52 900 4868
Website : https://thepenthouse.co
5. THE MERCURY LOUNGE AT FOUR SEASONS
Jumeirah Beach is known to be one of the most attractive places in Dubai. A district where its restaurants, hotels and luxury bars are very successful. The rooftop The Mercury Lounge at the Four Seasons Hotel is one of the addresses not to be missed. 
The rooftop has been designed and thought out for the comfort of the client. There are several spaces and it is up to you to choose the one that suits you best: near the bar, near the view or in a quieter and more intimate space. As you can see, whether you come as a couple, with your friends or alone, The Mercury Lounge will make you have a great time. 
On the menu, a wide selection of dishes, snacks and desserts are offered. But, the specialty of this lounge is Italian food like pizzas, pastas, etc. There are also other options such as Asian food, salads and homemade cocktails to die for!
Come have a drink, savor the flavors of Italy prepared by the chef and enjoy the nightlife of The Mercury Lounge animated by a DJ. 
Address: 2 Jumeirah St – Jumeirah – Jumeirah 2 – Dubai – United Arab Emirates
Schedules: open every day from 18:00 to 03:00
Phone: +971 4 270 7777
Website : https://www.fourseasons.com/dubaijb
After having taken a drink in one of the rooftops of the list, why not continue the evening in one of the most atmospheric places in town? If you don't feel like partying, you can go to a stroll on the promenade of The Walk or go shopping in one of the malls that close late like The Dubai Mall in the Downtown area near the Burj Khalifa for example. Dubai is the city that never sleeps. You will always find something to do.