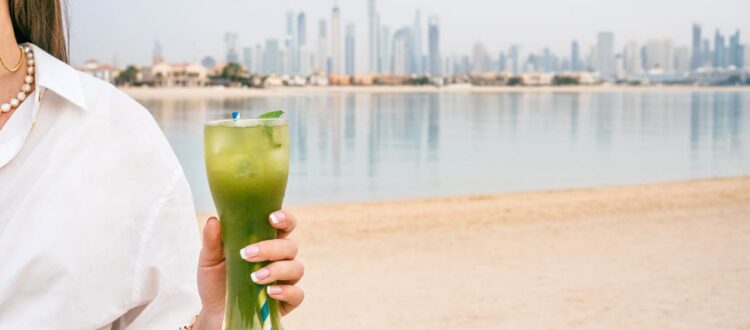 The 7 best beach clubs in Dubai
The beach clubs are real little corners of paradise in Dubai. Escape for a day in one of the beach clubs we have selected. Places where it's nice to chill out, listen to live DJ music, swim in the infinity pools and enjoy the beautiful beaches. Located in different areas, choose the one that suits you best. Solo, with friends or as a couple, these places will make your day. These beach clubs are often very popular, so be sure to make a reservation before you go.
1. Cove Beach
This Beach Club is located in Caesar Palace Hotel on Bluewater Island. The Cove Beach has three swimming pools and a private beach. In the Marina district, it is one of the most animated beach clubs.
Admission to the hotel's private pool also entitles you to access to the private beach. Swim and relax by the water. The staff will take care of all your needs right from your deck chair or cabana.
A catering service is available on site. You can order from your deckchair. There is also a bar where you will find cocktails with or without alcohol, hot drinks and classic soft drinks.
The place is very appreciated for the equipment, the cleanliness and the good atmosphere animated by the DJ of the hotel. On weekends, it is strongly recommended to make a reservation.
Address: Caesars Palace – Bluewaters Island – Dubai – United Arab Emirates
Schedules: open every day from 10:00 am to sunset.
To reserve
Tel : +971 50 454 6920
WhatsApp: +971 50 454 6920
Website : http://covebeach.com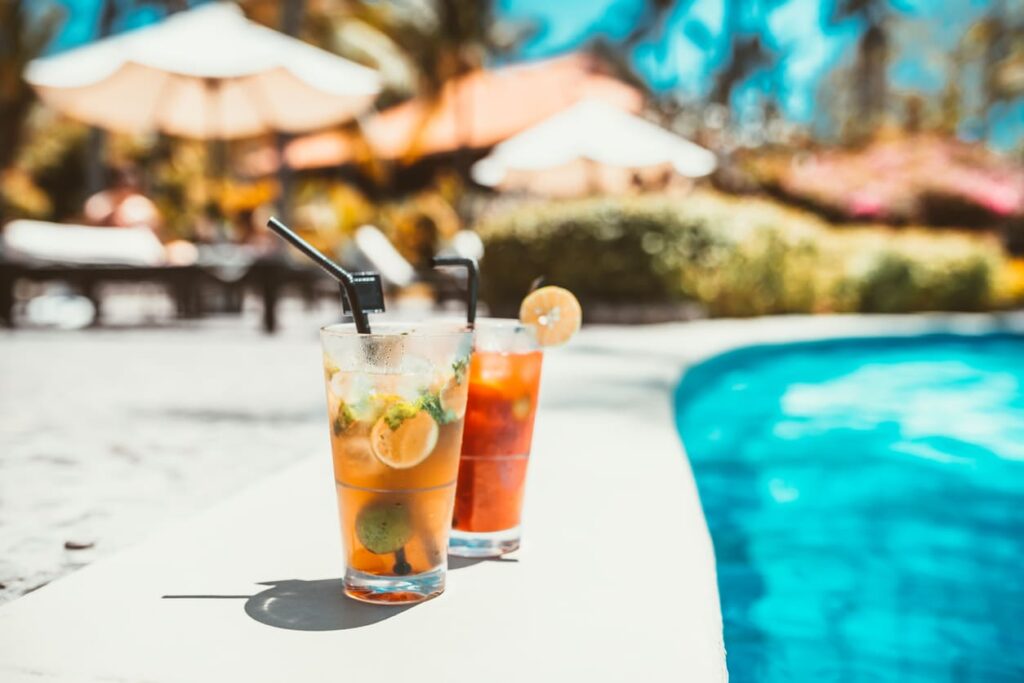 2. Five palm
Every beach club has its own atmosphere. Five Palm is the perfect place for those looking to party and socialize. The space is well appointed and large enough to accommodate a crowd. The beach is beautiful and has a breathtaking view of the Five Palm Hotel.
It is possible to order food from your deckchair or directly at the counter: sushi, salads, hamburger and many other dishes are on the menu.
Take a seat at the edge of the pool or private beach on a deckchair, on a sofa and sip a good cocktail while admiring the beautiful view. It is also possible to rent a Jacuzzi on the beach. The Five Palm is an address to note for those who like lively places and are looking for a place to have fun and party.
Address: No. 1 Palm – Dubai – United Arab Emirates
To reserve
Tel : +971 4 455 9988
Website : https://palmjumeirah.fivehotelsandresorts.com
3. Twiggy by la Cantine
In Dubai, there are Beach Club for all tastes. If you wish to relax and chill out by the pool in peace and quiet as a couple, with friends or by yourself, the Twiggy by la Cantine is for you.
Known for its "Lagoon", an infinity pool 100 meters of crystal clear water of an infinite blue. Not to mention the beach with its fine golden sand.
Unlike other Beach Clubs, the restaurant is excellent, just like La Cantine. The same team manages the restaurant at Twiggy By la Cantine. We find essentially Mediterranean flavors on the menu and also the possibility to order sushi. You can have lunch on the terrace or by the pool.
When you make your reservation, you will have to specify if you rent a deckchair or a cabana. If you come in a group of 8 or 10 people, reserve a cabana.
Reservations are subject to conditions. From Friday to Sunday, it is not possible to make reservations for one person.
Address: Dubai Creek Club St – Port Saeed – Dubai – United Arab Emirates
Schedules: every day from 9:00 am to sunset. The arrival time for the deckchairs is between 9:00 am and 1:30 pm.
Contact: +971 4 602 1105
Reservations: servmeco.com
4. White Beach
In a Boho-chic decor, the White Beach which is located at theAtlantis is one of the beach clubs the most important ones of Dubai.
White Beach's infinity pool offers a magnificent view of the Palm and the Atlantis Hotel.
Every Saturday there is a brunch scheduled. You can enjoy the sun and eat your brunch by the pool. Cold and hot appetizers, snacks and pokebowlPasta, sandwiches and many other dishes are on the menu during the week. A wide choice that allows everyone to find their happiness. So, if you're looking for an upscale place that offers a great atmosphere and great service, you'll have a great day at White Beach.
Address: Atlantis – Dubai – United Arab Emirates
Schedules: from 10:00 a.m. to 8:00 p.m.
Contact : +971 4 426 2626
Website : https://www.atlantis.com/dubai/bars-and-nightlife/white-beach-club
5. Blabla
With about twenty bars and several restaurants, Blabla has become one of the most popular beach clubs in Dubai. Frequented by expatriates and also tourists, Blabla is a place where one comes to chill, listen to music and have a good time with friends.
Come during the week or on weekends to enjoy the overflow poolsThe hotel offers a wide range of services, including spa treatments, refreshing cocktails and poolside dining.
You have the choice between several offers. Either a reservation of a single or double deckchair with a weekday and a weekend rate. The amount of the reservation includes the rental of the deckchair (bedsun) and you can also use the full amount of the reservation to order food or drinks.
Facilities provided: towels, lockers, changing rooms, showers, toiletries, hair dryer, hair straightener.
Address: 5101, Messer Street, Beach by Meraas Mall, JBR, Dubai.
Schedules: from 10:00 am to sunset.
Contact: +971 58 606 3535
Email: reserve@blabladubai.ae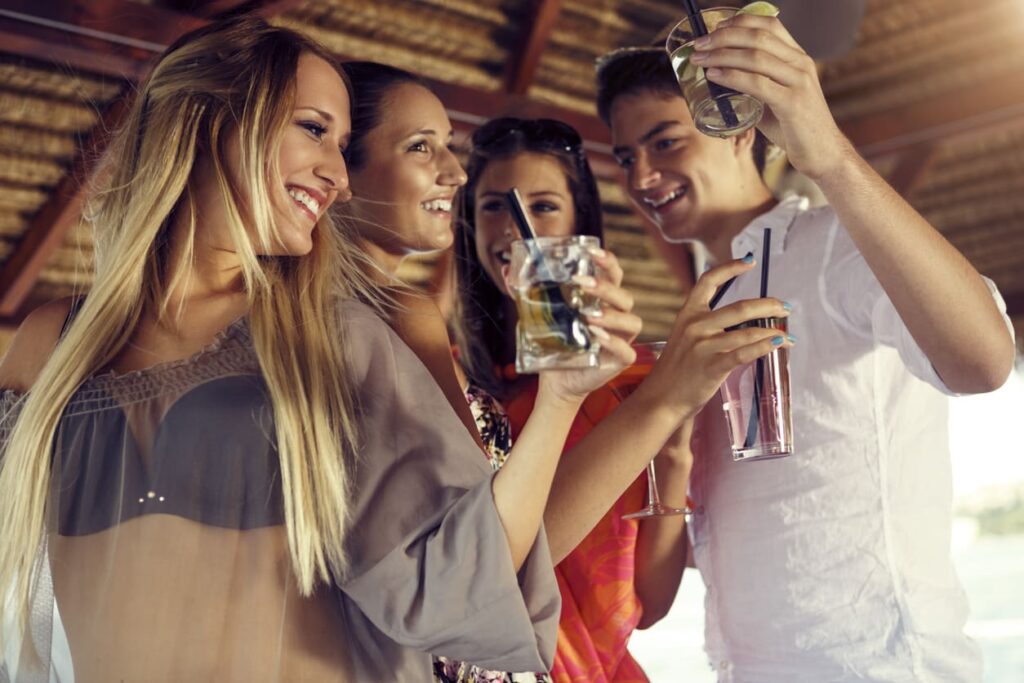 6. Drift Beach
Located in the prestigious 5 star hotel, One & Only Royal Mirage, in the lively JBR district, DRIFT Beach Dubai is the place to be.
In a modern and urban setting, relax in front of the magnificent views of the Palm Island and the Dubai Marina skyline.
In addition to being a stylish and relaxed place to swim, sunbathe and have a good time, it is also a great place to eat. Chef Maxime Le Van's menu features delicious Mediterranean specialties and refined and delicious cocktails.
This beach club offers an exclusive luxury service to meet your demands.
It is possible to book a private retreat, which gives you the right to your own pool, a large terrace, gardens and a private beach. Also, a lounge, a bathroom and many other facilities available.
Address: One&Only Royal Mirage – Dubai
Schedules: from 09:00 to 20:00 on weekdays and from 09:00 to 21:00 on weekends (Friday, Saturday and Sunday).
Contact: +971 4 315 2200
Website : https://driftbeachdubai.com
Reservation required on the website or on https://www.opentable.ae/.
7. Nikki Beach
If you're looking for a beach club where you can chill out while enjoying premium service and a festive atmosphere, the Nikki Beach is the place for you!
Located on the beach of Pearl Jumeirah, With a breathtaking view of downtown Dubai and the Burj Khalifa, this 5-star hotel is one of the city's most popular spots.
Make your reservation and come enjoy the pool with loungers, the cocktail bar, the restaurant and the atmosphere animated by a great DJ in a bohemian chic decor. There are often events organized such as concerts, theme days and much more.
For a more intimate moment, you can rent cabanas and it is also possible to rent villas for a more VIP experience.
It is mandatory to make a reservation by phone before going there.
Address: Nikki Beach Dubai, Pearl – Jumeirah – Dubai – United Arab Emirates
Schedules: Tuesday to Sunday from 11:00 am to 8:00 pm.
Phone: +971 4 376 6162
After a great day at the beach club, you can go for dinner at one of the best restaurants in the area where you will be. Whether it's Dubai Marina, Downtown, Jumeirah Beach or The Palm, there's always a must-try. To extend your evening, you can go for a drink on one of the rooftops of the city. And so, see the city of Dubai during the day and evening.