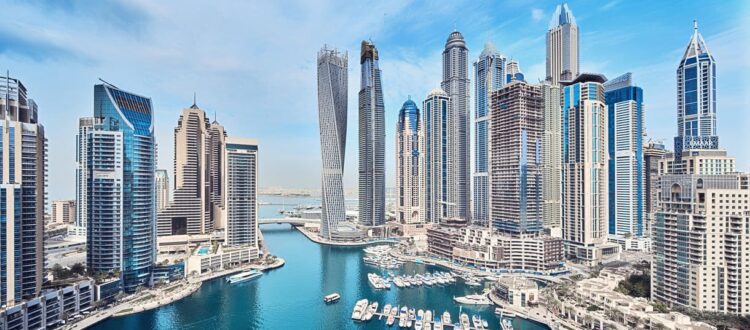 The 8 things to do during a 24-hour stopover in Dubaï
Many long haul flights stop over in Dubai. The stopovers are often long. If you have booked a flight with a stopover in Dubai for a day, you can take this opportunity to discover this emirate. You will have time to visit a large part of the city by cab or metro. We share with you 7 activities to do from morning to night during your 24-hour stopover in Dubai. 
1) Have your breakfast in the historical district of Al Fahidi: Arabian Tea house
If you arrive in the morning, start by having breakfast or tea at Arabian Tea House. This place will be a nice introduction to your day in Dubai. A white and turquoise decoration, plants placed everywhere in the courtyard and in the background, classical Arabic music. 
They have taken over some of the codes of the old traditional Emirati houseswhich makes this place very authentic. 
On the menu, Arabian Tea House offers traditional breakfasts, starters and Emirati dishes as the Biryanithe Yumma deyay or desserts. There are meat, fish and vegetarian options. It is a a must for discovering local culinary specialties in a warm, soothing atmosphere that leads to travel. 
It is a very popular address for residents. Think about book in advance if your stopover falls on a weekend. 
After your little break, you can visit the neighborhood. Al Fahidi is the historic district of Dubai. Let yourself be carried away by the charm of the small streets and the splendor of the traditional houses. You can then visit The Dubai Heritage Village, which is a heritage museum in Dubai. 
Arabian Tea House
Address: Bastakiya Opposite Musalla Post Office – Al Fahidi St – Bur Dubai – Al Fahidi – Dubai – United Arab Emirates
Opening hours : open every day from 07:00 to 23:00
Phone: +971 4 353 5071
Website : https://arabianteahouse.com
Reservations: arabianteahouse.com
The Dubai Heritage Village
Address: 3110233 – Al Khaleej St – Dubai – United Arab Emirates
Opening hours: open Wednesdays and Thursdays from 8:00 am to 8:00 pm, and Fridays from 3:00 pm to 8:00 pm.
Telephone: +971 4 515 5000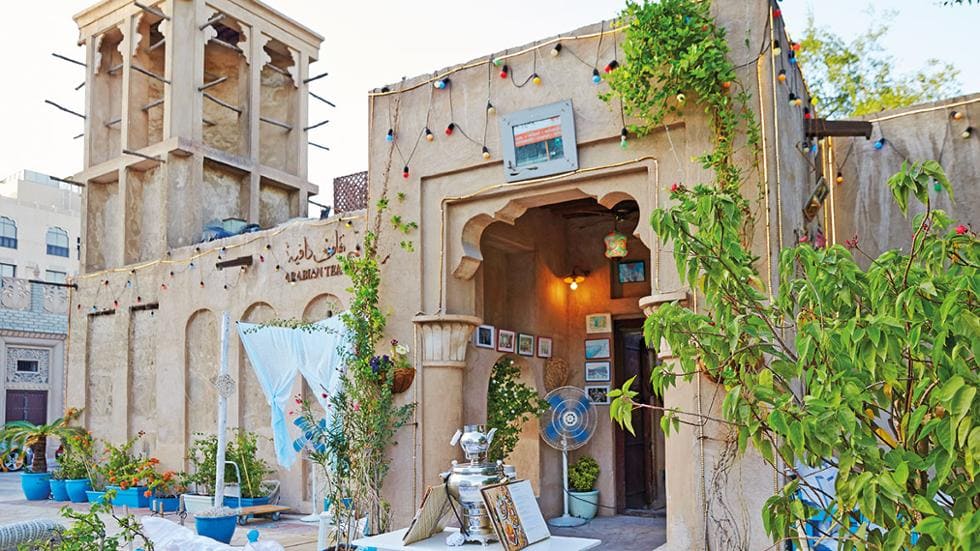 2) Visit the spice, gold and textile souks
Deira is the traditional district of Dubai. This is where the city's souks are located. Even if you don't want to shop, it's a nice walk. 
First, take a tour of the Gold Soukwhich is the gold market. You There are several jewelry stores where you can buy watches, diamonds, silver and gold. Afterwards, take a short trip to the Perfume Souk. These are small stores that sell fragrances of perfumes and essential oils. The legendary perfumes are those made with 'oud, an essential oil of wood. 
And finish your visit of this district by the Spice Souk, the spice souk, a sensory stroll through the different spice stalls, tea, coffee and many other local specialties. 
You will find a wide choice of flavored teas from around the world, spices like saffron and others used in international cuisine. 
Board an Abra in the DUBAI CREEK to reach Bur Dubai.  The stroll on the creek of Dubai allows you to go from Deira to Bur Dubai in only 5 minutes. You can then continue your day in visit and shop in the textile souk of Bur Dubai. You will find many stores of traditional dresses for women, men and children, fabric sold by the meter and many other items. 
Bur Dubai
Address : Bur Dubai – Al Fahidi
Abra (traditional wooden boat)
Address: The Khor Dubai or Dubai Creek
Price: less than one euro
Deira Perfume souk
Address: Sikkat al Khali – Dubai – United Arab Emirates
Website : https://almubarakaperfumes.com
Spice Souk
Address : 41 34th St – Deira – Al Ras – Dubai – United Arab Emirates
Gold Souk
Address: Gold Corner Building, 3rd Floor – Gold Souq – Deira – Dubai – United Arab Emirates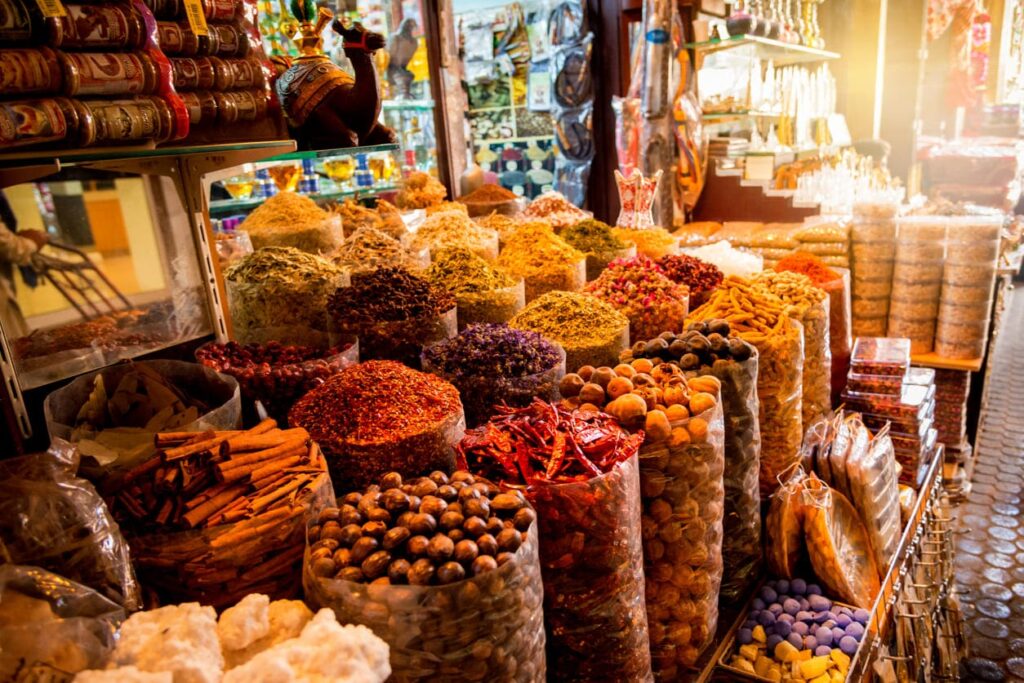 3) Visit the Jumeirah district and have lunch at Kulture House.
Jumeirah is one of the coastal districts of Dubai. It is one of the most beautiful beaches in the city. There are restaurants, hotels, designer stores and many cafes. If you are hungry, we recommend you to go to Kulture House. It's a concept store that is also a café-restaurant. Take a seat on one of the benches and let yourself be carried away by the decoration which leads to travel. On the menu, you will have the choice between several local flavors and oriental dishesAmong others, Lebanese specialties. There is also tea and Arabic coffee. 
Then you can walk to the district of the Dubai Sea located by the sea. You can walk around, relax and enjoy the end of the day on the beach.
Kulture House
Address : 106 Jumeirah St – Jumeirah 1 – Dubai – United Arab Emirates
Opening hours : open every day from 9 am to 10 pm
Phone: +971 4 399 1790
Website : https://kulturehousedubai.com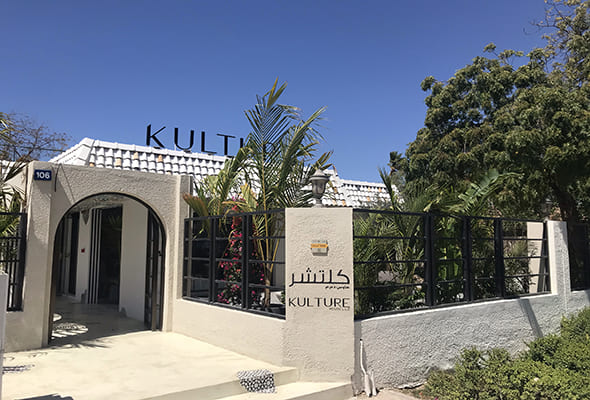 4) Visit the Burj Khalifa Tower
Day and night, the Downtown area is lively. This district is known for the emblematic tower of Burj Khalifa of 828 meters high. This tower is the highest structure ever built in the world. For those who wish to go up the Burj Khalifa tower in the evening, you can do so from 7pm until closing time, last entry at 11pm. Of course, you can also go up during the day. You can choose between the three platforms for the visit: At the Top, At the Top Sky and the last one, The Lounge. To save time and get the time slot you want, remember to book online. 
Address: 1 Sheikh Mohammed bin Rashid Blvd – Downtown Dubai – Dubai – United Arab Emirates
Opening hours : open every day from 10:00 am to 12:00 am (last entry at 11:00 pm)
Telephone: +971 4 888 8888
Website : https://www.burjkhalifa.ae/en/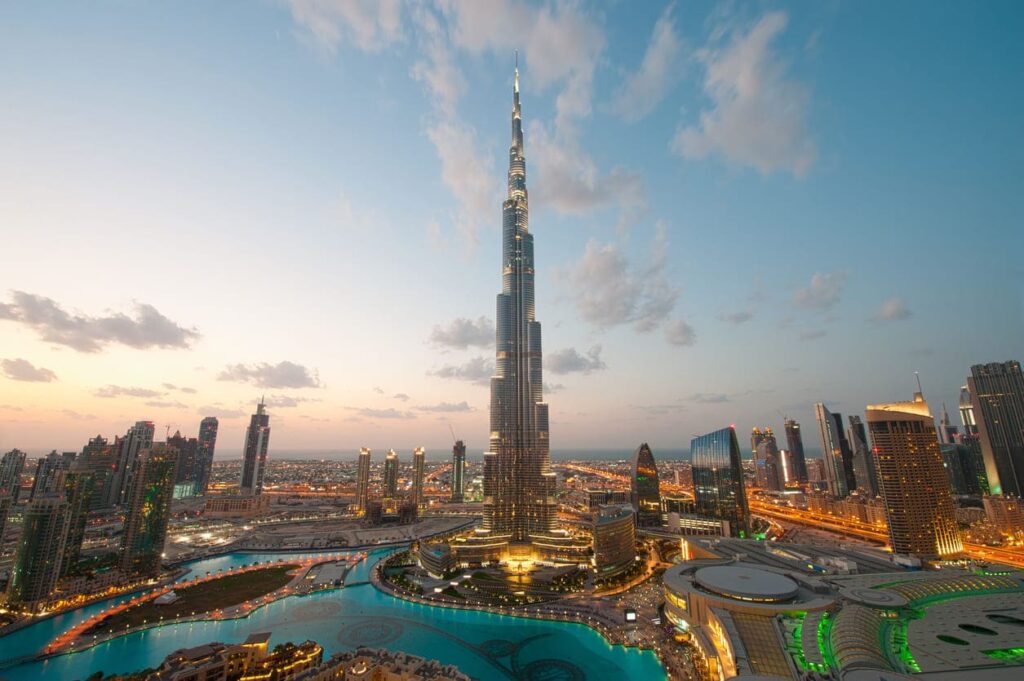 5) Shopping at the Dubai Mall (aquarium, etc)
After visiting the Burj Khalifa tower, you can go to the shopping mall The Dubai Mall. It is located just a stone's throw from the Burj Khalifa. You can't come to Dubai without visiting one of the largest shopping malls in the world. You will find many local and international stores, restaurants, cafes and also activities to do.
In this shopping center, you will find one of the largest indoor aquariums in the world which includes a wide variety of marine species such as sharks, exotic fish, raysetc. After visiting the aquarium, if you still have time, you can finish your visit with the visit of the marine zoo. The marine zoo is arranged in three zones: Rocky Shore, Living Ocean and Rainforest, respectively the rocky coast, the living ocean and the rainforest. The marine animals live in their natural state. 
Aquarium
Address: Dubai Mall (second floor)
Opening hours : open every day from 10 am to 10 pm
The last entry accepted is at 9:15 pm.
Phone: 800-38224-6255
For further information and to buy a ticket: http://www.thedubaiaquarium.com
Dubai Mall: https://thedubaimall.com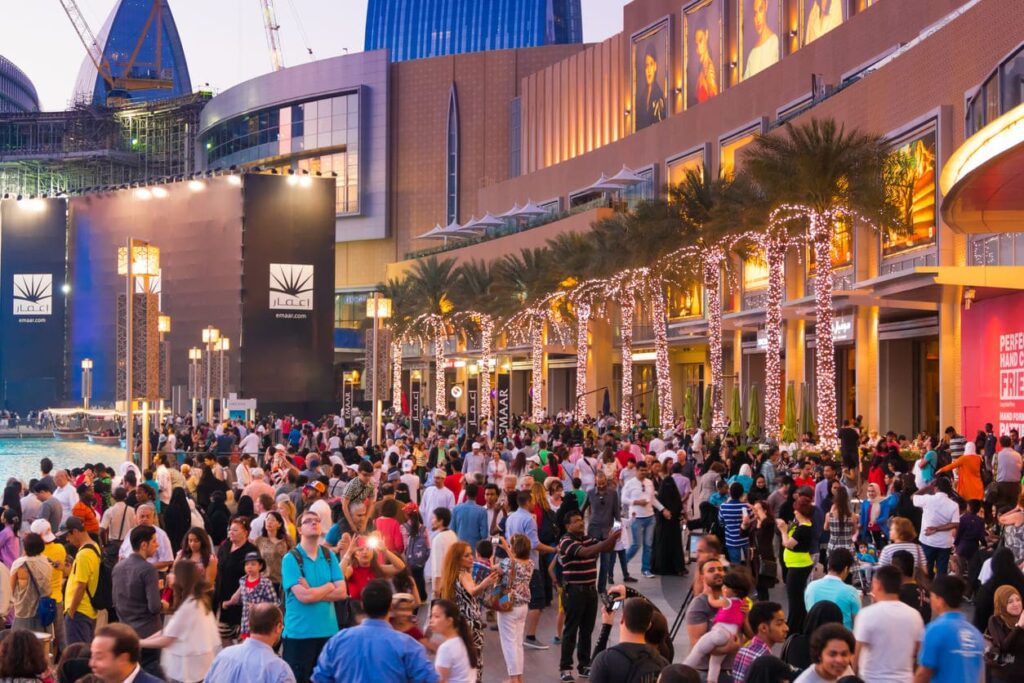 6) Fountain show
Outside the Dubai Mall, every evening from 6pm and every 30 minutes, there is a great show of water jets. The colorful and illuminated jets sway to the rhythm of a range of melodies that will leave you spellbound. It is definitely worth attending. It is a real open air show with the Burj Khalifa illuminated in the background. 
To enjoy the show, you have three options. You can see it from the walk around the fountain basinsince the Dubai Fountain Boardwalk or from an Abra, a traditional wooden boat. 
Address : Dubai Mall (outside at the promenade)
Phone: 800-38224-6255
Website : https://thedubaimall.com/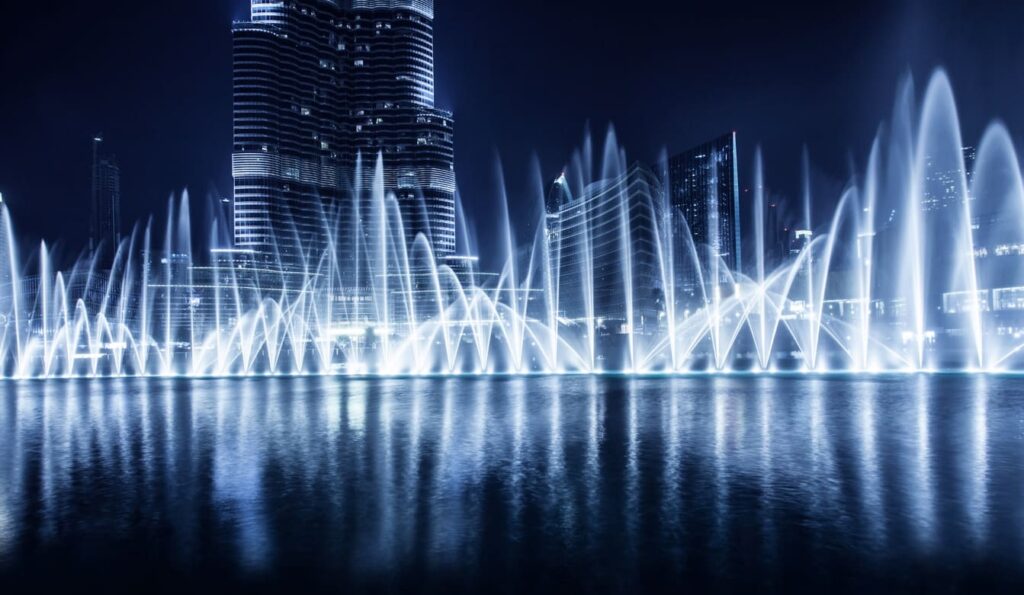 7) Have a drink with a rooftop view or in a setting
You can then continue the evening on one of the rooftops or terraces of the city. If your time allows, you can either stay in the Downtown or to the Marina area for example. A must-see spot in JBR near Dubai Marina, is the Asil restaurant. They offer Lebanese, Turkish and Moroccan cuisine. The terrace offers a magnificent view of the city and the iconic spots of Dubai. In the evening, there is a musical atmosphere animated by a DJ. You can then take a walk to the Marina to finish your day in the city. 
Asil Restaurant
To make a reservation:
Telephone: +971 4 520 0055
WhatsApp +971 52 160 0333
Mail : dine@asilrestaurant.com
Address: Rixos premium – The Walk – Jumeirah Beach Residence – Dubai – United Arab Emirates
Schedules: open every day from 13:00 to 02:30.
The kitchen closes at midnight.
Website : https://www.asilrestaurant.com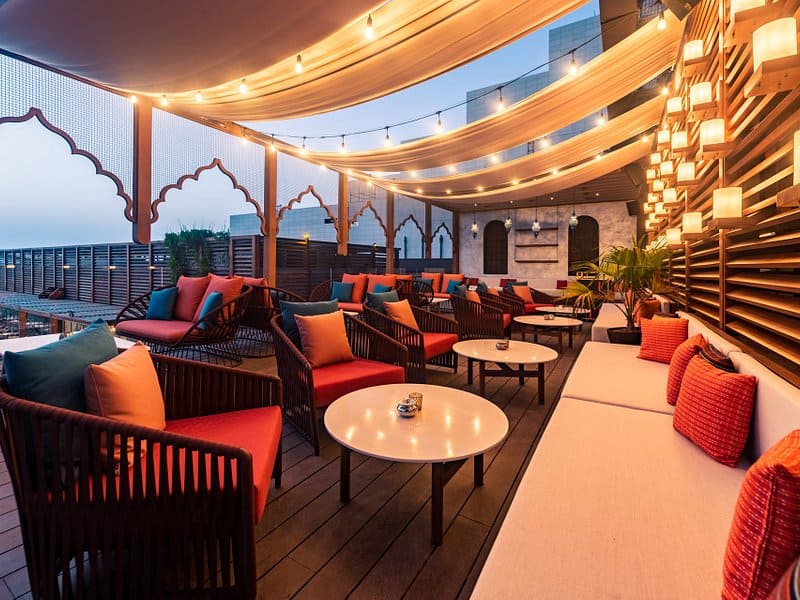 8) Relax at Dubai International Airport
After a day of sightseeing in Dubai, you can reach Dubai Airport a few hours before your flight. Dubai International Airport is one of the largest in the world. There are many things to do here to keep you busy in the few hours you have left. 
You can go shopping, make yourself massage at Timeless Spa or take advantage of the services of the premium lounge area. If you wish to rest, you will find in terminal 3 of the airport, the "sleep 'n' fly". It is a space with double cabins. You can relax before your next flight.
Dubai International Airport : https://www.dubaiairports.ae