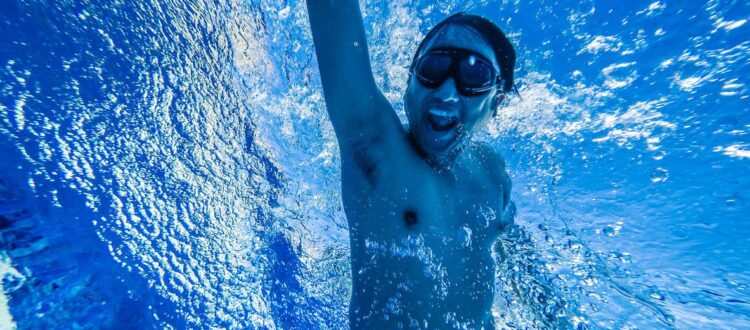 Top 10 water activities to do in Dubai
Dubai is the city where it is impossible to get bored. There is always an activity to do, a new place to discover or a restaurant to try. It is also a coastal city where there is a a wide range of experiences and activities in the water possible to do. It is no coincidence that the city has been voted several times as the best beach destination in the world. If you are planning to go on vacation to Dubai, here are the Top 10 water activities that we advise you to do. 
1-Doing Jet Skiing
During the week or during the weekend in Dubai, it is possible to jet ski at Burj Al Arab, to the Palm Jumeirah or near the Burj Khalifa. It is a fun and entertaining activity to do with friends, couples or family. The rental agencies provide the jet-ski, the life jacket and there is a shower and a cabin to change, lockers to store your personal belongings. The ride is led by a guide from the tour agency. Depending on the meeting point and the duration chosen, you can see the emblematic places of Dubai during your jet-ski trip. 
Information:
You can rent the jet ski for either 30 minutes or one hour. You can rent a jet ski for two. It is possible to have photograph in front of the world's tallest tower  Burj Khalifa, the emblematic Atlantis or the most luxurious hotel in the world Burj Al Arab by the guide during the jet-ski ride.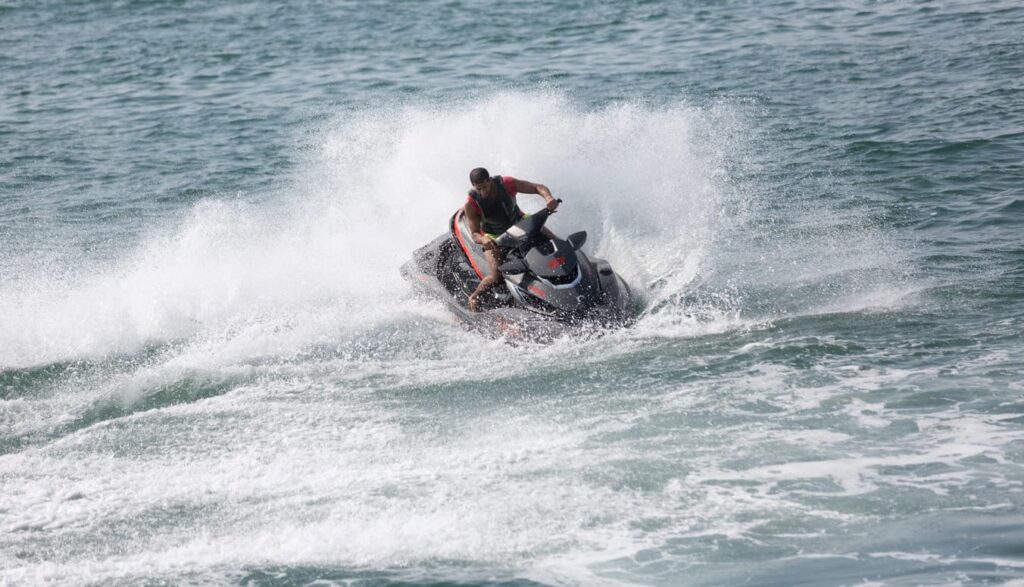 2- Rent a Yacht
In Dubai, it is possible to rent easily a yacht for a few hours, a half-day or an evening. Moreover, it is a activity that is often done by expatriates living in United Arab Emirates. You can easily find several private yacht charter agencies. You can choose the option of making a cruise on board a yacht with a personal skipper (driver) or rent it if you have the boat license. You will have the choice between several types of yachts and at different budgets. 
As you know, personalized service is the strong point of Dubai. You can request to have the breakfast, a barbecue, a dj, etc. A luxurious service in a setting that leads to relaxation. 
During your stay in DubaiIf you are looking for a place to relax, don't miss a trip with friends or family to celebrate an event or simply to get together. In a chill or festive atmosphere, you can enjoy the sun, of the sea and the landscape The marina, Burj Al Arab, Atlantis, etc. If you go at the end of the day, enjoy the sunset over the city.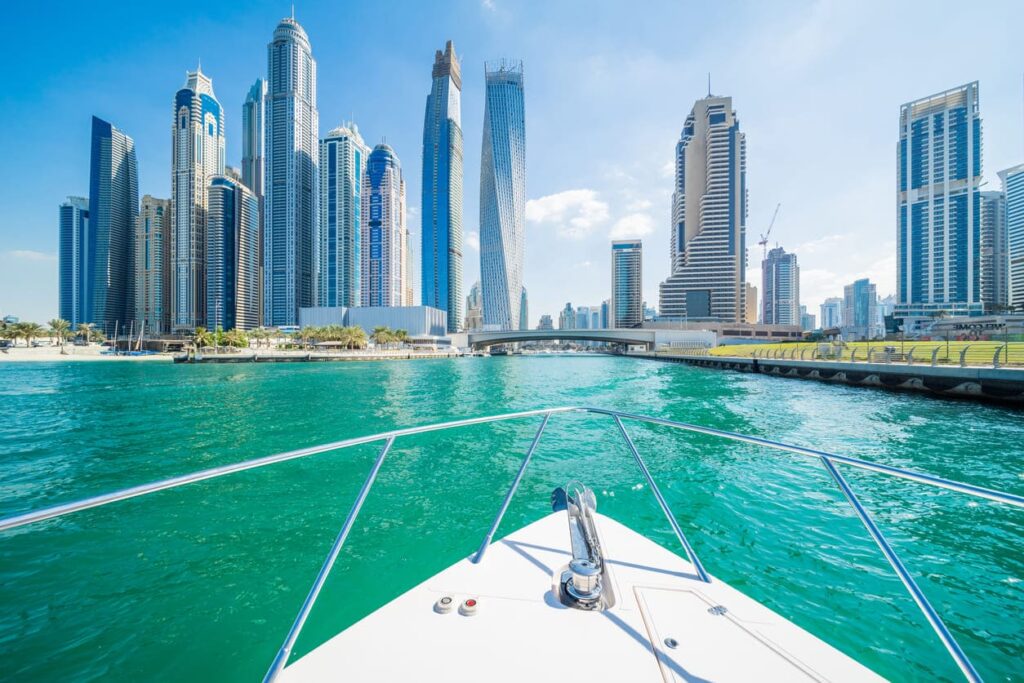 3- Diving
Do you know that it is possible to diving in Dubai ? Among all aquatic activitiesthis is one of the must-do's in Dubai. This is an experience that will remain in your fondest memories of your trip to the United Arab Emirates. In Dubai, you have the choice between several places to learn to scuba dive in different waters. 
First of all, if you have never been diving before, we advise you to do a introductory diving course before venturing into the deep sea. Classes are held at Jumeirah beach. You will learn how to equip yourself, to know all the safety rules and the steps of the dive. You will be familiar with it and you will be ready to explore the seabed of the UAE. 
The hotel complex Atlantis proposes to live an experience like no other: to make diving in an aquarium. The experience of diving in a bottle at Atlantis The Lost Chambers Aquarium or the one of Ultimate Atlantis Aquarium The Lost Chambers snorkeling. The latter is accessible even to people who have not been initiated to diving. This is a family activity and you will be accompanied by a professional. 
After your diving initiation and if you wish to go diving in the sea, the perfect place is in the emirate of Fujairah not far from Dubai. In a turquoise blue water full of life, it is by far the best spot for diving. You will see all kinds of fish and also sea turtles. You can go there with a tour agency in Dubai for a journée in Fujairah.
And finally, the last address is Dive Deep Dubai which is located near the Dubai Mall. It is the deepest pool in the world (45 meters deep). It's not just a simple pool, it's a whole underwater life that has been built to give you an experience similar to the deep sea. 
Information:
Before each diving experience (especially in the sea), a form about your health, your physical condition and other information must be filled out.
You don't need to buy your own diving gear. Everything is provided by the diving schools. 
For those who want to have a diving certificate during your stay in Dubai, you can spend it at Padi Open Water in Fujairah.
Atlantis
The Lost Chambers Aquarium
and The Ambassador Lagoon
Address : Atlantis The Palm – Crescent Rd – Dubai – United Arab Emirates
Opening hours : open every day from 10 am to 9 pm.
Telephone: +971 4 426 0000
For all information and ticket purchases: atlantis.com
Dive Deep Dubai
Address: NAS Sports Complex – Dubai – United Arab Emirates
Opening hours : open every day from 9 am to 6 pm.
Telephone: +971 4 501 9444
For all information and ticket purchases: https://www.deepdivedubai.com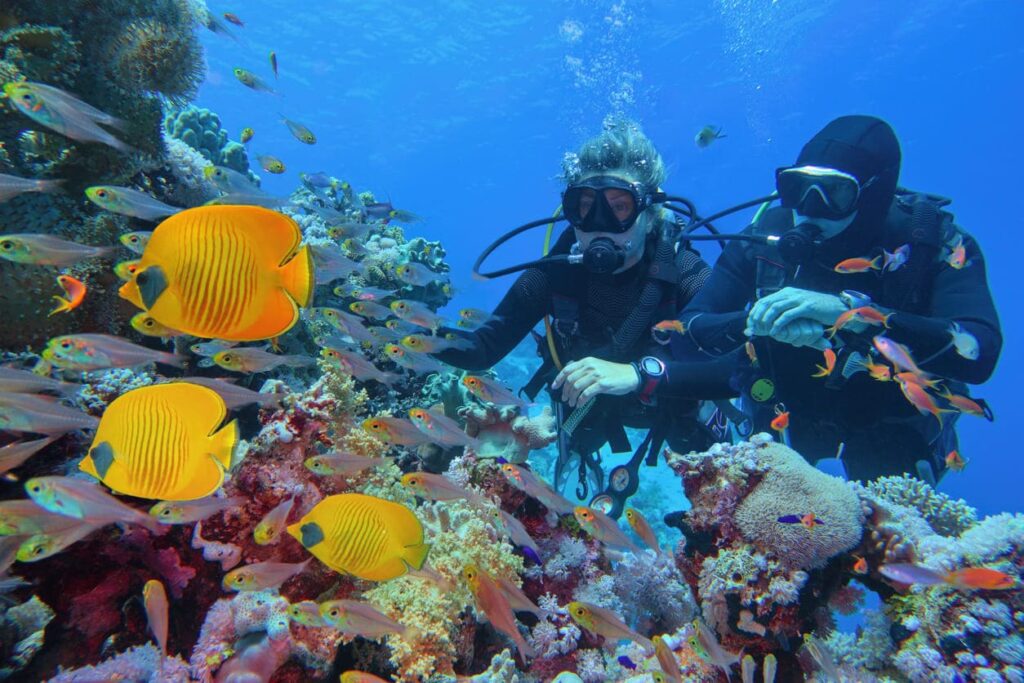 4- Flyboarding
Do you like thrilling water activities? Let yourself be tempted by the Flyboard. The flyboard is a water sport which ensures that you get your adrenaline. Thanks to the flyboard, you will be able to fly up to 15 m above the water. Attached to a jet-ski and accompanied by an instructor, you will be equipped with a life jacket and a board equipped with gas turbines that you put at your feet to propel you. Depending on your comfort level and how high you climb, you can even make figures. Before starting the activity, the instructor will explain the safety rules and you will have a short training before taking off. 
Information:
The activity lasts 30 minutes. There are some conditions to do this activity, please contact the organizing agencies.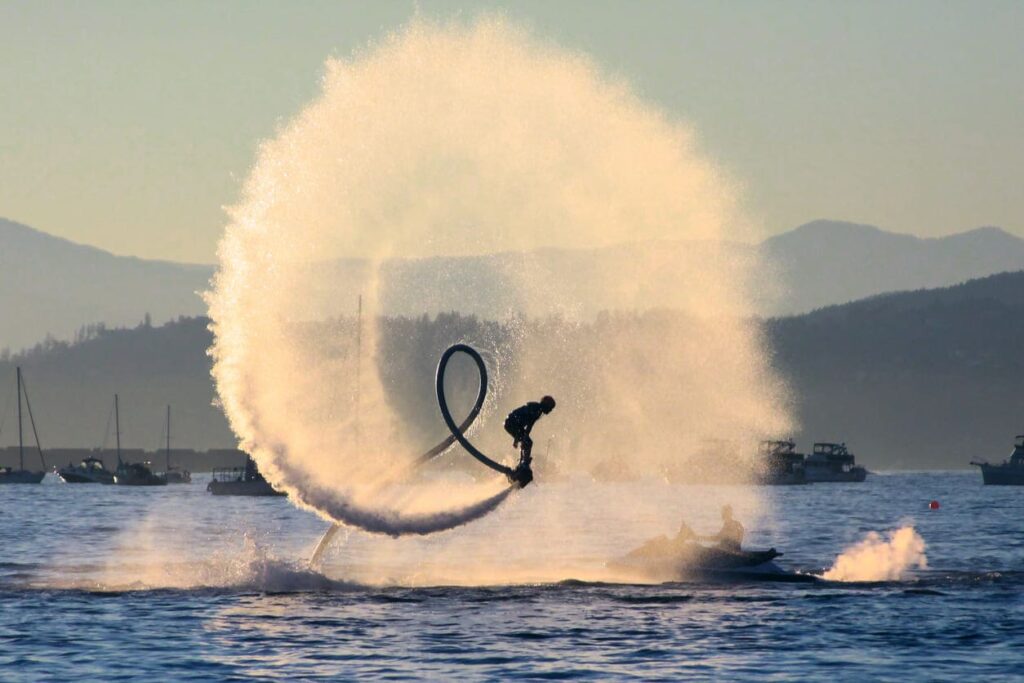 5- Kitesurfing
À Kite Beach In particular, you will see many people of all ages practicing this sport. With a board on the feet and a kind of kite, you surf on the water. There are many schools along the coast that offer courses to learn to kite surf. 
You can do an initiation course to discover this sport activity and then book your lessons during your stay. It takes an average of eight hours of lessons to master and be autonomous. 
Once trained, you will enjoy gliding through the water with your board and sail. This is a an accessible sport and not the most athletic. You will see men, women, children, young and old doing it.
Information:
The best time to make it is the fat the end of the day until sunset. There are some conditions like knowing how to swim, etc. Please check with the kitesurfing schools.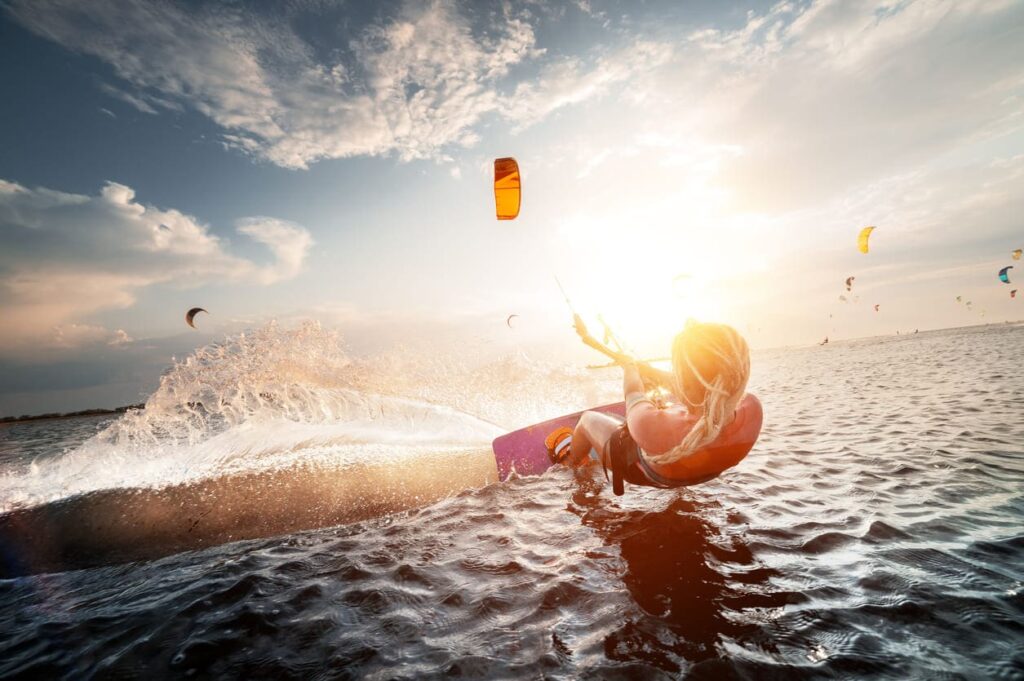 6- Speed-boat ride to discover Dubai
On the edge of a speed-boat and in groups, take advantage of this activity to discover the must-see of the city of Dubai. A walk accompanied by a guide who will share information about the different emblematic places of the city. This activity is one of the ways to get a taste of thehe beauty of the city and different districts to visit such as : Dubai Marina, Ain Dubai, Jumeirah Beach, Palm Jumeirah, Atlantis and Burj al-Arab. 
Information:
The ride on the speedboat lasts 90 minutes. The activity is safe and is accompanied by a guide. This activity is open to everyone. However, please contact the organizing agency for more information (health, age, etc.).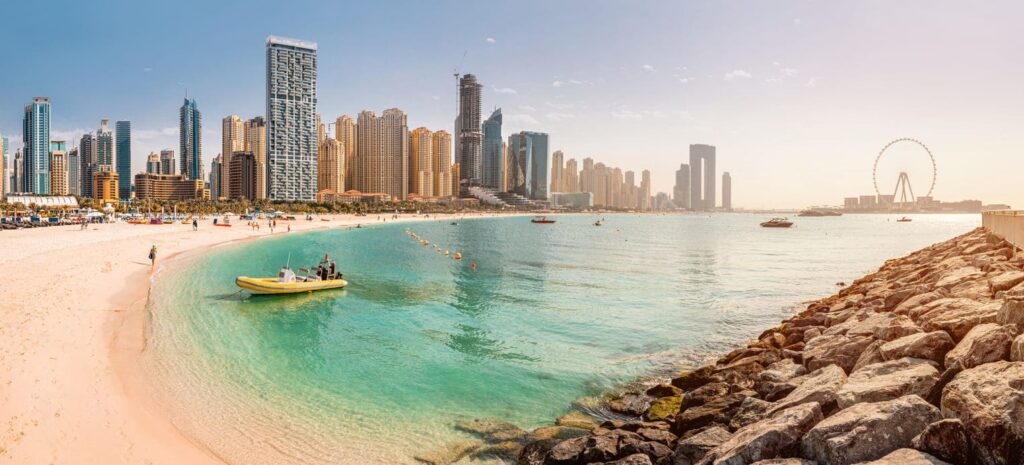 7- Fun in water parks
You can't come to Dubai without visiting a water park. In the city where everything is built large and designed for children and adults, you will be impressed by the water parks in Dubai. Each park has its own atmosphere, attractions and has different slides, pools and activities. There are several in Dubai, but we recommend that you try at least one of the ones listed below. 
The Wild Wadi Park is located in the Umm Suqeim district. It is a open-air water park. It has several rides, slides with different speeds controlled by water pressure. The park is especially known for the Tunnel of Doom Jumeirah Sceirah. It is a free-fall water slide. It is the highest and fastest outside of North and South America.
Inside you will find lockers to store your belongings, changing rooms to change clothes, showers, places to eat, drink and take a break. The park is set up to make sure you have a great day. Remember to get your ticket in advance to avoid the line on the day.
WILD WADI PARK
Address: Jumeirah St – opp. Burj Al Arab – Umm Suqeim 3 – Dubai – United Arab Emirates.
Opening hours : open every day from 10 am to 6 pm.
On Thursday night, the park is reserved for women and children (Ladies Night).
Telephone: +971 4 348 4444
For all information and ticket purchases: wildwadi.com
Aquaventure Atlantis Park is the luxurious complex of Atlantis Hotel in Palm Jumeirah. It is the largest water park in the world. It has 105 slides, its attractions and its Surf Wave Rider. The particularity of this park is that the entrance gives you access to the private beach of the hotel. 
AQUAVENTURE PARK ATLANTIS
Address : Atlantis The Palm – Crescent Rd – Dubai – United Arab Emirates
Opening hours : open every day from 9:30 am to 6:00 pm
Telephone: +971 4 426 0000
For all information and ticket purchases: atlantis.com
And the last park on the list will especially delight children.
LEGOLAND WATERPARK
In the Lego themeThis park is ais intended only for families with children from 2 to 12 years old. The water park has 20 Lego slides and attractions. It is a Lego paradise, which will delight the children. Follow the news on the website, it often organizes theme days. 
Address : Parks & Resorts – Sheikh Zayed Rd – Dubai – United Arab Emirates
Opening hours: open every day (except Wednesday) from 10 am to 6 pm.
Telephone: +971 4 820 3123
For all information and ticket purchases: https://www.legoland.com/dubai/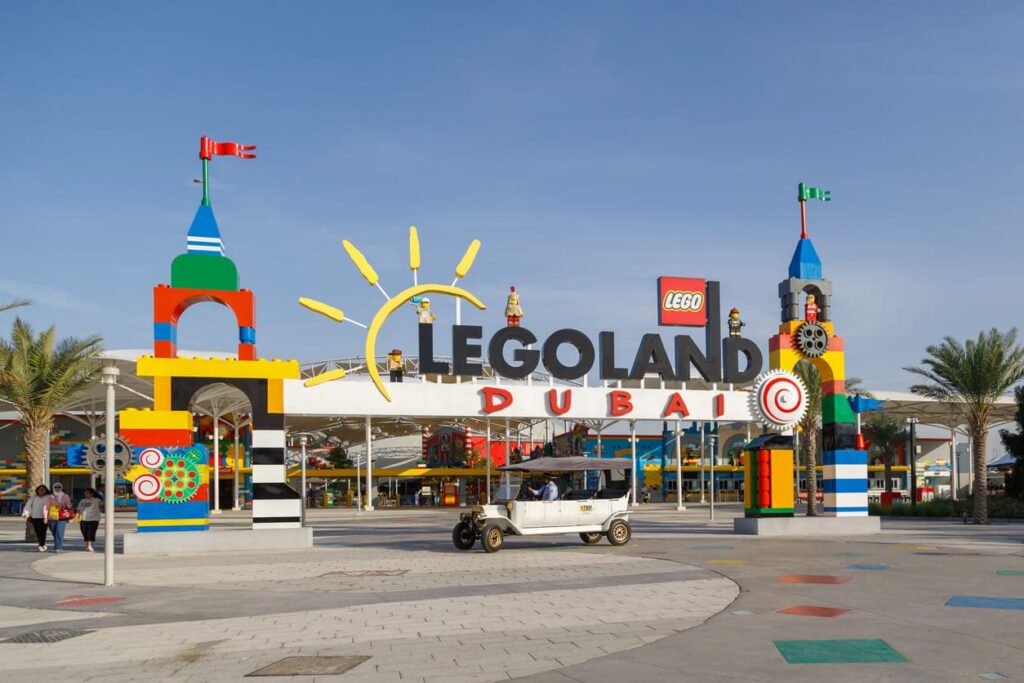 8- Spend the day in a beach club and private pool
During the week and especially on weekends, the main activity of Dubai residents is togo to the beach, the pool, relax and have fun in the beach clubs. In a luxurious and private setting, several hotels open their doors to non residents of the hotel. The entrance is paying and provides access to private pools, private beaches and other benefits which vary from place to place. You can do this day alone, with friends, family or as a couple. 
There are several options available to you. If you only want to enjoy the beach and the hotel's private pool in a luxurious setting, opt for these must-see places like the Riva Beach club with its breathtaking view of the Palm Jumeirah, the One & Only Royal Mirage with its oriental architecture and oasis, and the private beach of the luxury hotel Ritz Cartlon. 
However, if you want to combine this with a more casual atmosphere, you can festive. For this, you will find a large number of beach clubs in Dubai. These are places where it is pleasant to chill out, listen to music with a DJ, swim in the infinity pools and take advantage of the beautiful beaches. We advise you to go to at least one of this list: the Five Palm, the White Beach, the Bla Bla or the Nikki Beach.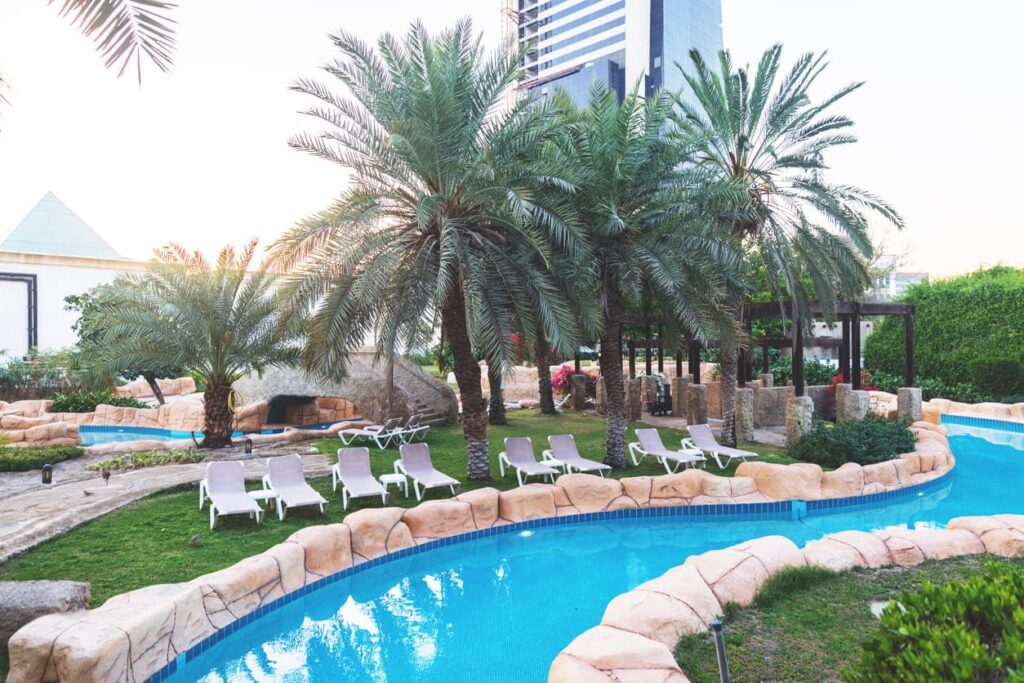 9- Swim with dolphins
We all had one day the desire to swim with dolphins. Do you know that it is possible to realize this dream during your stay in Dubai? There are different places where you can do this activity. And the advantage is that the younger children can also enjoy it (from eight years old). You will be able to swim and interact with the dolphins. This is an experience to be had at least once in a lifetime. 
Atlantis Dolphin Bay is the emblematic place to do this activity. The experience with the dolphins lasts 30 minutes. There is also the experience of swimming with dolphins in deep water (3 m). The advantage is that you can combine swimming with dolphins with a day at the hotel's water park. 
Address : Atlantis The Palm – Crescent Rd – Dubai – United Arab Emirates
Opening hours : open every day from 9:30 am to 6:00 pm
Telephone: +971 4 426 0000
For all information and ticket purchases: atlantis.com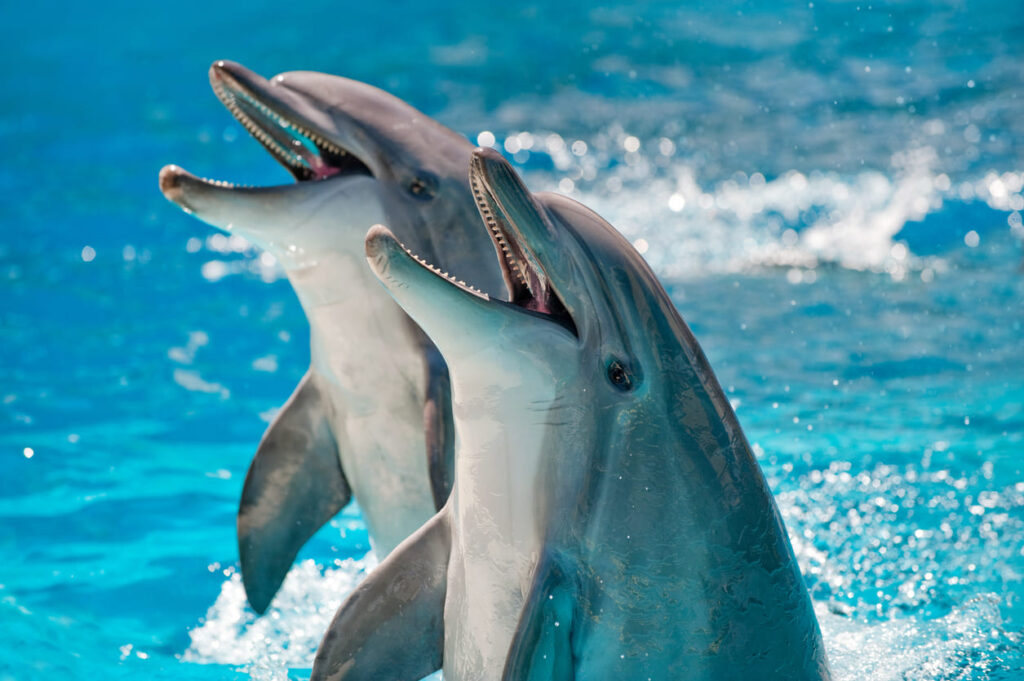 10. Book a dinner cruise on board a ship
On board a boat, take advantage of your dinner while admiring the illuminated city. 
In the form of a buffet, you will have the choice between several culinary specialties international, traditional and sweets to satisfy all palates. 
Each agency offers different cruises with various themes. 
Your choice will be made according to the desired atmosphere: romantic, festive or family and also according to the schedule that suits you.
We advise you to Book a late night time to watch the sunset and enjoy the nightlife of Dubai. 
After experiencing a water activity, you can eat in one of the Marina's restaurants. You can enjoy the sun while tasting your food. There are restaurants with specialties from all over the world. After a short break, why not take a stroll along the Jumeirah beach or in the Marina area? In the evening, the city does not sleep, the stores remain open. If you feel like going on a shopping spree, you know what you can do.