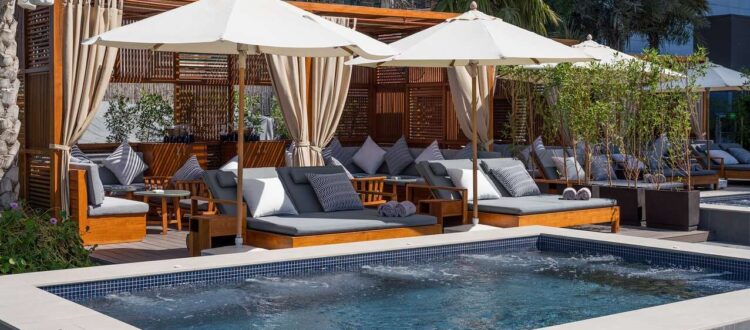 AZURE BEACH, the private beach club to meet and relax in JBR
Jumeirah Beach Residence, known as JBR, is one of Dubai's most vibrant liveliest neighbourhoods in Dubai. It is home to gourmet restaurants run by renowned international chefs, luxurious hotels and the best places to drink and party.
JBR has close and easy access to the sea. Many hotels have their own private beaches accessible only to hotel residents or people who pay an entrance fee to the beach club. In the 5* Rixos hotel is Azure Beach, a private beach club. One of the most beautiful spots to relax in the sun and enjoy a panoramic view of the fine sand and turquoise water of the Jumeirah Sea and also to party with its various animations.
1. The Beach Club: swimming pools and beach to relax in the sun and enjoy the atmosphere
Azure Beach is arranged in several spaces. First, there is the lounge which is open to all (no age requirement) dedicated to those who wish to have breakfast, lunch or dinner, and also to have a drink.
Opposite the lounge are the pools and the private beach. The infinity pool at Azure Beach offers an incredible view of the beach, palm trees and the blue of the sea. The water in the pools is at room temperature adapted to the heat. This makes swimming always pleasant. There are deckchairs, sofas, floating beds, umbrellas near the pool which are available for a fee. It is not possible to reserve them in advance. In order to be near the pool, the most popular places, you have to come very early, or even as soon as it opens on weekends.
As far as the atmosphere is concerned, dancers, singers, musicians and DJs entertain the DJs liven up the beach club. An incredible atmosphere that leaves no one indifferent. Saturdays are dedicated to the Vogue parties. It is a pool party under the stars, animated with Hip Hop and R'N'B music by the resident DJs from 8 pm to 1 am.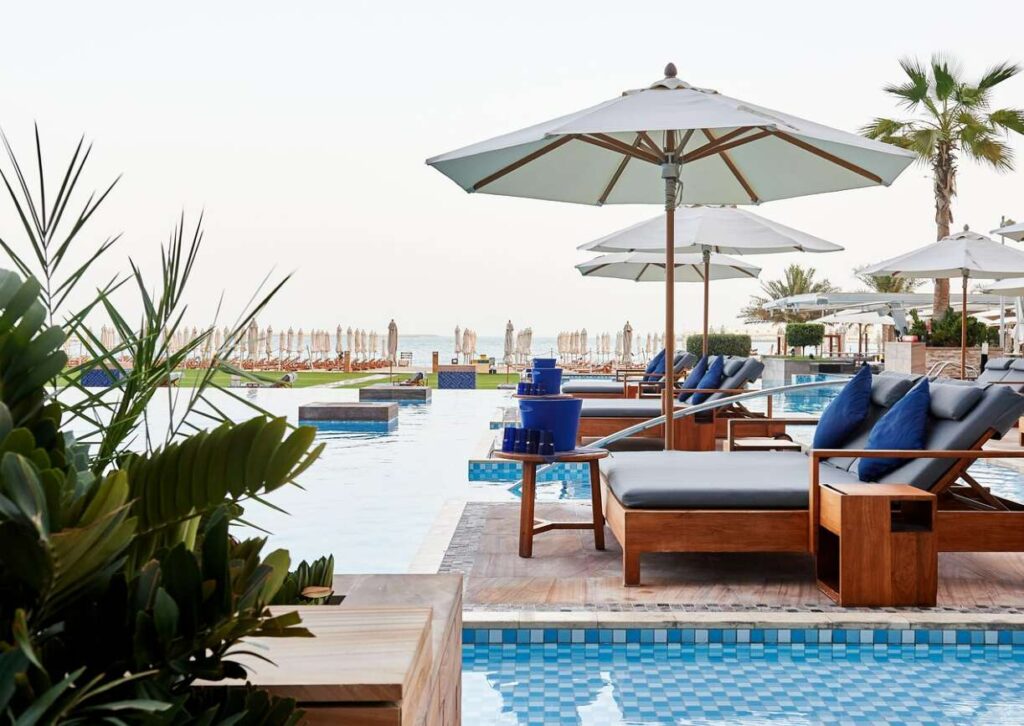 Entrance fees are different on weekdays and weekends. Please note that if you stay at hotel Rixos, you will not pay the entrance fee and you will have access to the the pool and beach earlier than the time indicated for visitors.
During the week (Monday to Thursday), the price is 300 AED, or about 80€.
On weekends (from Friday to Sunday), the price is 400 AED, or about 100€.
In exchange for this entrance ticket, you will receive a voucher of 100 AED, or about 25 € (weekdays) and a voucher of 200 AED, or about 50 € (weekends), to be exchanged for food and drinks. This will allow you to be reimbursed for a part of the amount you paid.
The entrance fee per person includes a tanning bed and a towel. The F&B (Food & Beverage) voucher provided must be used on the day. However, it is not possible to reserve a sunbed in advance. First come, first served.

Children 0 to 4 years old: free admission
5 to 12 years old get a 50% discount on the entrance fee
Children aged 13 and over pay the full price (indicated above)
For residents of the Rixos Hotel, access to the pool and beach is free. There is a VIP area with access to a private pool and other benefits. To reserve this area, there is a minimum spending requirement.

It is a very luxurious setting with an exclusive offer suitable for groups of 6 and 12 people. It is in a breathtaking setting that you will spend your day. It is an intimate space, but it offers you a setting and a service the Rixos hotel.
For rates, please contact the Azure Beach reservation team by reservations@azure-beach.com or by phone at +971 52 777 9472.
During Ladies Days, on Tuesdays and Thursdays, starting at 10:00 am, the entrance fee is only 200 AED, or about 50 € for women. The entrance fee includes five vouchers for drinks and sunbeds for the first 100 ladies present. It is not possible to book in advance. It is a good plan for those who come on vacation and are available during the week. The men can also enter the beach club by paying the normal fee of 300 AED, or about 80€.
To make sure you don't miss any of the events, check out the Azure Beach website via the following link, https://azure-beach.com/dubai/calendar/ and on Instagram.
As for the beach, it is a haven of peace with its fine white sand and clear blue waters. Sit back on a deckchair and relax to the rhythm of the music mixed by the DJ. You can order food and drinks from your deck chair.
Enjoy one of the unmissable cocktails on the menu. You can order food, a wide choice of starters and Asian-inspired dishes are offered. The little extra of Azure Beach is that you can also order a chicha and smoke it either by the pool, on the beach or in the lounge.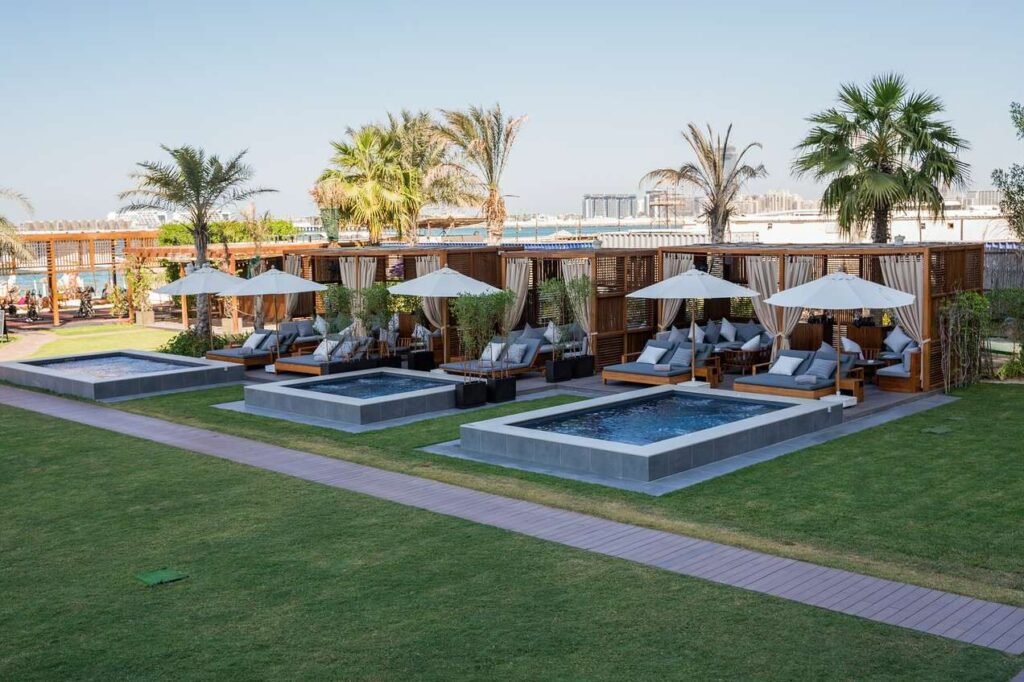 2. The lounge: a space to enjoy a meal, smoke a hookah and have a drink
Azure serves Asian inspired and fusion dishes. On the menu, they offer hot and cold appetizers such as edamame, sushi, tacos and other choices to discover on the spot. As for the dishes, wraps, burgers, salads, noodles, pokés bowls in vegetarian version or with meat are available on the menu all year round. The drinks menu is also very varied. They offer a large choice of cold or hot drinks with or without alcohol.
Shisha smoking is available. The Azure Lounge is the ideal place for you to to smoke quietly and comfortably a hookah accompanied by a green tea with mint for example. But, if you prefer to smoke it at the edge of the swimming pool, it is possible to ask for it. Just mention it to the waiter.

Menu of dishes and drinks: https://azure-beach.com/dubai/menu/

Important information:
It is forbidden to bring food or drinks from outside
It is not possible to reserve sunbeds in advance. Only the VIP areas are open for reservation (mandatory).
Unlike other places in Dubai, at Azure Beach, it is possible to consume alcohol.
For those on a vegetarian diet, Azure Beach offers appetizers and entrees that are suitable for you.
Contact
Adress : Rixos Premium Dubai JBR
By car: From the Dubai Mall, it's a 20-minute drive.
By Metro: DMCC Metro Station on the red line is a 15-minute walk away.
By streetcar: Line 1 serves several stops in Jumeirah including
If you are at the Marina, you can walk there.
Opening hours:
Service
Days of Operation
Opening Time
Closing Time
Pool and Beach
Everyday
10:00 AM
7:00 PM
Lounge
Monday to Sunday
8:00 AM
10:00 PM
Shisha Service
Everyday
11:00 AM
Kitchen
Everyday
11:00 AM
The pool and beach are accessible from 7am only for Rixos Premium Dubai guests for basic
guests of Rixos Premium Dubai for basic services such as beach towels, water
beach towels, water, juice and coffee.
Contact: +971 52 777 9472
Website: https://azure-beach.com/dubai/
Instagram: @azurebeachdubai
Azure Beach is close to :
Dubai Marina
Marina Mall
The Walk
JBR Beach
Zero Gravity
Palm Jumeirah
Mall of Emirates