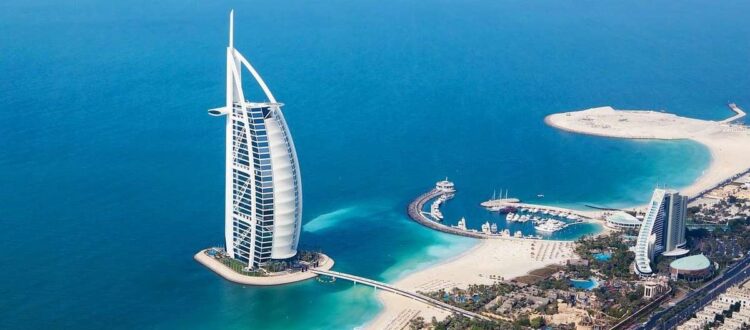 Burj Al Arab, the most luxurious hotel in the world
Dubai is an emirate that stands out from the neighboring emirates because of its buildings (hotels, shopping centers, monuments). It is the city of extraordinary infrastructures in terms of luxury, details and services offered. Every year, millions of tourists come to Dubai on vacation.
A destination where it is possible to combine several activities such as shopping in the malls like the Dubai Mall in the Downtown area, relax and unwind by the sea in Jumeirah, party in a Beach Club or at night in the Marina areas.
There are many hotels in Dubai that offer the opportunity to experience the highest standards. There is one in particular, which stands out from all other hotels in the world, and that is the Burj Al Arab.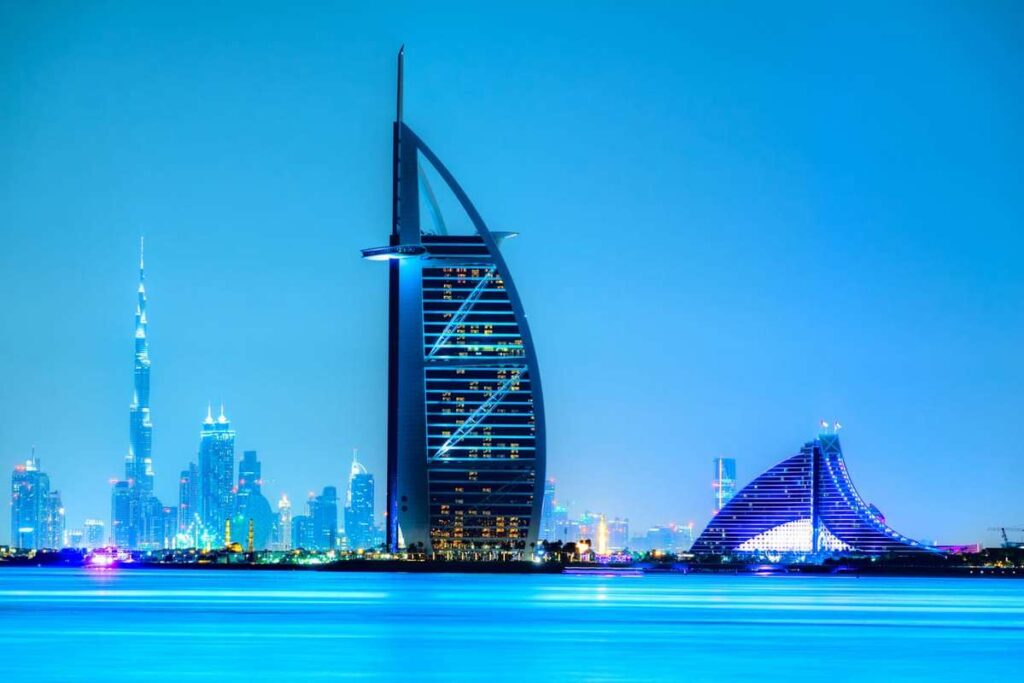 1. Staying in the Burj Al Arab
Considered by many tourism professionals as the most luxurious hotel in the world, the Burj Al Arab is considered a 7 star hotel. In fact, it is the only one in the world to have been rated at this level. Situated on its own artificial island, it offers a setting not found anywhere else.
Shaped like a sailboat and 320 meters high, the Burj Al Arab houses not only rooms with a possibility of staying there but also restaurants, bars, a spa with hammam, jacuzzi, saunas, massage rooms, indoor and outdoor swimming pools and also a private beach.
You do not have to stay in the hotel to access these areas. A simple reservation made in advance and for a fee is all that is required to access them.
Sleeping in one of the most prestigious hotels in the world requires a certain budget. You have to count at least 1 000 € per night in low season and more than 1500€ in high season. The smallest suite is 170 square meters and is equipped with everything you need (iMac, Ipad, Hermes skincare products, high-end bedding, minibar, etc). Not everyone can afford a night at the Burj Al Arab.
You can still enjoy the setting by booking an activity at this hotel. In case you want to treat yourself to this luxury, you can make a reservation on the website of the Jumeirah hotel group, of which the Burj Al Arab is part.
2. Visit the Burj Al Arab
Although it could have been one of the biggest tourist attractions, there is actually no possibility to visit the Burj Al Arab. The only option to enter and contemplate the interior architecture including its 200 meter high lobby, decoration, construction details is to make a reservation at the restaurant, bar or for a tea-time.
On the 27th floor of the hotel is the 27th Floor Skyview Bar. It offers a breathtaking view of the Persian Gulf. You can make a reservation for a drink or an Afternoon Tea to enjoy the luxury setting and service that the Burj Al Arab offers.
The tea time includes a glass of champagne, tea from a wide range of flavors, savory snacks, club sandwiches and also cookies and cakes. A great time is had by all. It is also possible to book a lunch if you wish.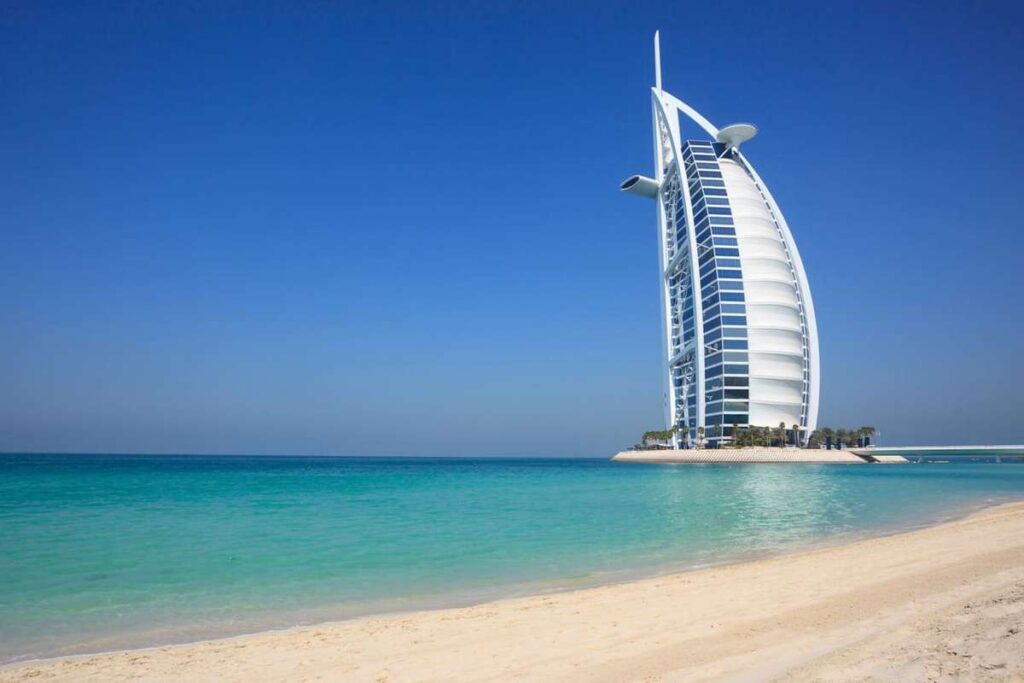 Afternoon Tea at Skyview Bar Burj Al Arab
They offer two menus:
5-course menu
7-course menu including caviar and champagne
Price : 125 EUROS (5 courses) / 159 EUROS (7 courses + champagne)
Hours: open from 4:00 p.m. to 7:00 p.m.
Reservation : BAArestaurants@jumeirah.com
If you want to have a drink at the Skyview Bar, you can go there from 7pm. The reservation entitles you to two cocktails. It is possible to choose non-alcoholic drinks. It is possible to drink more. In this case, you will have to pay an additional fee.
The bar stays open until 11 pm. It's a good spot to watch the sunset and enjoy the view with the colors of the day and the lights of the evening.
Price : 83 EUROS PER PERSON (2 COCKTAILS)
Opening hours : open every day from 7 pm to 11 pm
Reservation : https://www.jumeirah.com/
The SkyView Bar is reserved for those over 21 years of age.
The other option to get into the Burj Al Arab is to have lunch or dinner at one of the hotel's restaurants. There are a total of 9 with different culinary specialties. Bab Al Yam offers European and Oriental cuisine. Al Iwan does not have an a la carte menu, but rather a buffet of Arabic cuisine.
For Mediterranean cuisine, Scape Restaurant offers a wide selection of appetizers and entrees. For a Scandinavian-inspired Western lunch, opt for the Mahara restaurant.
Finally, the last restaurant is one of the most prestigious in Dubai. It is Al Muntaha, a Michelin starred restaurant. It offers French and Italian gourmet cuisine cooked by the famous chef Saverio Sbaragli.
It offers a variety of dishes based on beef, duck, lamb, lobster, scampi… And other dishes that will delight your taste buds! If you are looking for an unforgettable experience at the Burj Al Arab, book now at Al Muntaha.
Adress : 27th floor, Burj Al Arab Jumeirah – Jumeirah St – Dubai – United Arab Emirates
Opening hours : open every day from 12:30 to 14:30 and from 19:00 to 22:00
Menu : cd-hospitality.jumeirah.com
Phone number : +971 800 323232
Reservations : sevenrooms.com
3. Relax at Talises spa, the spa of the Burj Al Arab
On the 18th floor of the hotel is the Talise Spa. If you want to enjoy the luxury setting and service of the hotel, treat yourself to a moment of relaxation in this beautiful Spa. The spa is open to both men and women. It is also possible to book a private room for a couple. Several types of massages are offered such as body, cranial or facial. The spa is at the height of the luxury and prestige of the Burj Al Arab.
Informations :
Opening hours: open every day from 6 am to 10 pm.
Phone : +971 4 301 7365
Website : https://www.jumeirah.com/
4. Relaxing at the Terrace, the private pool of the Burj Al Arab hotel
Due to its sunny and pleasant weather for most of the year, many hotels in Dubai open up access to their pools to residents and non-residents of the hotel as well. Be aware that you do not need to book a hotel night to have access to the Burj Al Arab. The terrace consists of several pools and a Jacuzzi for relaxation. Deck chairs and cabanas are available for lounging and sunbathing. There is also a restaurant in this area where you can have lunch, a drink or a snack.
The requirement for those who do not reside at the Burj Al Arab is to pay the entrance fee. From Monday to Thursday, the entrance fee is AED 800, or about €200, with AED 400 (€100) credit in food and drink only and from Friday to Sunday, the entrance fee is AED 1,000, or about €255 with AED 500 in food and drink vouchers.
It is also possible to rent a cabin for 4/6 people at a price of about 4000 AED, or about 1 015 €. This price includes access to the pool and jacuzzi for the whole day (four people). You have the right to drink as much as you want of water and soft drinks and a fruit tray is offered to you. For 6 people, the price is about 5000 AED (cabana included), or about 1270 €.
Schedules:
Family freshwater pool: 10:00 am to 7:00 pm
Overflow pool for adults only: 10:00 am to 7:00 pm
Phone : +971 4 301 7365
Website : https://www.jumeirah.com/
Reservation required at +971 4 301 7400
Some information about Burj al Arab
Casual chic is required to enter the Burj Al Arab (no open shoes for men for example). We advise you to inquire when making your reservation.
Reservations are required for the bar, the restaurant, the SPA and the Terrace. The entrance to the Burj al Arab is very controlled.
Valet parking is available. You can access it with your personal vehicle (also rental).
Activities to do near the Burj Al Arab:
Wild Wadi Water Park
Madinat Jumeirah Souk
Umm Suqeim Beach
Mall of the Emirates