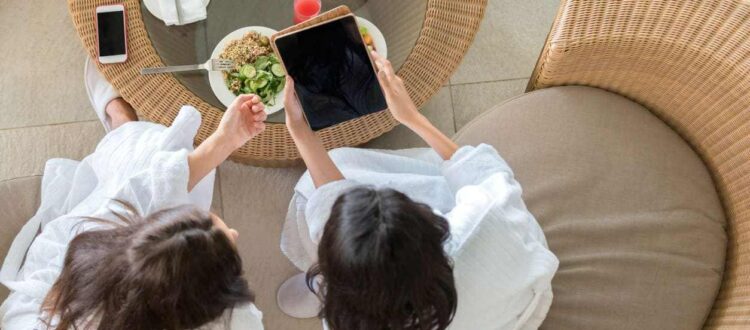 Top 5 most beautiful spas in dubai
In Dubai, in addition to the most beautiful hotels in the world, there are also many luxurious spas. In places of authentic and majestic architecture, live a unique and relaxing moment. 
From the traditional hammam in Turkish baths to the more elaborate and luxurious treatments, everything has been thought of to pamper yourself from head to toe. Let yourself be tempted by rose massages, clay masks, nourishing wraps, relaxing massages and many others that will do you the world of good. After half a day in these incredible spas, you will leave with soft skin, relaxed and free of the little stresses of everyday life.
Discover the benefits of the hammam and spend a relaxing moment in one of the best Spas in Dubai.
1. Anjana Spa – Rixos The Palm
Come and be pampered in thisuxurious spa located in the Rixos The Palm hotel. A hammam inspired by the Ottoman era. You will have at your disposal equipments such as swimming pools, saunas, an ice fountain and an authentic Turkish hammam for a guaranteed relaxing moment. A friendly and qualified staff will take care of you. 
The proposed treatments help to soothe you and restore harmony between body, mind and soul. Relax and recharge in the Turkish baths. According to your desires, in addition to the traditional hammam, choose what you need.  
A wide range of high-end treatments are offered: gold or coconut body wraps, therapeutic treatments inspired by Eastern and Western philosophies, massages and many others. 
Towels, slippers and bathrobes will be provided for the SPA at no extra charge.
Remember to book in advance so that you can choose the day and time that suits you.
Address: East Crescent, Palm Jumeirah, East Crescent
Contact: +971 4 457 5415
Email: spa.dubai@rixos.com
Website : https://www.rixos.com/fr/anjana-spa
2. The Spa – Palazzo Versace Dubai
This luxurious Spa is located on the first floor of the impressive Palazzo Versace hotel in the Jaddaf district. 
Choose from three premium treatments: Traditonnal, Signature or Ceremonial. 
Everything you need is offered in this spa: massage and care of the face, hair, body and feet. The products used are natural and provide a benefit from their application on the skin.
The Spa also offers manicure and pedicure services. Take advantage of your relaxing day to do whatever you want. 
After a body exfoliation, a traditional hair wash, ritual stretching and a relaxing massage, you will be relaxed and beautiful. After a visit to the The SpaYou will feel more relaxed and lighter. 
Ladies, take advantage every Monday of the offers of ladies day. 
Address: Jaddaf Waterfront – Al Jaddaf – Jaddaf Waterfront – Dubai – United Arab Emirates
Phone: +971 4 556 8888
Email: info@palazzoversace.ae
Website : https://www.palazzoversace.ae/spa-and-gym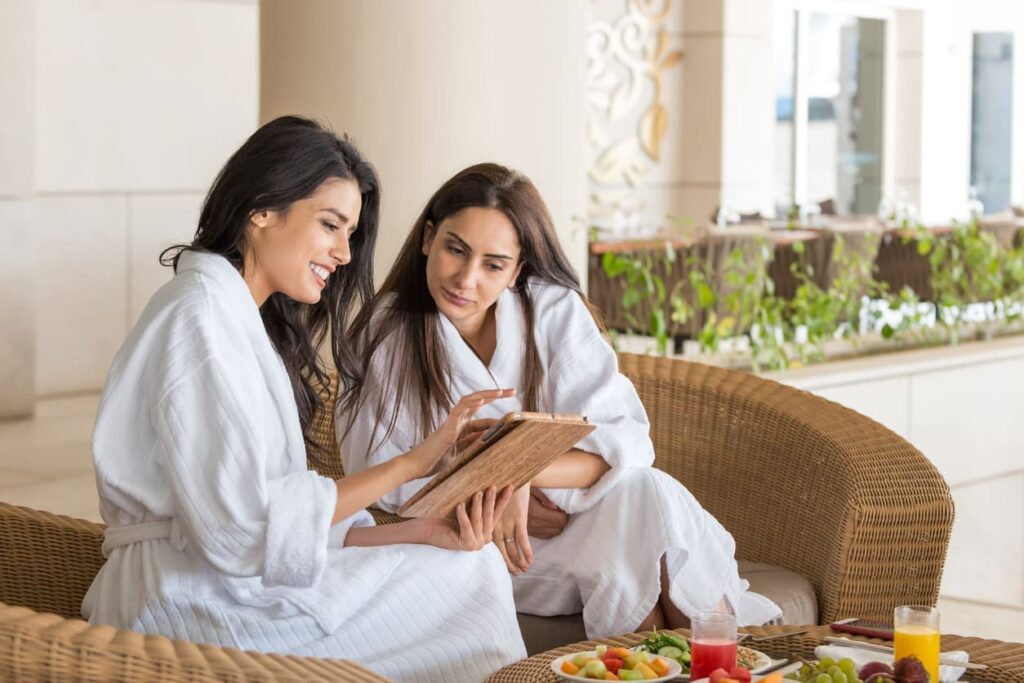 3. One & Only Spa – One & Only Royal Mirage
The One & Only Royal Mirage is known to be one of the most and prestigious locations in Dubai. In addition to being a renowned hotel, it is also a recommended place to do a Spa in Dubai Marina.
In an oriental decor, let yourself be embarked in a moment of respite for a day. A large choice of baths is available, hot or cold, massages, hammams and other treatments are available. The professional therapists will be there to accompany you throughout this relaxing moment.
À One & Only Spa, several packages are offered for a day of relaxation. The most famous and popular treatment is the Hammam Rose Ritual: a natural clay body treatment and honey face mask and a head and body massage. They also offer a holistic treatment not found elsewhere.  Nature's Resonance aim at restoring a harmonious balance with nature and with yourself. Immersive treatments that will help you relax and reconnect with yourself. 
After a day, take the opportunity to have lunch or dinner at One & Only Royal Mirage. This is one of the places where it is highly recommended to taste their dishes. Live the experience to the end, you won't regret it. Remember to make a reservation beforehand. Reservation is mandatory either by phone or by mail.
Address: One & Only Royal Mirage – Al Sufouh Rd, Dubai Marina
Schedules: open every day from 11 am to 8 pm.
Phone: +971 4 399 9999
Website : https://www.oneandonlyresorts.com/
4. Saray Spa – JW Marriot Marquis Dubai
It is in one of the highest hotels in the world that the Saray Spa. This traditional and luxurious hammam offers a wide range of treatments that you won't find anywhere else, such as the golden honey face mask from Arabia or the 24 carat gold oil massage. 
The steps of the traditional hammam and the luxurious service make Saray Spa one of the most recommended places in Dubai. To pay tribute to Saray Spa's Arabian heritage, only ancient techniques and natural ingredients of local origin are used. The product lines used are exclusively available at the JW Marriott Marquis Dubai. 
A luxury service that will do you a world of good. The Saray Spa has two private steam rooms and suites that can be reserved for a more intimate moment. This option is also available for couples. 
Treatments have been designed especially for men. Seven treatments adapted to different skin types: Alpha Male Energy Booster, Gentlemen's Retreat, Executive Indulgence, Energy Reform, Men's Executive Massage, Fast and Furious or Skin Purifying Facial.
Address: 5th Floor, Dubai Marriott Harbour Hotel & Suites, King Salman Bin Abdulaziz, Al Saud Street, Dubai Marina, Dubai
Schedules: open from Monday to Sunday from 09:00 to 22:00.
To make a reservation:
+971 4 414 6754
Website : https://portal.marriott.com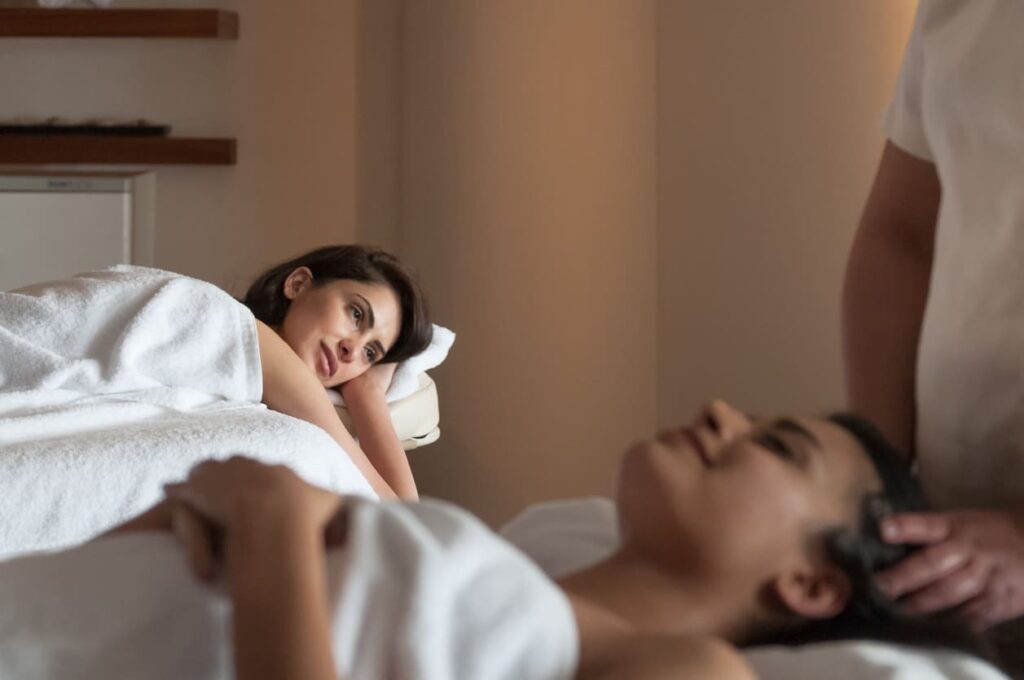 5. Talise Ottoman Spa – Jumeirah Zabeel Saray
Treat yourself to a half-day of wellness in this majestic Spa located in Palm Jumeirah. Talise Ottoman Spa is one of the largest hammams in Dubai. Its Ottoman-inspired architecture makes this place authentic and will make you spend an unforgettable moment.
Talise Ottoman Spa has a swimming pool, Jacuzzi, Turkish bath, a dozen treatment and relaxation rooms and also different types of sauna. In addition to having the right equipment for each service, it has a professional and expert staff. 
Before each service, the therapists will explain in detail the steps and benefits of the chosen treatment or massage.
Whether you are a tourist or a resident, you cannot miss a massage, a hammam or a treatment at Tatise Ottoman Spa. Remember to book well in advance to have a slot for the services you want. If you want to book for a couple, don't forget to specify it.
Address: Jumeirah Zabeel Saray, The Palm Jumeirah, Crescent Road (West) – Dubai
Schedules: open from Monday to Sunday from 09:00 to 21:30.
Phone: +971 4 453 0456
Website : https://www.jumeirah.com/
After a relaxing half day, why not opt for brunch or dinner at some of Dubai's best addresses? Whether it's Palm Jumeirah, Dubai Marina or JBR, there's always something to do. Take a walk and enjoy the magic of this city.