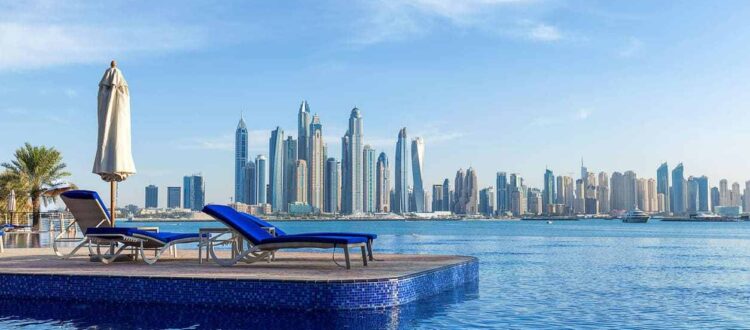 Top 10 private pools in Dubaï
Dubai, the city of excess, surprises us with its diversity of landscapes. Everything is bigger, more impressive and especially the hotel complexes. There is an oasis of renowned high-end hotels all over.
If you are in Dubai, you cannot miss the beautiful beaches and private pools of the city. Enjoy a day of relaxing by the infinity pool or on the golden sandy beach. 
Here is our selection of 10 private pools in Dubai to enjoy a day of rest and relaxation in a luxurious and prestigious setting. 
1. Address Sky Views
If you want to schedule a pool day in Dubai, you can't miss the opportunity to go to Address Sky Views. The splendid rooftop pool is located on the 54th floor. Relax in the infinity pool on the sky deck which offers an incredible view of the Burj Khalifa tower and the skyscrapers of downtown Dubai. 
The access to the pool is private and under reservation. This allows to limit the access and to take advantage of the pool in restricted number. On site, a restaurant and bar service is available.
Ladies, every Monday, enjoy the Ladies Day. This is an offer that allows you for the sum of 150 AED to have unlimited drinks. The offer is available from 10am to 1am. 
The prices are between 200 and 300 AED for the entrance. It depends, if you go during the week or weekend. Please note, that prices may change.
It is a quiet and friendly place where families and children are welcome.
Address: Emaar Square Area, Downtown Dubai 111969 – Dubai
Schedules: open every day from 9am to 7pm.
Phone: +971 4 873 8888
Website : https://www.addresshotels.com/en/hotels/address-sky-view
2. Azure Beach
Let yourself be tempted by a pool day with view on the Palm and Ain Dubai. 
The beach club, The Azure Beach is the place for you. This beach club is attached to the very beautiful hotel Rixos. It hasan infinity pool. The setting is pleasant to relax and to enjoy the view of the big wheel of Ain Dubai. 
The pool is surrounded by comfortable deckchairs.
Unlike other beach club Children are allowed to enter. This makes it possible to spend a pleasant time with the family. 
Azure Beach offers Ladies day AED 200 is the price for a day pass on Mondays and Tuesdays. This amount gives the right to access the beach, the pool and five drinks from 10:00 to 20:00. The entrance fee for the other days of the week is between 300 and 400 AED. 
It is possible to eat and buy food on the spot. Remember to make reservations if possible, as this is one of the most popular places in Dubai.
Address: Rixos Premium Dubai, Jbr
Schedules: open every day from 10am to 7pm.
Phone: +971 52 777 9472
Website : https://azure-beach.com/dubai/
3. Intercontinental
In the heart of the Dubai Marina, you will find the Intercontinental Hotel.  
It has a large swimming pool and facilities such as deckchairs, cabanas to relax, chill out and take a nap under the sun. 
Nothing has ever been easier to feel good about. A restaurant service attached to the intercontinental is available to non-residents of the hotel. Enjoy the chef's Mediterranean cuisine. They also offer an elegant shisha lounge, a trendy bar and a spa that you can access as an extra.
Be sure to check out the iconic glass-bottomed infinity pool with its suspended edge. Plus, it overlooks the creek and the Dubai skyline.
Rates vary from 99 to 149 AED.
Schedules: open from Monday to Sunday from 8am to 8pm.
Address: King Salman Bin Abdulaziz Al Saud St – Dubai Marina – Dubai – United Arab Emirates
Phone: +971 4 446 6777
Website : https://www.ihg.com/intercontinental/hotels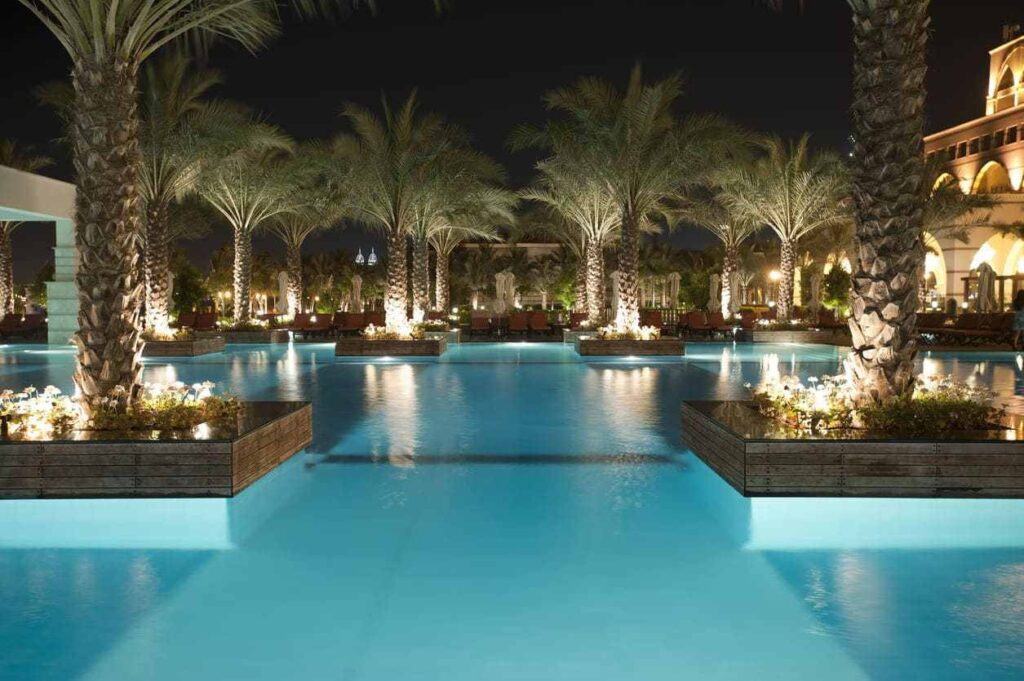 4. Zero Gravity
It is one of the trendiest places in Dubai. The private pool and beach are set up for the best comfort heated water, deckchairs and beds, etc. There is a bar and restaurant service on site. A varied menu is offered from breakfast to dinner. It is also possible to have a brunch. 
Zero Gravity is a unique place that attracts both residents and visitors, day and night. As the sun sets, this beach club transforms into a party place with trendy DJs on the decks. It is the place to relax, meet and party with friends. 
This is an adults-only facility. Children are not accepted.
Rates :
Ladies day: Tuesdays and Thursdays 99 aed (for drinks and all-you-can-eat beach bites) from 8pm to 11pm.
Address: Zero Gravity Dubai
Dubai Marina, Skydive Dubai Drop Zone – King Salman Bin Abdulaziz Al Saud St – Dubai
Schedules: open Tuesday to Sunday from 10am to 9pm. Closed on Mondays.
Phone: +971 4 399 0009
Website : https://www.0-gravity.ae
5. Barasti
Want to have a pool day in Dubai without paying 1 AED? It is possible!
Barasti located in the Dubai Marina area, is one of the few places that open their doors for free. The entrance is free of charge and gives the right to access the pool, the beach and to use the deckchairs. 
The layout of the space is well thought out. On one side, there is furniture in the sand and on the other side the bar with a view on the sea.
A catering service is available: international cuisine, snacks, pizzas and many other dishes and drinks are offered.
During the day, lie on a deckchair by the beach. In the evening, a DJ will entertain you. Relax and have fun with friends or family. The atmosphere is very relaxed and friendly.
Children : Authorized
Address: Barasti Beach
Le Meridien Mina Syahi Beach Resort & Marina – Dubai Marina – Dubai –
Schedules:
Monday to Wednesday from 11am to 10pm
Thursday and Sunday from 10am to 10pm
Friday and Saturday from 9am to 10pm
Ladies day
Sunday: AED 75 for access to the pool, Gordon's ice-cold lemonade, lunch.
Monday: 100 AED for access to the pool, unlimited margaritas and Froze and bites on the beach.
From 9am to 4pm
Phone: +971 4 318 1313
6. DRIFT Beach Dubai
Located in the prestigious 5 star hotel, One & only Royal Mirage, in the lively JBR area, DRIFT beach Dubai is the place to be. 
In a modern, urban setting, relax and enjoy the beautiful views of Palm Island and the Dubai Marina skyline.
In addition to being a place elegant and casual for swimming, sunbathing and having a good time, is also a great place to eat. Chef Maxime Le Van's menu features delicious Mediterranean specialties and refined and delicious cocktails. 
This beach club offers an exclusive luxury service to meet your demands. 
It is possible to book a private retreat: you will have your own pool, a large terrace, gardens and a private beach. And also, a lounge, a bathroom and many other facilities available.
Ladies day : Monday and Thursday 100 AED (glass of rosé offered) .
Children : Accepted
Schedules: open every day from 10am to 7pm.
Address: DRIFT Beach Dubai
Phone: +971 4 315 2200
Website : https://driftbeachdubai.com
7. Caesars Palace Dubai
The luxurious 5 star palace located in the Bluewaters Island offers a heavenly setting. The hotel has three overflowing pools. For the safety and comfort of the little ones, one of the pools is shaded.
A few steps from the pool, there is access to the beach: fine golden sand, palm trees and turquoise blue water.
It is possible to eat on site at the Neptune Pool & bar and the Fortuna Pool & bar. A wide selection of salads, gourmet sandwiches and soft drinks are available. 
A beautiful place to relax with family, friends, couples or alone.
Children : Authorized
Ladies day: Wednesday 149 aed (for beach access, a deck chair and unlimited pink drinks) from 12 to 5 pm
Schedules: open every day from 08h30 to 19h00.
Address : Caesars Palace Dubai
Phone: +971 4 556 6666
Website : https://www.caesars.com/dubai/caesars-palace-dubai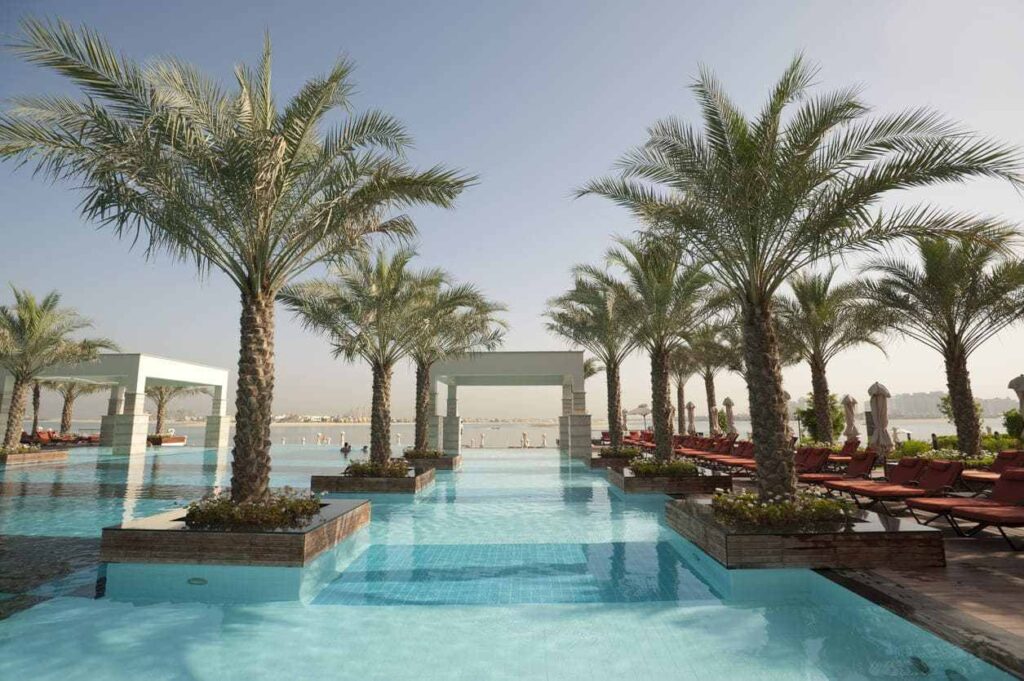 8. Jumeirah Zabeel Saray
A luxury setting located in the very select Palm Jumeirah of Dubai Away from the crowds and tourist attractions. What could be better than a day of relaxing on the private beach or in the infinity pool? 
The hotel has a large private outdoor pool surrounded by tropical gardens and a beautiful private sandy beach.
If you are looking for comfort, change of scenery and calm, Jumeirah Zabeel Saray to your expectations. A good idea for a pool day to spend with family or friends in Dubai. The hotel has a bar and a restaurant. 
Address: West Crescent Road The Palm Jumeirah, Dubai Arab Emirates
Children : Authorized
Schedules: open every day from 09h to 18h.
Phone: +971 4 453 0000
Website : https://www.jumeirah.com
9. Al Maha Desert Resort & Spa
An unusual place in which you will live unique moments. Enjoy the of the desert and its dunes, Cool off in the infinity pool and enjoy the silence and calm. 
Al Maha desert resort & spa offers a pool package that includes: full day access to the main pool, admission to the Dubai Desert Conservation Reserve and the timeless spa facilities. 
You can have lunch on site. A varied menu consisting of three courses, soft drinks and hot beverages are offered.
This heavenly hotel is the ideal place for people who want to be in a a quiet place to disconnect from the city and rejuvenate with nature in Dubai. 
You can take advantage of your pool day to also do activities proposed by the hotel: 4×4 hiking in the dunes, horseback riding, treks and many other activities.
The hotel does not accept children.
Rate – AED 575 per person
For reservations, please call +971 4 832 9900
Address: Dubai Desert Conservation Reserve, Dubai – Al Ain Road, Dubai 118887
Schedules: open every day from 7am to 8pm.
Phone: +971 4 832 9900
Website : https://www.marriott.com
10. Sofitel Dubai – The Palm
Located on the Palm, this luxury hotel will not leave you indifferent. A prestigious setting decorated in a Polynesian style. The hotel has six outdoor poolsEach pool is heated to an ambient temperature. One of the pools has a view of the beach. The pools and private beach are large enough for everyone to find their own comfort and privacy. 
For dining and drinking, there are seven international restaurants and eight lounges.
The place is often quickly full. It is therefore strongly recommended to book in advance by calling +971 44556677.
Price :
DAYS OF THE WEEK
150 AED for singles
225 AED for couples
65 AED for children aged 6 to 12
WEEKENDS & HOLIDAYS
200 AED for singles
360 AED for couples
100 AED for children aged 6 to 12
Address: Sofitel Dubai The Palm – Dubai
Schedules:
Open from 8am to 8pm
Telephone: +971 4 455 6677
Website : https://all.accor.com
Each hotel is located in a different neighborhood. Dubai is the city that never sleeps. After your pool and beach day, take the opportunity to visit and enjoy the different parts of the city such as Downtown, Dubai Marina, The Palm Jumeirah and other areas. You will always find something to do.