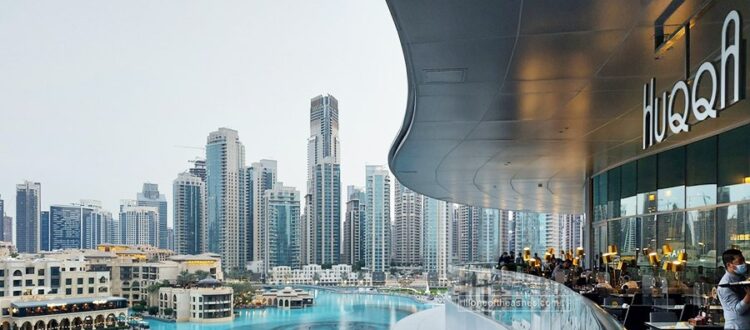 Huqqa Dubai, gourmet Turkish restaurant in Downtown
Among the most popular international cuisines in the world, Turkish cuisine is in the top 3. Turkish cuisine is tasty, balanced and very varied: fish, kebab meat, vegetables, rice pilaf and many other specialties. It is not surprising that many restaurants of renowned chefs have established themselves in Dubai. One of the city's most popular restaurants is Huqqa Dubai. This restaurant located in the Downtown area offers exceptional service and setting.
1. Huqqa, a chic and relaxing setting
Hukka Dubai located near the Dubai Mall is arranged in several areas. There is a restaurant area for lunch or dinner, a lounge area ideal for a drink or hookah and a terrace that offers an exceptional view of the fountains and the world's tallest tower, the Burj Khalifa. The terrace is separated into two areas, one for non-smokers and the other for smokers. If you go there for dinner for example, you can admire the fountain show that is held every day.
It is a majestic play of sound, water jets and light from the fountains. It is a show not to be missed if you are in Dubai and admiring it from the terrace of Huqqa restaurant is a good plan. You can enjoy your food while admiring the show.
Inside the restaurant, Huqqa offers a different setting. The atmosphere is both chic and cozy with its light fixtures, sofas and comfortable armchairs. An open and glassed-in kitchen allows you to admire the chefs preparing your dishes. The cooks put on a show while preparing the dishes. Some dishes are even cooked in front of your eyes for the greatest pleasure of the gourmets and their presentation is very artistic, even original.
In this Turkish gastronomic restaurant, you will find on the menu all the flavors of Turkey. Tasty recipes cooked in the same way as in Turkey. Among the must-try dishes are marinated grills, vegetable or cheese böreks, Turkish semolina with tomato, parsley and lemon (kisir) and much more.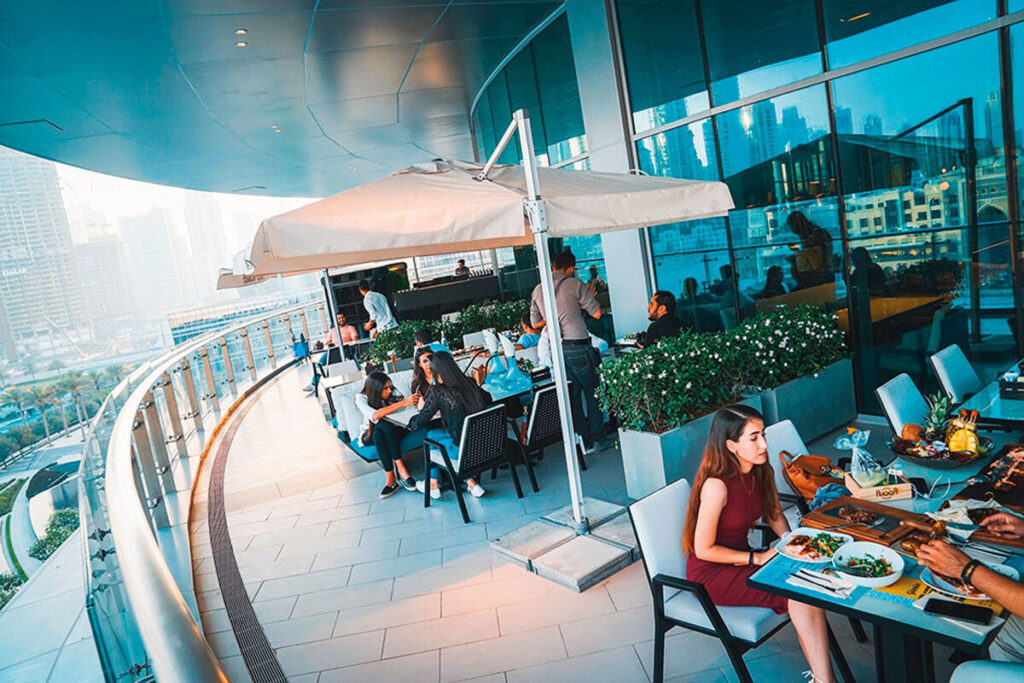 2. Authentic and refined Turkish cuisine
They offer Turkish-style breakfasts, known as kahvalti, which are in fact brunches. It's a breakfast like you would find in Turkey with an assortment of olives, cold cuts, tomatoes, cucumbers, cheeses, fried, scrambled or poached eggs, shakshuka and also homemade jam. You can compose your breakfast among a wide choice of cold or hot, sweet or salty, meat or vegetarian dishes.
In addition, there are other choices such as salted toast with Turkish cheese (peynir) or Turkish sausage (sucuk) and also sweet with plain pancakes, Nutella, honey, French toast and brioches. They also offer various cold drinks such as fresh fruit juices, iced tea and classic drinks as well as hot drinks such as Turkish tea, infusions, coffee and hot chocolate.
For lunch and dinner, Huqqa Dubai offers cold or hot starters of Turkish specialties to start your meal. There are classic mezze dishes such as tazaki, hummus, vine leaves and also hot starters such as böreks (cheese and parsley or minced meat wrapped in puff pastry) and many other specialties. The soup is a starter that you will find in all the menus of Turkish restaurants. The most popular and recurrent is the coral lentil soup, mercimek çorbasi, and the ezo gelin soup, made with coral lentils.
As for the dishes, there are the essentials such as Adana kebabs, spicy minced meat, served on a plate with side dishes such as pilav rice or bulgur and a salad. They also offer moussaka, köftes, mixed kebabs, etc. On the menu, you will also find burgers, pizzas, tacos, tenders and many other choices.
The dessert menu is also filled with classic Turkish desserts like baklava and künefe. But also cheesecakes, tiramisus, chocolate mousses and other pastries.
If you are in the mood for a culinary journey, this is the place for you. Huqqa Dubai is also a place where people gather to smoke shisha. Known for the quality of its hookahs in different flavors, Hukka is one of the popular places for it in Dubai. Huqqa is a restaurant open to all and a mixed clientele of family and friends.
After a shopping spree at the Dubai Mall and a visit to the world's tallest tower, the Burj Khalifa, take a seat at Huqqa Dubai for a drink or dinner while enjoying the fountain show.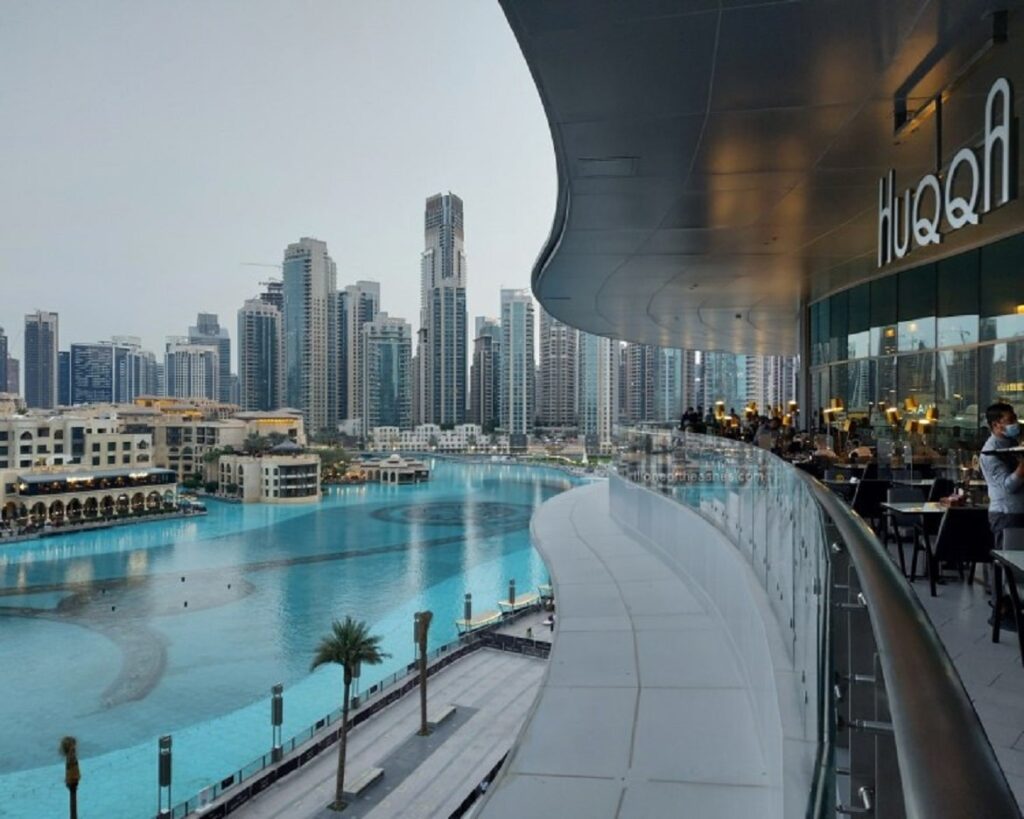 3. Frequently asked questions (F.A.Q): learn more about Huqqa Dubai restaurant
–Are children allowed to enter the Hukka Dubai?
Hukka Dubai opens its doors to all customers, from children to adults. It is a family-oriented restaurant where everyone finds comfort.
-Is it necessary to reserve in advance for the restaurant and chicha part?
In Dubai, restaurants are often very popular. In Huqqa Dubai, because of its perfect location in the heart of downtown near the Dubai Mall, it is often fully booked. We advise you to book in advance, especially if you want to be on the terrace and enjoy the view of the Burj Khalifa and the fountain show. You can make a reservation by calling +971 800 48772.
-Is the restaurant suitable for vegetarians?
Turkish cuisine is rich in vegetables, starches and mezze. You will not have any difficulty in finding starters and dishes without meat. In addition, they offer other international dishes.
–What are the must-try dishes in this restaurant?
We recommend you to taste Turkish specialties such as pide, a kind of pizza with minced meat and cheese, another one with only cheese, Adana's kebab dish, to taste starters such as mezzes or lentil soup. As for the other dishes, the chef recommends opting for meat dishes such as beef tenders, entrecote and burgers. A special mention for the dessert the baklavas with cream and the legendary Maraş ice cream. A real delight.
-Is it possible to drink alcohol?
Although it is a busy and lively place, it is impossible to start drinking at Huqqa Dubai. You won't find any alcoholic beverages on the drink menu. But, you have other options like delicious homemade cocktails.
–What are the average meal prices?
It is necessary to count between 150 and 200 AED, that is to say between 40 and 50 € for a meal and 100 and 300 AED, that is to say between 25 and 75 € for a chicha (according to the tastes).
Location : The Dubai Mall 
Adress : Unit TF, Fashion Avenue Dubai Mall 3rd Floor – 005 Financial Center Rd – Dubai – United Arab Emirates
Opening hours : open every day from 10 am to 1 am
Phone : +971 800 48772 
Website : huqqa.com 
Huqqa Dubai is close to :
– The Dubai Mall
– Burj Khalifa 
– District Design