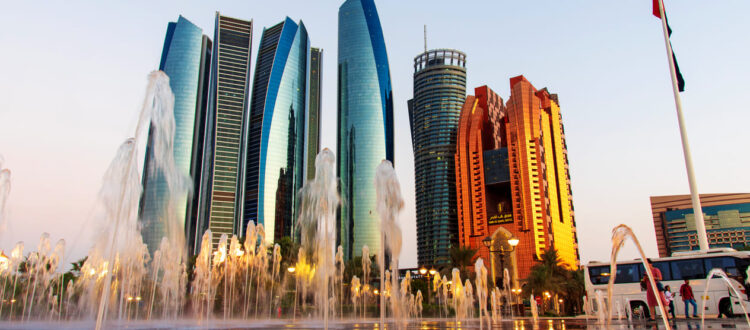 Activities to do with children in Abu Dhabi
Like Dubai, the city of Abu Dhabi is full of places to discover and visit. Whether you're traveling alone, as a couple, with friends or with your family, you'll find plenty of activities to enjoy. Cultural, entertaining, educational and fun outings created and tailored for children abound in Abu Dhabi. For a day trip or more, don't miss the must-do activities for kids to do in Abu Dhabi as a family.
1. Warner Bros World & Ferrari World
The Warner Bros. World park is made up of several attraction zones with different themes such as Caillouville, Gotham, Metropolis, Looney Tunes and Warner Bros. Children will quickly be immersed in the Warner Bros. universe and will meet Superman or Wonder Woman for example. In the park, there are restaurants and stores. It is also possible to stay at the WB Abu Dhabi, Curio Collection by Hilton located near the Warner Bros. There are 29 attractions in total.
The second park, also suitable for children, is Ferrari World. As the name suggests, the theme of this theme park is around Ferrari. Ferrari World has 19 roller coaster attractions, water rides and other attractions to experience on site. There are some that are only suitable for adults. Children have the opportunity to drive a small Ferrari Spider F430 GT and a small Formula 1 model. There are several Ferrari themed activities such as Nello's Adventureland, Turbo Tower, Formula Rossa Junior, Flying Wings, Speedway Race, Speed of Magic and also family activities such as Tyre Twist, Rc Challenge, Viaggio in Italia and many others to discover on site.
These two theme parks are the must-do's in Abu Dhabi. Don't miss out on a fun-filled time with your family. You will enjoy the grandeur and diversity of activities at Warner Bros World and Ferrari World.
There are spaces for coffee, lunch and snacks in both parks.
Warner Bros World
Address: Yas Island – Yas Leisure Dr – Yas Island – Abu Dhabi – United Arab Emirates
Opening hours: Mondays and Tuesdays open from 12:00 to 20:00, Wednesdays from 10:00 to 20:00, Thursdays, Fridays, Saturdays and Sundays open from 11:00 to 20:00.
Telephone: +971 600 511115
Website : https://www.wbworldabudhabi.com/
Ferrari World
Address: Yas Island – Abu Dhabi – United Arab Emirates
Opening hours: open Monday to Friday from 12pm to 8pm and from 11am to 8pm on weekends (Saturday and Sunday)
Telephone: +971 600 511115
Website : https://www.ferrariworldabudhabi.com/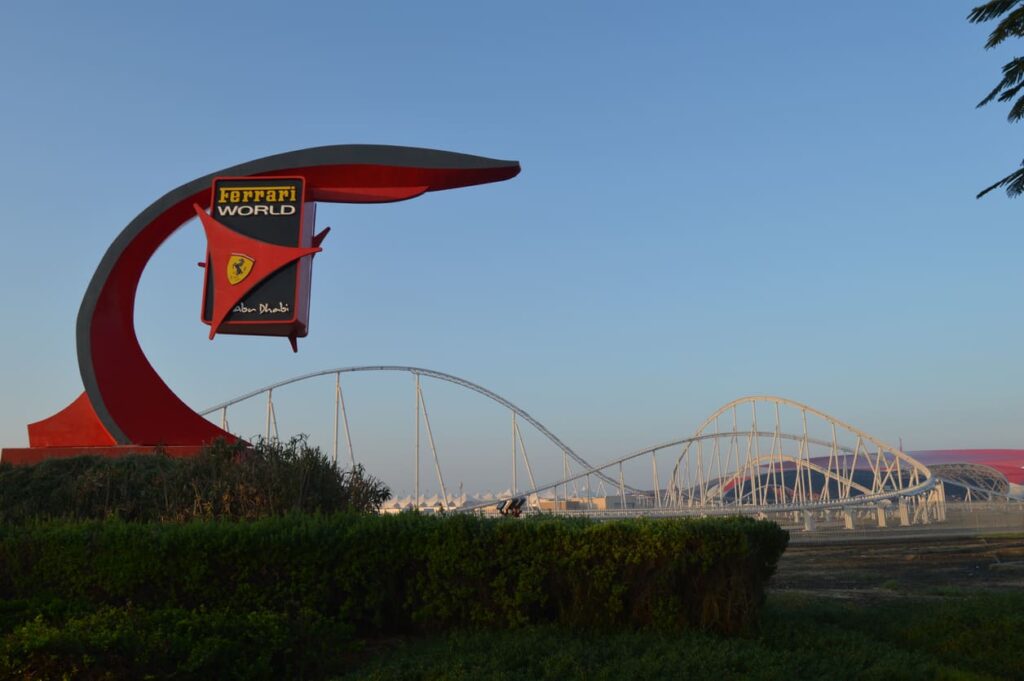 2. Trampoline at Bounce
Close to the Marina Mall, is this great place of entertainment. For young and old alike, Bounce is the perfect place to let off steam and expend energy. In a large area, there are 100 trampolines, a huge 40-meter long slide and two slacklines. In the Super Tramp area, on a field, you can play dodgeball and other games with your family. Bounce is a great place to let off steam and do family activities. Bounce has five rooms that can be rented to celebrate birthdays or other private events.
You can choose between several tickets (passes). There is the Freestyle Superpass which gives the right to enjoy the park for 1 or 2 hours, the Bounce All Pass which offers the possibility to spend the day in the park and the Bounce Multi Visit Passes which gives the right to come several times in the park. If you want to organize an event at Bounce, the Bounce Parties package is the right one for you.
Address: G Floor, Marina Mall – Al Marina – Abu Dhabi – United Arab Emirates
Opening hours : open from Monday to Friday from 10am to 10pm and from 12am to midnight on weekends (Saturday and Sunday)
Telephone: +971 4 304 9333
Website : https://bounce.ae
Ticket prices: https://bounce.ae/offers/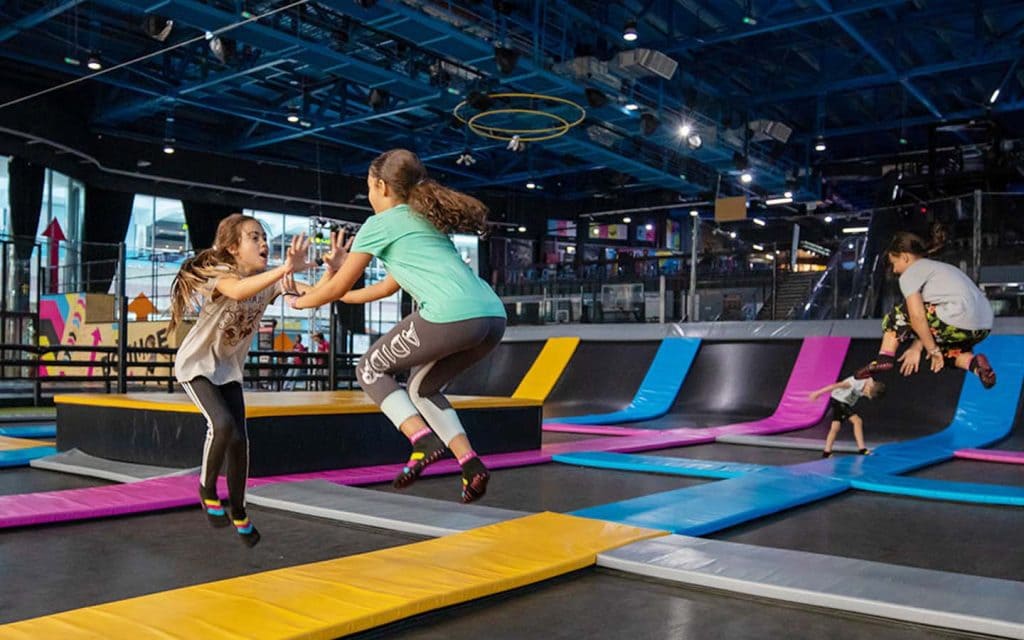 3. Discover marine animals at the Abu Dhabi Aquarium
Another activity, which will allow children to learn while having fun, is the Abu Dhabi Aquarium. The aquarium is organized into 10 immersive themed areas. It contains 330 different species. More than 46,000 aquatic animals live in this aquarium. This makes the Abu Dhabi National Aquarium the largest aquarium in the Middle East. You can see sharks, rays, corals and many other rare species.
As far as activities are concerned, there is one dedicated to children between 5 and 15 years old. The activity consists of role playing as a marine biologist at the National Aquarium. It is a guided program led by an educator that teaches children how to perform the daily activities of professional biologists, such as animal care, selection and nutrition of different species, monitoring their environment and how to enrich the lives of animals under human care.
Address: Al Qana – Rabdan – Al Maqta' – Abu Dhabi – United Arab Emirates
Opening hours : open from Monday to Sunday from 10am to 10pm
Telephone: +971 2 418 6666
Website : https://thenationalaquarium.ae
Ticket prices: https://tickets.thenationalaquarium.ae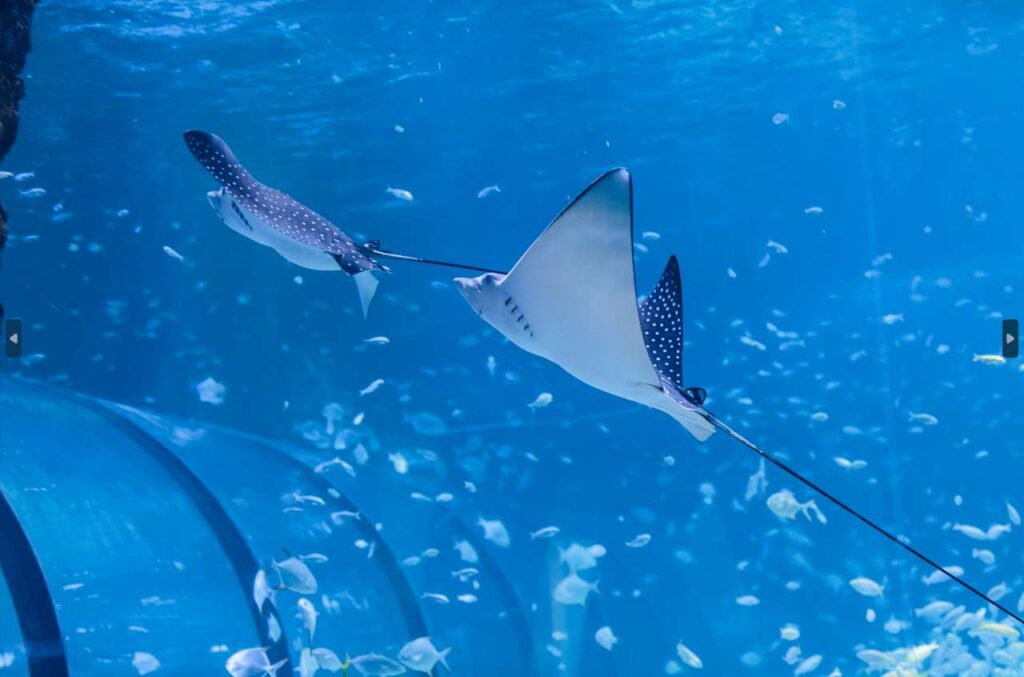 4. Visit the Louvre Abu Dhabi Children's Museum
Louvre Abu Dhabi, one of the UAE's iconic museums, is also a place that children will enjoy. Art is ageless and often entertains the little ones. Themed exhibitions designed and adapted to children are organized in this museum. A great way for the little ones to explore and learn about art in their own way. There are also artistic workshops to help children discover and learn about the world of art. The exhibitions for children are a mix of images, videos and sounds to create interactivity and make the experience fun and entertaining.
Admission for children under 18 is free. Children must be accompanied by an adult. After visiting the museum, you can have a snack with your family in the museum's café or restaurant. If the weather is not too hot, enjoy the outdoor terrace covered by a beautiful dome. Children will enjoy the open space for play.
Address: Saadiyat – Abu Dhabi – United Arab Emirates
Opening Hours: The Louvre Abu Dhabi is closed every Monday. It is open from Tuesday to Thursday from 10 am to 6:30 pm and from Friday to Sunday from 10 am to 8:30 pm.
Telephone: +971 600 565566
Website : https://www.louvreabudhabi.ae
Rates and reservations for the children's museum :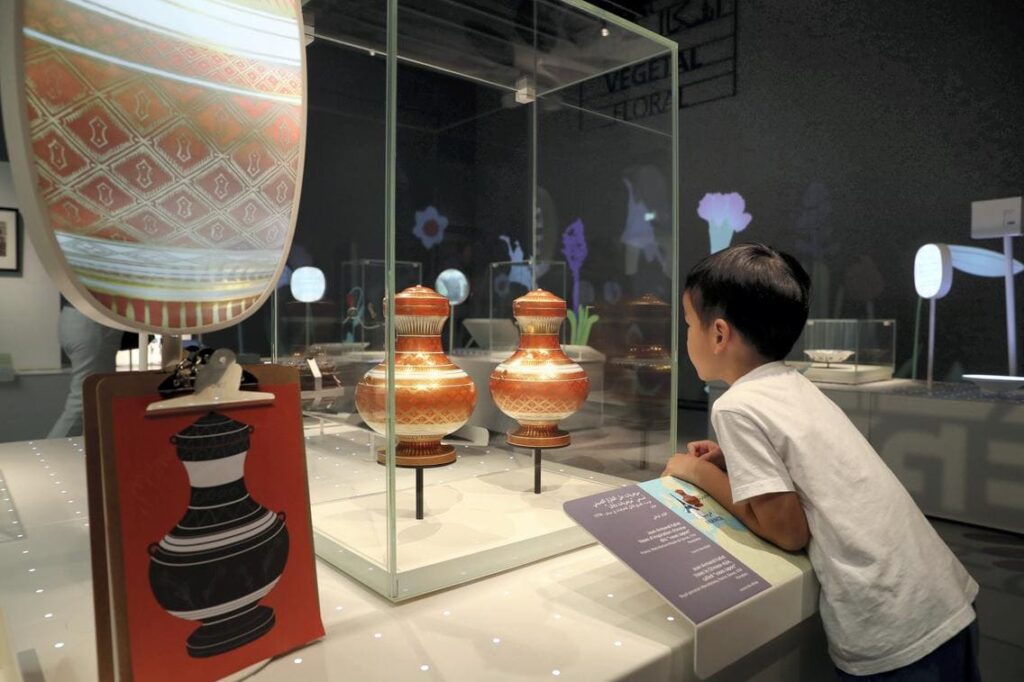 5. Stroll through the Grand Mosque Abu Dhabi
This grand mosque is a must-see in Abu Dhabi. It is also one of the largest mosques in the world. The visit can be done alone or with a guide for free.
It is the ideal place to learn more about the religion of this country. You can enjoy visiting it with your family. The architecture, the moldings, the colors, the basin, the call to prayer always fascinate the children. They can run around and enjoy the large courtyard of the mosque. It is also the place to make them discover the culture and religion of the country they are visiting. We advise you to go at the end of the day to enjoy the beautiful lights and the transition between day and evening on the mosque.
It is a beautiful place to take pictures. A great way to immortalize this family day in one of the most visited places in the United Arab Emirates.
Important information to know before visiting the mosque:
– It is mandatory to respect the religious and cultural codes before visiting the mosque. It is necessary to wear an appropriate dress: no shorts, no short skirt and the shoulders must be covered. Also, the head covered with a veil. You will get all the information at the entrance of the mosque. Dresses for women and men are available free of charge. Abayas (long dresses), veils for women and traditional dresses for men.
– Make sure your behavior is appropriate and in keeping with the place. It is important to respect the culture and religion of the people.
– Admission is open to all and completely free.
– He is allowed to take pictures of himself.
– It is not possible to visit the mosque during the Friday prayer. It is necessary to inquire about the schedules. They vary depending on the time of year.
Address: Sheikh Rashid Bin Saeed Street – 5th St – Abu Dhabi – United Arab Emirates Hours: Daily from 9am to 10pm (for visits).
Telephone: +971 2 419 1919
Website : https://www.szgmc.gov.ae/en/Home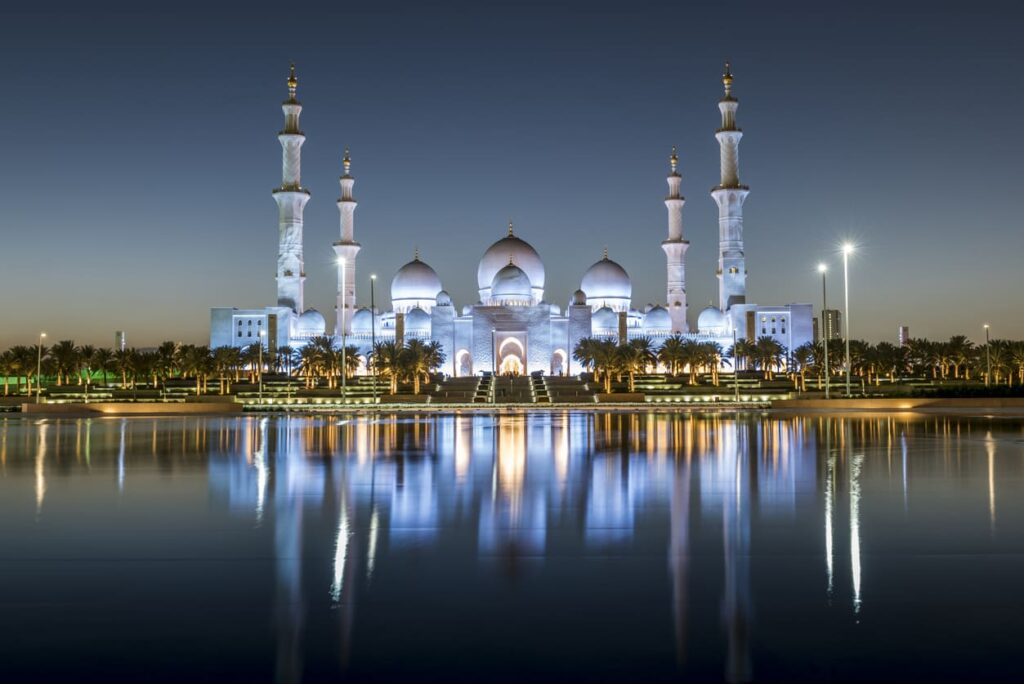 6. Go on a desert safari with your family
The desert safari is a must-do activity if you are traveling to the UAE. This activity is often suitable for children. You will explore the vast dunes and enjoy the breathtaking views of the Abu Dhabi desert. While waiting for the sun to set, activities include quad biking, sandboarding/surfing in the dunes, camel riding, etc. Followed by a barbecue dinner in a musical atmosphere in the desert. Some tour companies offer the option of sleeping under the stars in the desert. This is an experience that may well appeal to you.
A must-do activity in Abu Dhabi. The desert is different from the one in Dubai for example. That's why it's recommended to do it too. It is an unforgettable moment that you will share with your family.