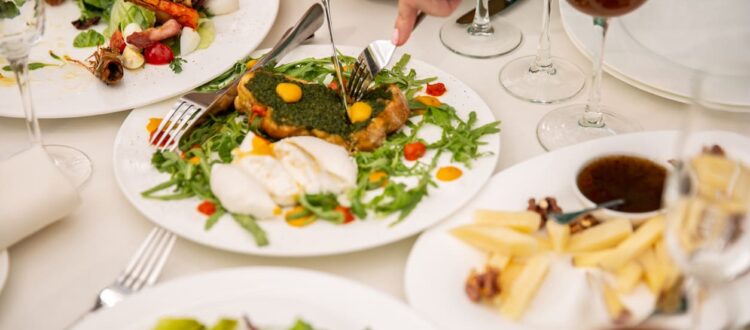 The 7 best brunches in Dubai
Dubai is a great place to live. It is not for nothing that residents feel like they are on vacation every day of the year. It attracts many tourists all year round for its beaches, good weather and wide selection of international restaurants.
On weekends, the ritual of the brunch is in vogue in Dubai. So don't miss out on a incredible culinary experience. Discover the Dubai's most popular brunches with world flavors. Whether it's poolside, in a prestigious hotel or restaurant, you'll find the right brunch for you among our seven recommendations. 
1. The Caterer
Catering Brunch is located at the Park Hyatt Dubai. Called the "Park Brewery" by the regulars, this upscale restaurant offers fresh seafood brunches such as crab, lobster, clams, caviar and also oysters. The menu also includes meat dishes, fruits, drinks and many other choices. 
The interior is a kind of brasserie in a blue and white decor. As for the outside, it is in a spacious terrace that you will take place giving a superb sight on the Marina.
Come and enjoya high quality brunch in an elegant setting with live music. A place where it is good to have fresh, quality and tasty products. It is also possible to have breakfast every day of the week. The Caterer was elected best place for brunch, several times by Time Out Dubai.  
Address: Dubai Creek Club Street Park Hyatt Dubai – Dubai – United Arab Emirates
Schedules
For brunch: open on Saturday from 1:00 to 4:00 pm
Catering: Monday, Tuesday, Wednesday, Thursday, Friday and Sunday from 06:30 to 11:00
and Saturday from 6:30 to 11:00 a.m. and from 1:00 to 4:00 p.m.
Phone : +971 4 602 1814
Website : https://www.hyattrestaurants.com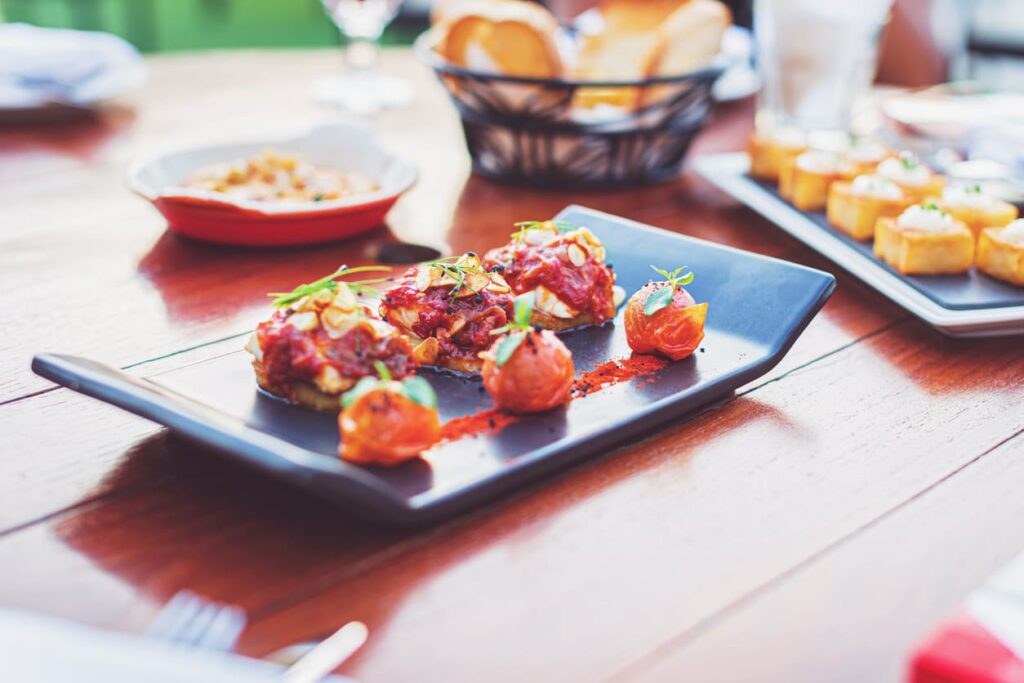 2. The Coya
Located in the Four Seasons Resort DubaiThe Coya is a very popular and trendy place in Dubai. It is known to be thehe best place to brunch on exotic Latin American specialties. 
You will be able to enjoy various dishes of the Peruvian cuisine such as arroz nikkei, beef chops or patatas bravas. A wide choice of cold drinks with or without alcohol and also hot drinks are offered. Finish your brunch with a sweet note among the desserts on the menu such as Churros de Naranja, the Cheesecake of Lima or the Paleta de Piňa Colada. 
Enjoy a meal in a traditional and elegant setting. A decoration with the colors of Peru will make you travel immediately. We guarantee you an immersive experience in the Peruvian culture. Whether it's the cuisine or the atmosphere of the restaurant, Le Coya will not leave you indifferent.
Address: Restaurant Village Four Seasons Resort – Jumeirah Beach Rd – Jumeirah 2 – Dubai
Schedules: Every Saturday from 12:30 to 4:00 pm, Le Coya opens its doors for brunch. Don't forget to reserve your place.
Restaurant hours : open Monday to Sunday from 12:30 to 01:00.
Phone: +971 4 316 9600
Reservations : sevenrooms.com
Website : https://coyarestaurant.com/restaurants/dubai/
3. Bubbalicious, Westin Mina Seyahi
Located at the The Westin Dubai Mina Seyahi Beach Resort & Marina, Bubbalicious is a place very popular for the quality of its brunch. 
An incredible continental brunch featuring a variety of dishes prepared by three of the hotel's finest restaurants: the Baba, Mina's Kitchen and Sui Mu. 
The diversity of the dishes is the strong point of this restaurant. On the menu, you can choose from red meat dishes, seafood, sushi, vegetables and also desserts. There is also a wide choice of appetizers and vegetarian dishes in the buffet. International cuisine that makes all the difference.
In a lively and friendly atmosphere, you will spend a pleasant moment with your family, friends or couple. Bubbalicious is adapted to children. There are spaces arranged for them and also a brunch which could be appropriate for them.
It is often sold out, so be sure to make your reservation.
Address: King Salman Bin Abdulaziz Al Saud St – Dubai Marina
Brunch Schedule: open every Saturday from 1:00 pm to 4:00 pm.
Phone: +971 4 399 4141
Website : http://www.blueorangedubai.com/en/bubbalicious-brunch
4. Bla Bla Dubai
Located in the Jumeirah Beach Residence area, Bla Bla Dubai is a good spot for a casual brunch. The setting offers comfort and a beautiful view of Ain Dubai and JBR. 
On the menu, a selection of Italian and Japanese dishes Sushi, rolls, fried chicken, salads and many other choices. During the brunch, all drinks like sangria, beers and also soft drinks are on unlimited consumption.
Sit on a lounge chair by the pool and enjoy your brunch. Brunch is not a self-service buffet like many restaurants. You will be served directly to your lounge chair. The atmosphere is pleasant and a DJ is present every Saturday to animate the afternoon. Every Saturday from 12 to 3 pm, come and have brunch and fun at Bla Bla Dubai.
If you're looking to have brunch, relax by the pool and have fun, Bla Bla Dubai is the place for you. This is a very trendy place in JBR, so be sure to make a reservation. 
Address: 5101 Messer Street Beach by Meraas Mall – Jumeirah Beach Residence – Dubai
Whatsapp: 971 58 606 3535
Phone: +971 4 584 4111
Website : www.blabladubai.ae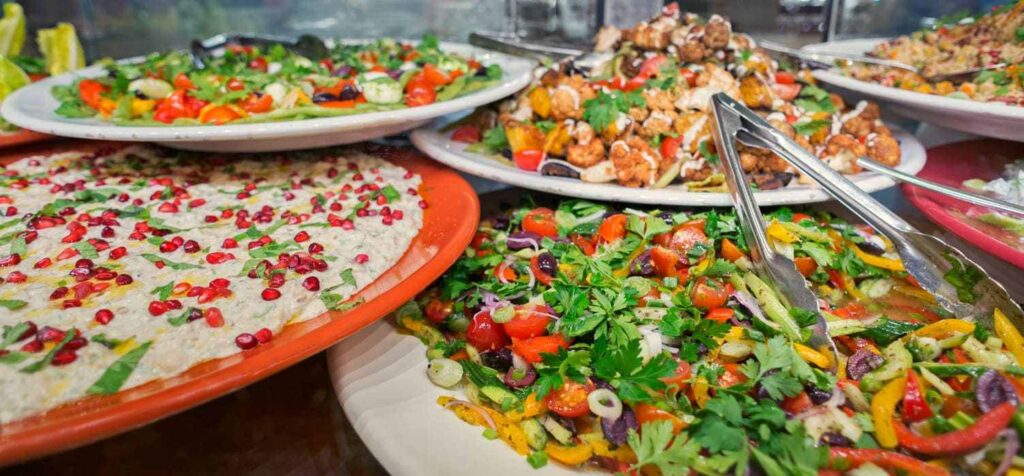 5. La Cantine du Faubourg's Brunch 105
In the heart of the Jumeirah Emirates Towers, La Cantine du Faubourg is a big success in Dubai since its opening. This French restaurant is also known for its gourmet brunches, Le Brunch 105. 
Traditional and modern dishes are on the menu. Starters such as eggs benedict, salmon tartar, salads, meat and non-meat dishes and not forgetting French desserts such as the Tarte Tropézienne.
They offer three brunch packages. The first one includes non-alcoholic cocktails, fresh fruit juices, soft drinks, hot drinks. The second, a choice of red, white and rosé wines, beer, Ibiza Spritz, St Tropez Spritz, Mykonos Spritz. Then the third formula includes sparkling Sangrias, Champagne Moët & Chandon and Gin Mare.
In a modern and chic decor, come and have brunch at La Cantine du Faubourg. Brunch is available every Saturday and Sunday from 12:00 to 17:00. Classy and elegant attire is required.
Address: 05 Jumeirah Emirates Towers Hotel,
1st Floor, Sheikh Zayed Road
Reservation by phone or e-mail.
Phone: +971 4 3527 105
E-mail: book@lacantine.ae
Website : https://lacantine.ae
6. Bab al Mansour
The famous chef Choumicha Chafai is known in the Arab world for her cooking show and also for her great restaurant Bab El Mansour in Dubai.
Bab El Mansour offers a setting worthy of a Moroccan riad with its traditional and modern decoration. As soon as you enter the restaurant, you are welcomed by a staff with Moroccan hospitality. 
Moroccan brunch is composed of sweet and savory dishes. From specialties of certain regions are on the menu. The vocation of Bab El Mansour is to preserve the heritage and richness of Moroccan cuisine. For breakfast, you will find a selection of Moroccan breads such as the Msmen, Harcha or the Baghrir, egg tagines with dried meat or tomato, or Barkouchfresh orange juice and not to forget mint tea. 
And it's no surprise that this restaurant is named the best Moroccan restaurant in Dubai: quality organic products and authentic Moroccan cuisine. The service is worthy of a starred restaurant. So don't miss out on this must-see brunch address. 
Address: Loft East, Sheikh Mohammed Bin Rashid Boulevard Road, Downtown, Dubai
Remember to make reservations before you go.
E-mail: info@babalmansour.ae
Phone : +971 4 350 9440
Website : https://babalmansour.ae
7. Al Muntaha – Burj Al Arab
In the Burj Al Arab tower you will find one of the most prestigious restaurants in Dubai. 
Al Muntaha, rhe Michelin-starred restaurant offers a breathtaking view of Jumeirah Beach. A French and Italian gastronomic cuisine cuisinated by the famous chef Saverio Sbaragli. On the menu, various dishes based on beef, duck, lamb, lobster, scampi… And other dishes that will delight your taste buds!
If you are looking for a memorable culinary experience in Dubai, reserve now at Al Muntaha. The service is first class, the dishes are creative and refined, not to mention the atmosphere which is classy and pleasant.
The restaurant is often fully booked, so be sure to make your reservation in advance.
Address: 27th floor,Burj Al Arab Jumeirah – Jumeirah St – Dubai
Phone : +971 800 323232
Reservations : sevenrooms.com
Website : https://www.jumeirah.com
After brunch, why not plan a day at the beach or pool? If you want to have brunch at one of the hotels, consider booking a day at their private pools for example. Plan a leisurely stroll along The Walk or to the Dubai Marina. There are many activities and events on weekends. You'll probably find something you like.