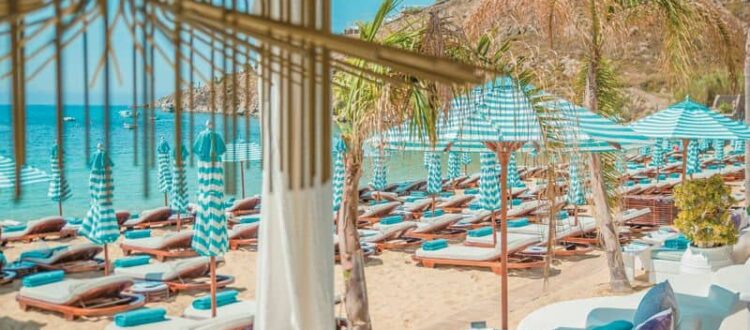 Nammos, the private and elegant beach club in Dubai
Among the seven emirates, Dubai is the city that is known for its beautiful beaches, private pools, places to party and have a drink. Night and day, there is always something to do in Dubai. It is the city where it is difficult to get bored. Whether it's a family vacation, a couple, friends or a business trip, the city is designed to please everyone. During your stay, give yourself a moment of respite with your feet in the sand.
And why not treat yourself to a day of rest in a private Beach Club? In Dubai, it is customary to spend weekends, weekends or vacations by the pool or on the beach at a private Beach Club. Most of them are located in large hotels or near iconic structures in Dubai. If you are looking for a quiet and relaxing, festive or family atmosphere, you will have no trouble finding the right place for you.
The list is long, but a few beach clubs make the difference in terms of service, facilities and high-standing. Among the must-see is Nammos Beach, which is one of the most famous and popular beach clubs in Dubai.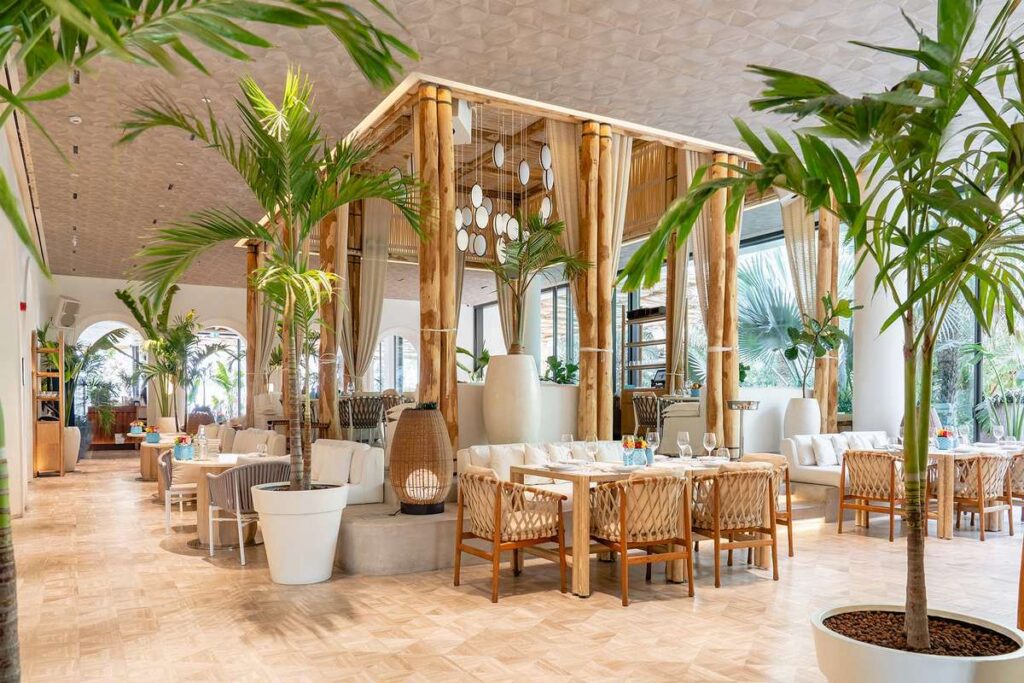 1. Nammos Beach : an atmosphere like in Mykonos in Dubai
Located in Jumeirah at the Four Season Resort, with fine white sand and turquoise blue water, Namos Beach offers a heavenly setting. It feels like a Greek island. And this is not by chance. Indeed, Namos comes straight from Mykonos. On the beach or by the pool, take a seat on an individual or double deck chair, or on one of the sofas for several people. You'll enjoy the simple, uncluttered setting of the private Beach Club. The blue touch of the umbrellas, reminds us of the colors of Greece.
Enjoy a day of rest and fun in the sun in a vacation setting. On weekdays or weekends, Namos Dubai always has a festive and vibrant atmosphere. It's the perfect place to have lunch, a drink and a chicha with your feet in the sand. You can also book and dine at night in the restaurant area. In addition to being a private Beach Club, it is also a restaurant specializing in seafood, served in a trendy space, with a shisha lounge that offers an incredible view of the beach.
2. Restaurant, bar and chicha at the Beach Club
There is an indoor restaurant area decorated in the same style as the beach club concept, with natural wood furnishings, bohemian-style decorative elements and off-white linen and cotton fabric. Green plants bring naturalness and freshness to the place. Creative and authentic gourmet cuisine is served at Nammos Dubai. There are starters and dishes based on seafood, others with meat cooked with fresh vegetables
The menu also includes Italian specialties such as pasta, burrata, pizza, Japanese specialties with sushi platters, sashimi and of course Greek specialties with the famous feta salad. Seafood is also on the menu. There are dishes suitable for vegetarians.
Nammos Dubai offers high quality blends and flavors of traditional shisha tobacco. In a luxurious yet comfortable setting, you will be immersed in the atmosphere of Middle Eastern shisha. Sit back and ask the waiters and hookah experts for advice on which flavors to choose. This is one of the tastiest experiences you can have while in Dubai and is not to be missed.
Website: https://www.nammos.com/gastronomy
Reservation : https://www.nammos.com/contact
3. Four seasons: the hotel that combines luxury and minimalism
Nammos, the Beach Club, is within the Four Seasons Hotel. It offers a luxurious setting and an authentic and unique experience. The rooms offer a breathtaking view of the oasis and the sea ranging from a single room to a deluxe suite. The rooms are all equipped for comfort and to meet the needs of each guest. The hotel is also known for its other services such as its restaurants and its Spa. You can take advantage of accumulating a full day to experience the different offers they have to offer.
After a morning at the Beach Club, you can continue your day of relaxation by booking a Spa session with a traditional hammam followed by a Thai massage and a facial for example. You will find the details of the services on the website. Then, you have the choice to have a drink or to dine in one of the gourmet restaurants of Four Season? You can choose between several types of restaurants and bars, each with a different menu and atmosphere. So you can enjoy a day by the pool and a great dining experience at the same time.
Remember to check the list of restaurants and make your reservation in advance.
Website : https://www.fourseasons.com/dubai
Hotels : https://www.nammos.com/nammos-hotels
Reservation : https://www.nammos.com/contact
4. Events and other celebrations
It is also the ideal place to attend exceptional events that are organized at Nammos Dubai such as concerts of international singers like Enrique Iglesias, Dany Brillant or Mohamed Ramadan, evenings animated by DJs and other themed parties organized throughout the year. It is also possible to celebrate a private event such as a wedding, an EVJF, a birthday or another celebration. Just contact the Nammos Dubai team and submit your request.
Website : https://www.nammos.com/events
Reservation : https://www.nammos.com/contact
Phone : +971 58 121 0000
Important information:
Nammos Dubai (Beach Club) is only open to adults from 21 years old.
It is strongly recommended to book in advance
It's a very festive place. If you are looking for a very quiet place, this is not the place for you. You will find other private beach clubs in Dubai that offer what you are looking for
Casual chic is required to enter Nammos Dubai
It is allowed to drink alcohol. There is a bar that offers alcoholic drinks such as wine, champagne and also cocktails.
Contact
Situation : Jumeirah 2
Adress : Beach, Four Seasons Resort – Jumeirah – Jumeirah 2 – Dubai – Émirats arabes unis
Hours: for the beach part, it is open every day from 11 am to 7 pm and for the restaurant part from 12:30 am to 2 am.
Phone : +971 58 121 0000
Website : https://www.nammos.com/dubai/beach-life
Reservations : https://www.nammos.com/dubai/contact
Nammos Dubai is located next to some great spots. After a day of chilling out and listening to music, you can stroll through the Jumeirah district and watch the sunset at one of the city's must-see rooftops or on the public beach at Jumeirah beach. There are also other places to have a coffee at City Walk or La Mer, eat or party. For those who like to shop, it is possible to do so in the evening until around midnight, depending on the neighborhood. The Mercato Mall and the Marina Shopping Center are close to Nammos Dubai.