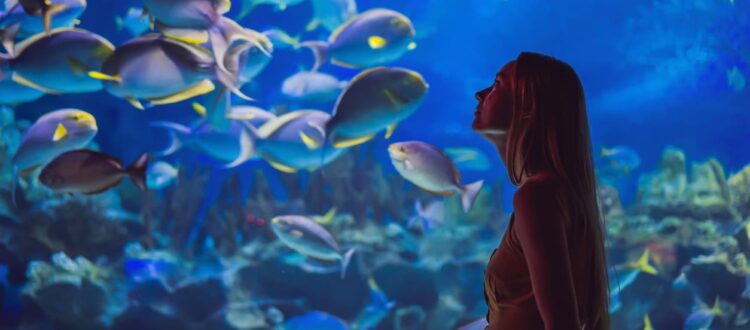 Must-do activities to do with children in Dubai
Dubai is a destination that is suitable for everyone. It can be a destination for honeymooners, young people who want to party and also for families. There are activities you should not miss if you are visiting Dubai or planning a family vacation. If you are traveling with children, the activities are many and varied. We recommend that during your stay in Dubai you do these must-do activities in Dubai with your kids. 
Swim with Dolphins at Atlantis Water Park
From a young age, children have a lot of dreams. Among others, that of see the animals that they have seen in cartoons or books. The one in swim with dolphins is one of the most recurrent dreams. Why not do it during your trip to Dubai? This experience is open to children from 8 years old. You will be able to swim and interact with dolphins with your child. In addition to living a new experience, it is also a beautiful moment of sharing that you will live together. 
If there is one place that is ideal for this experience, it is Atlantis Dolphin Bay. This is theiconic and child-friendly location to do this activity. The experience with the dolphins lasts 30 minutes. There is also the experience of swimming with dolphins in deep water (3 m). The advantage is that you can combine swimming with dolphins with a day at the hotel's water park. 
Address : Atlantis The Palm – Crescent Rd – Dubai – United Arab Emirates
Opening hours : open every day from 9:30 am to 6:00 pm
Telephone: +971 4 426 0000
For all information and ticket purchases : atlantis.com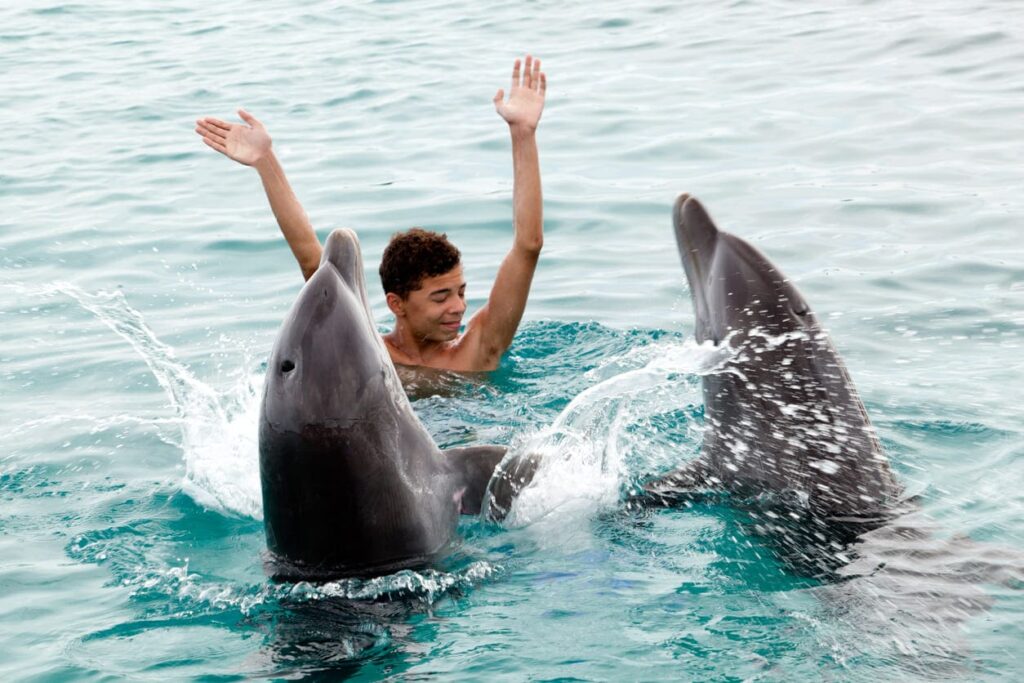 Dubai Aquarium and Underwater Zoo
Visit the aquarium and the underwater zoo are a must if you are visiting Dubai. Located in the Dubai Mall, it is one of the largest indoor aquariums in the world which includes a wide variety of marine species such as sharks, exotic fish, raysetc. It is an activity that is suitable for adults and children. You can do it with your family. It is a long crossing in the form of a glass tunnel. 
After visiting the aquarium, continue your day with the visit of the marine zoo. These two activities are complementary and are worth the time to visit. 
The marine zoo is arranged in three zones: Rocky Shore, Living Ocean and Rainforest, respectively the rocky coast, the living ocean and the rainforest. The marine animals live in their natural state. Then finish with the option offered in the explorer packageThe simulator in the glass boat. A guide will accompany you and explain everything you need to know about the aquarium and the underwater zoo.
For a complete experience, opt for the explorer package (passage in the tunnel and underwater zoo). 
The experience is suitable for children. 
Free for children under 2 years old. Children under 16 years old must be accompanied by an adult (16 years and older).
To avoid the queue, consider book in advance and get your tickets. 
Address: Dubai Mall
Opening hours : open every day from 10 am to 10 pm
The last entry accepted is at 9:15 pm.
Phone: 800-38224-6255
For further information and to buy a ticket: http://www.thedubaiaquarium.com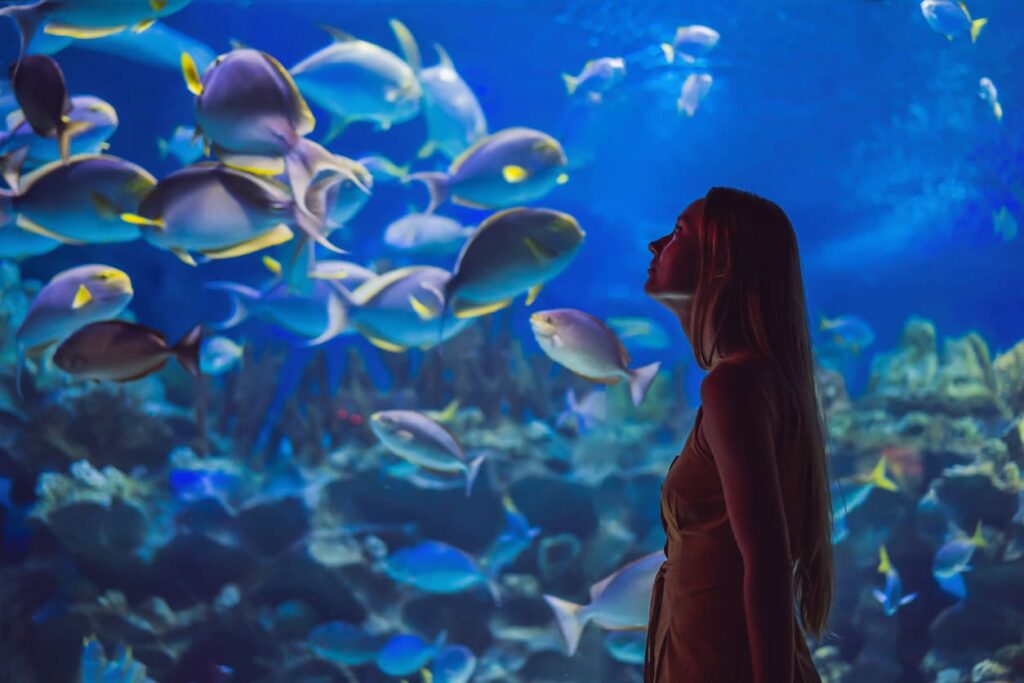 Discover the jobs at Kidzania
Located in Dubai Mall, Kidzania is a place totally imagined and created for children. Kidzania is a prefabricated city of 7000 m2 where there is a forty or so activities. They are focused on role-playing around professions such as firemen, policemen, doctors, dentists or even chef, pilot, salesman, etc.
The infrastructure, the equipment, the music, everything has been transcribed as in the real places of these trades. The child feels like a grown-up. He chooses to do the job of his choice, to have fun with the other children and discover new things. Open to children ages 2 to 16, it is the place where the child has the opportunity to learn while having fun. There is a reason why this fun activity appeals to so many children. 
During the year, they organize theme days. The program is shared on their website and on social networks. Remember to check before booking to avoid missing an event.
Information:
It is possible to organize a birthday party at Kidzania
Admission is free for babies from 0 to 1 year old. 
It is strongly recommended to book online. 
Only children between the ages of 2 and 16 are allowed to participate in the activity.
Address: Dubai Mall
Opening hours : open every day from 10 am to 10 pm
The last entry accepted is at 9:00 pm.
Phone: 800-38224-6255
For further information, please contact https://dubai.kidzania.com/en-ae
Here is the link to buy the tickets: https://tickets.kidzania.ae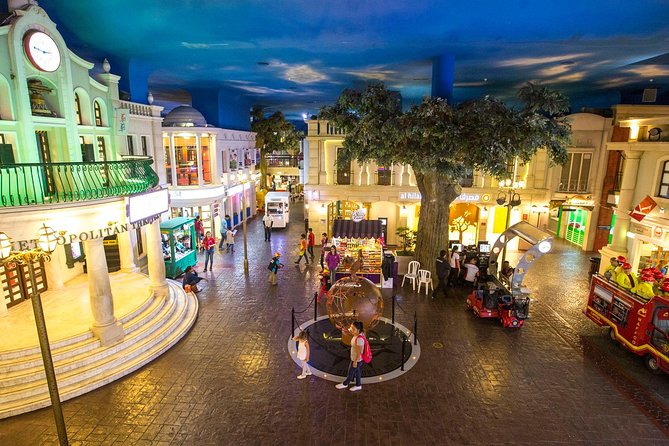 Skiing all year round
Did you know that it is possible to skiing in Dubai ? It is in the shopping center of Mall Of Emirates that is the ski slope. In fact, it is one of the most popular activities in the city. The advantage is that it is possible to ski all year round. So it is not a seasonal activity like in the mountains. 
You can ski with your family. Children from 2 years old can also go on the slopes. It is possible to fski, snowboard and luge area. 
It is possible to buy a pass for a few hours or for a day. The pass includes the entrance, ski rental, ski clothes (jacket and pants), socks and a locker for your personal belongings.
Important information:
Children between the ages of 2 and 8 may only enter with an adult.
The activity is not suitable for children under two years old.
It is necessary to a level 2 to access the slopes, otherwise you can participate in the course offered on site. 
Please note that the cut-off time for entry is 9:30 p.m. from Monday to Thursday and 10:30 p.m. from Friday to Sunday
Address : Mall Of Emirates – Sheikh Zayed Rd – Al Barsha – Al Barsha 1 – Dubai – United Arab Emirates
Opening hours: open Monday to Thursday from 10 a.m. to 11 p.m., Friday from 10 a.m. to 11 p.m.
00 h 00 and Saturday / Sunday from 09 h 00 to 00 h 00.
The last accepted entry is at 9:30 pm (on weekends).
Telephone: +971 600 599905
For further information, please contact https://www.skidxb.com/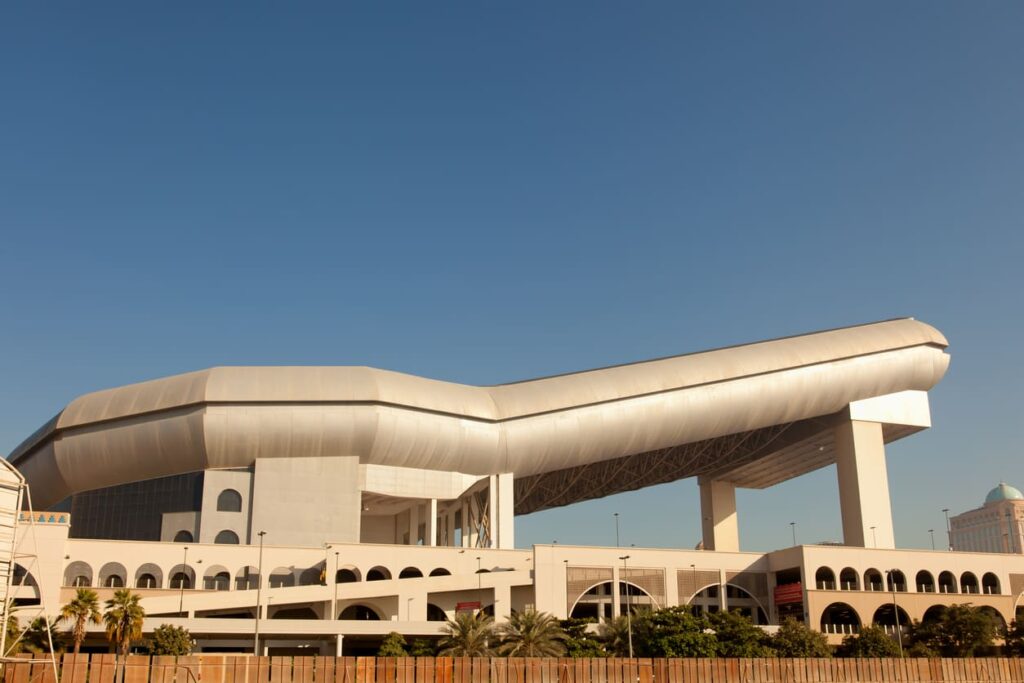 Fun in water parks
You will be impressed by the grandeur of the water parks in Dubai. Each park has its own atmosphere, is distinguished by its attractions and has various slides, pools and activities. There are several water parks in Dubai, but we advise you to go to the following parks which are suitable for children.
The Wild Wadi Park is a open-air water park. It has several rides, slides with different speeds controlled by water pressure.
Inside you will find lockers to store your belongings, changing rooms to change clothes, showers, places to eat, drink and take a break. The park is set up to make sure you have a great day. Remember to get your ticket in advance to avoid the line on the day.
ATLANTIS PARK
In the Palm Jumeirah is the iconic Atlantis Palace. Aquaventure Atlantis Park is located in this hotel complex. It is the largest water park in the world. It stands out from the others by its large number of slides and attractions. The particularity of this park is that the entrance gives you access to the private beach of the hotel. 
The park is suitable for families with children. Children from 3 years old can take part in the water adventure. There are also other children's areas in the hotel. 
LEGOLAND WATERPARK
In the Lego themethis park is intended only for families with children from 2 to 12 years old. The water park has 20 Lego slides and attractions. This is a simple and smaller park than the previous two, but will appeal to children who are Lego fans. 
Address : Parks & Resorts – Sheikh Zayed Rd – Dubai – United Arab Emirates
Opening hours: open every day (except Wednesday) from 10 am to 6 pm.
Telephone: +971 4 820 3123
For all information and ticket purchase : https://www.legoland.com/dubai/
Boarding an abra in the DUBAI CREEK
We share with you a means of transportation that also serves as an exotic activity. Embark on an Abra, it is a wooden boat. The stroll on the creek of Dubai allows you to go from Deira to Bur Dubai. Children love to go on a boatso enjoy with them. This is a great way to introduce the visit to the qtraditional neighborhoods of Dubai. You can then continue your day at visit and shop in the souks. 
Address: The Khor Dubai or Dubai Creek
Price: less than one euro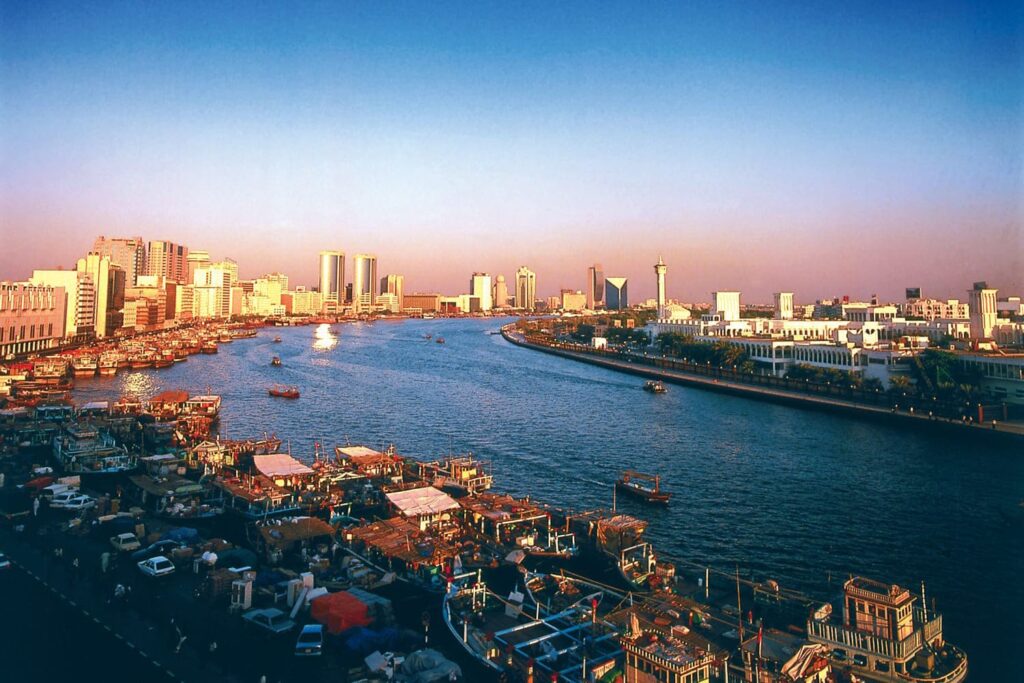 Spend a day at a private pool and beach
All year round in Dubai, it is possible to and enjoy the outdoor pool. It is partly for this reason that Dubai has been voted several times the best seaside destination. In addition to the public beaches and swimming pools, it is possible to enjoy the hotel beaches and swimming pools for a fee. You can benefit from a quality service, equipment adapted to children, deckchairs, restaurantsetc. They can have fun, swim and relax by the pool. It is possible to eat on site. In hot weather, the pool is a good activity to do.
There are open and child-friendly hotels who have even thought of reserving spaces just for the little ones. The atmosphere will be adapted to families unlike other beach clubs where it is more festive. 
You can book a day at the beach and private pool at Jumeirah Beach Hotel, Riva Beach club, JA The Resort, Jumeirah Zabeel Saray and The Ritz-Carlton Hotel or Club Mina. 
Spend the day at Dubai Parks & Resort
It is a large theme park complex. There is also a water park. It is a bit like the Disneyland park. The diversity of the parks will make every child happy. Each park has a different theme: Legoland® Dubai, Legoland® water park, Motiongate™ Dubai, Bollywood Parks™ Dubai and  Riverland™ Dubai. The parks are very suitable for children. And it is exclusively for them. 
There are often events that are organized in the parks. Take advantage of this day to bring your children. They will be able to enjoy the games and the theme of the day.
Address : Parks & Resorts – Sheikh Zayed Rd – Dubai – United Arab Emirates
Opening hours: open every day (except Wednesday) from 10 am to 6 pm.
Telephone: +971 4 820 3123
For all information and purchase of tickets : https://www.dubaiparksandresorts.com/en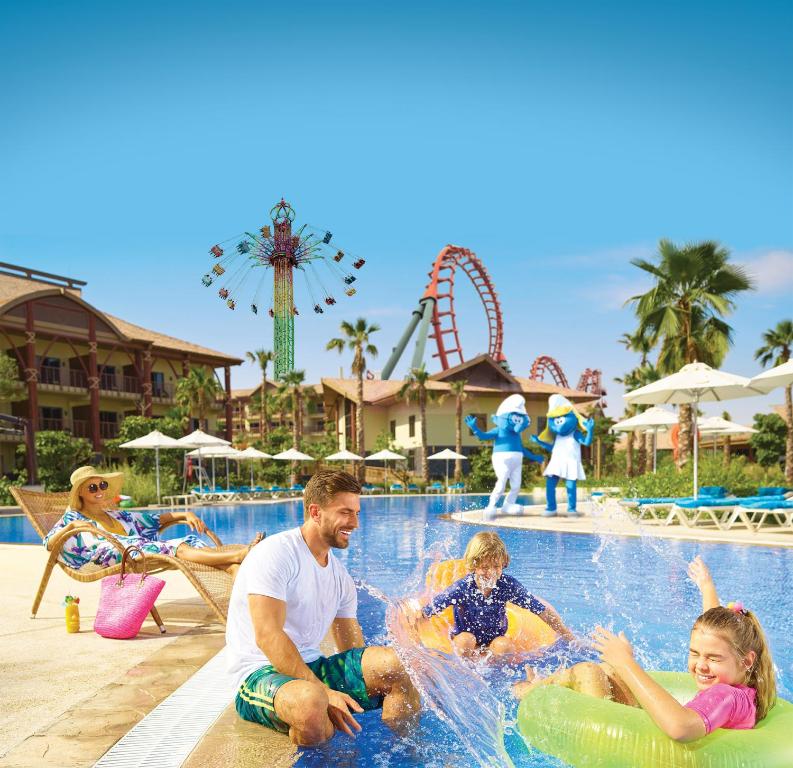 Wonder in the desert of Dubai
For a complete change of scenery, we strongly advise you to go to excursion in the desert with your children and family. There are several activities offered on site and by the agencies that organize this excursion. Most of them propose a camel ride, quad biking, show and dinner in the open air. This adventure will remain a beautiful memory for all. Children will be able to have fun, play and run in the sand. A moment of total freedom that will do them good. 
If you want to live the adventure until the end, you can opt for sleep one night in the desert. 
Dubai is a city for everyone. There are activities for all ages, for all the ambiences and comfort you are looking for. You will see that thehe quality of service is at the heart of from all kinds of places, whether in restaurants, hotels or stores. You can have a great family vacation in this UAE city. After a family activity, you can continue your day with a family lunch or dinner in one of the restaurants of the Marina or Downtownto do a little bit of shopping and watch the Fountain show at the Dubai Mall or drink a cold drink in the Citywalk neighborhood. If you are on vacation during the Global Villagedon't miss this great fair which is held every year in Dubai.