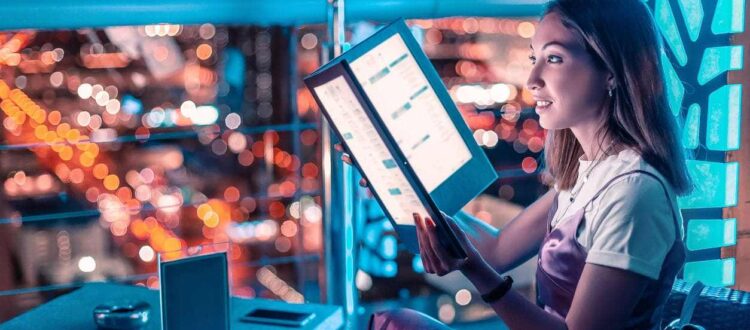 12 ideas for nightlife in dubai
What to do in Dubai at night? First of all, you should know that Dubai is a city that lives by day and by night. The malls are open in the evening, the stores close very late and the restaurants and bars are sometimes open until the early morning.
The city has no shortage of activities to do in the evening. Whether you are with your family, your partner or your friends, you will find among our selection, an activity to do in the evening in Dubai.
1. Go shopping
You didn't have time to do your shopping during the day? Don't panic, you can do it in the evening. Indeed, it is customary in Dubai to shop in the evening. You will see that the malls, shopping malls, are filled as during the day. Families, including locals, come to the mall to eat, go to the movies or meet for coffee for example. It's lively and pleasant.
Depending on the area you are in, there is probably a mall. But don't miss to go to the Dubai Mall which is located in the Downtown area, near the Burj Khalifa, but also Mall of Emirates in the Marina district and many others shopping malls and open spaces like City Walk. 
Dubai Mall: https://thedubaimall.com
Mall of Emirates: https://www.malloftheemirates.com/
City Walk: https://www.citywalk.ae
2. Dinner cruise in the Marina, evening in a yacht
Come aboard a yacht or a boat for a special evening. A romantic dinner or to spend a good time with your loved ones, all reasons are good to live this experience. On board a boat, enjoy your dinner admiring the sites of the marina of Dubai illuminated during the cruise night.
In buffet style, you will have the choice between several international dishes, traditional dishes and sweets to satisfy all palates. Soft drinks are also available on board.
Several agencies offer this service. Your choice will depend on the desired atmosphere: romantic, festive or family. We advise you to book the time slot of one hour before sunset. This will allow you to enjoy the end of the day and the evening by attending the transition.
3. Fountain show at the Dubai Mall and climb the Burj Khalifa to see the city lit up.
Downtown is one of the busiest areas in Dubai. Day and night, the area is lively. Known especially for the Dubai Mall, one of the largest shopping malls in the world. 
Every evening, starting at 6 p.m. and every 30 minutes, the show. The colored and illuminated jets sway to the rhythm of a range of melodies that will leave you spellbound. This is not a simple tourist attraction. It is a a real open air show with the Burj Khalifa illuminated in the background. 
Website : https://thedubaimall.com/
After the fountain show, you can go up in the Burj Khalifa. This tower is the tallest structure ever built. Many prefer it from the outside and others enjoy climbing it and seeing the Downtown area from above. 
For those who wish to go up the Burj Khalifa in the evening, you can do so from 7pm until closing time, last entry at 11pm. Remember to book online.
Website : https://www.burjkhalifa.ae/en/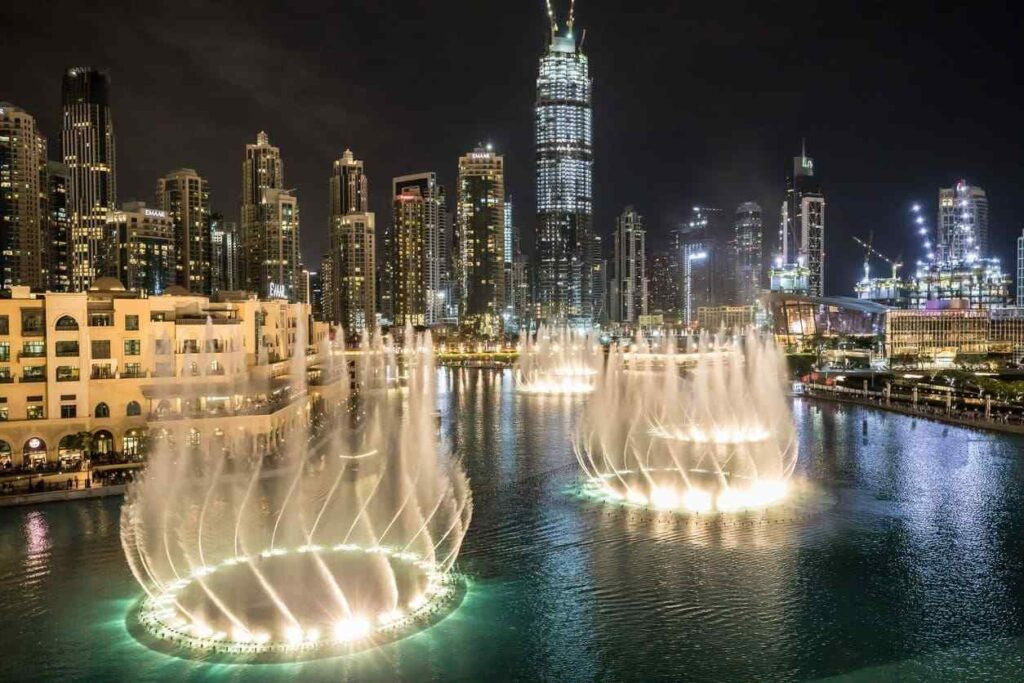 4. Bars, rooftop
Dubai is a great place to party with friends, couples or family. There are many rooftops, bars, discotheques throughout the city. There is no shortage of places to have a drink in a musical atmosphere, rooftops and shisha bars in Dubai. Whether it's in an intimate setting or a more festive one, you'll find the right place for you. 
In almost all the famous hotels, whether in the Downtown, Marina or JBR area, it is possible to book and spend the evening in their rooftops and bars.
You will be surprised by the beauty of Dubai illuminated. There are themed bars and international bars where events are often organized. So make sure to book and have an unforgettable evening.
5. Party
Dubai is a city with an endless number of bars and nightclubs. You won't have any trouble finding a night out, even on weekdays. Most of the bars and nightclubs in Dubai are located in the hotels, as they are the only facilities that can serve alcohol. This is not a bad thing, as you will also benefit from the quality service of the hotel. 
The nightclubs stay open until about 3 am. Often in an international atmosphere, you will have the opportunity to meet witheeting with people from all over the world. If you prefer a specific atmosphere, there are many theme bars: Latino, Oriental or Irish for example. 
6. Global village
The whole world in one place, welcome to Global Village. Every year from October to April, the Global Village opens its doors. Millions of visitors come every year. Organized in different pavilions by country, it is a real immersive journey into different cultures. You will find stands of street foodThere will be products, ready to wear, decoration to buy and also dance and music shows and many other events. 
It is the ideal place to discover cultures from around the world. The fair stays open until very late in the evening. 
Website : https://www.globalvillage.ae
Address: Sheikh Mohamed Bin Zayed Road and Emirates Road – Exit 37 – E311 – Dubai – United Arab Emirates
7. Dinner in a gourmet restaurant
Dubai is a cosmopolitan city. As a result, the culinary wealth is part of the city's identity. You can't be in Dubai without experiencing a gastronomic experience.
Great chefs have opened restaurants in the city. Whether you're in JBR, Dubai Marina, Atlantis or Downtown, you'll find a restaurant where you can dine and have a great time with friends and family. Run by renowned chefs, these gourmet restaurants will give you a unique experience. 
It is really possible to find all the cuisines of the world. So, before a party or after a shopping session, reserve a moment to dine with your lover, your family or your friends in one of the great gastronomic restaurants of the city.
8. Safari and spend the evening in the desert of Dubai
If there is one excursion not to be missed in Dubai, it is a trip to the desert. Far from the buildings and a few kilometers from the city center, is the desert part of the emirate.
The tourist agencies offer different excursions: simple, combined with or without camel ride, quad and many other options.
The most unusual option would be to make a evening desert safari and enjoy the splendid sunset before dinner. 
If you are looking for a unique experience to do in Dubai, the safari is the number one activity to book.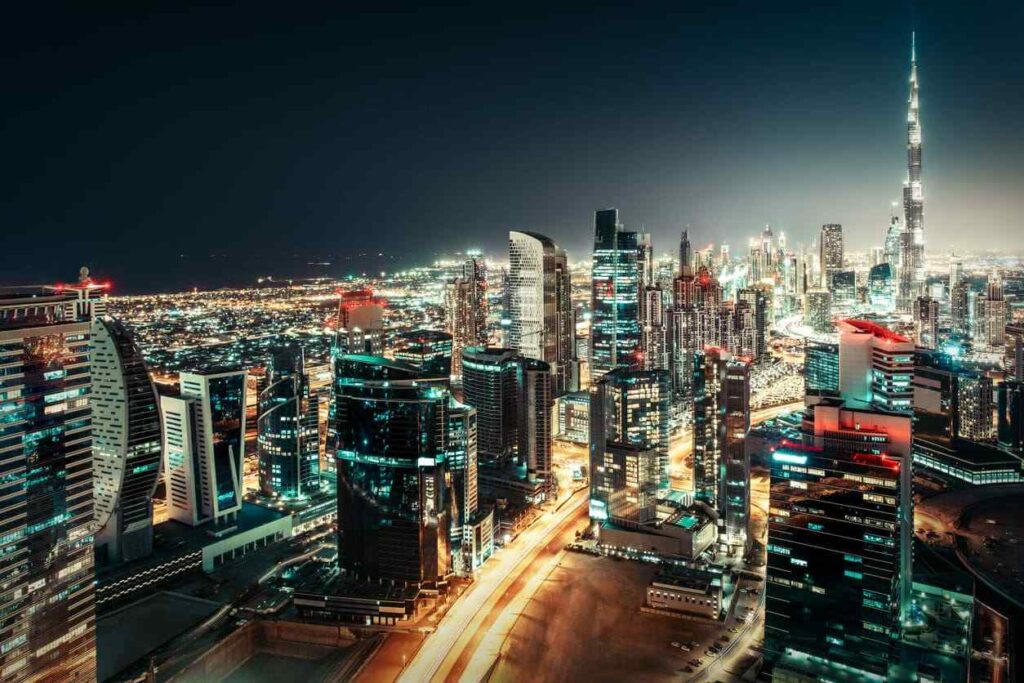 9. Dubai Garden Glow
Open at night, this amusement park is not only a place of entertainment. Indeed, it has the particularity to have an educational side. Hundreds of installations made from recycled materials educate visitors about the harmful effects of global warming and carbon footprint. This park is suitable for both children and adults.
We enter a huge garden where each attraction has a particular theme: marine life, dinosaurs and many others that we let you discover during your visit.
This is a great activity to do in the evening with family, friends or alone.
Website : https://www.dubaigardenglow.com
Address : Zabeel Park, Gate No- 6 & 7 Area – B – Dubai – United Arab Emirates
10. Ski dubai, ice rink, aquarium of Dubai
Shopping malls in Dubai are not just a place to shop or eat. It's also a place to spend time with family and friends doing something. In the evening, you can go skiing in the Mall of Emirates, go ice skating in the Dubai Mall or watch a movie in the cinema "Reel Cinema".  
The largest aquarium is located at the Dubai Mall. Its particularity is that it houses 33,000 aquatic animals. It is open until 10 pm on weekdays and until midnight on weekends. You can as well make this visit by combining the fountain show and a shopping spree for example. 
Website : https://www.skidxb.com
Address: Sheikh Zayed Rd – Al Barsha 1 – Dubai – United Arab Emirates (Mall of Emirates)
Website : https://www.dubaiicerink.com
Address: Unit GF – 207 – Financial Center Rd – Downtown Dubai – Dubai – United Arab Emirates
Website : https://www.aquarium-tickets.com/
Address: The Dubai Mall, Doha Street, Off 1st Interchange – Sheikh Zayed Road, Dubai, U.A.E.
11. Stroll by night in the souks of old Dubai
Dubai has two faces, one focused on luxury and new buildings and the other very traditional and authentic. The old Dubai fis one of the places to visit. It has its charm during the day and also at night. You can do the gold souk, the spice souk and the market. It is also the place to eat on the go, mainly Indian and Pakistani restaurants. 
It is possible to take a dhow cruise in Dubai Creek. You just have to choose your boat. You will enjoy a dinner on board and a tour while admiring the boat ride. You will see the main monuments of the old Dubai and the illuminated city.
Gold Souk Address: Gold Corner Building, 3rd Floor – Gold Souq – Deira – Dubai
Address of the spice souk : Dubai Spice Souk 41 34th St – Dubai
12. The Pearl Dubai
A breathtaking spectacle not to be missed if you are in Dubai. A show of acrobatics and water and air stunts, the Pearl Dubai is the first permanent show in Dubai. 
The show invites the spectator to live an immersive experience. The story remains true to the spirit of Dubai with a fusion to the outside world. A fairy tale that seduces young and old alike.
Website : https://www.laperle.com/en
Address : Al Habtoor City – 260 Sheikh Zayed Rd – Dubai – United Arab Emirates
You've got it, Dubai is a city that never sleeps. Its particularity, unlike other cities in the world, is that it is possible to do a lot offamily activities in the evening. You can combine several activities or just do one. Everything is possible in Dubai. We advise you to make reservations in advance for restaurants, shows, concerts and other activities, as they can quickly fill up. sold out.